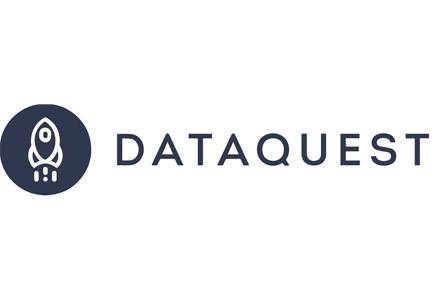 In recent years, the education world has seen an explosion in the digital space with the rise of massive online open courses (MOOCs). It has never been easier to develop your skills in data science from the comfort of your home – and without the need to pay full college tuition for it.
Among the many options out there, you're likely to come across Dataquest reviews – such as this one! Today, we'll be covering the ins and outs of this US-based data science learning platform.
We're going to take a look at what Dataquest.io has to offer its learners and where it holds advantage over other online learning platforms. Additionally, we'll see which features might be lacking and what alternatives you might find to fill in those gaps.
In case you haven't heard of it before, Dataquest is a data science-focused online learning platform that was launched in 2015. Its founder, Vik Paruchuri, created it to provide prospective programmers with real-world data science skills and insider knowledge from the field.
Without further ado, let's start our review and answer the big question of the day – is Dataquest worth it?
Pros
Industry-ready data science & programming skills
Sleek learning environment
Free learning options
Certificates for Community members
Cons
No mobile app
Content only in English
Dataquest Reviews: PROS
We'll begin the Dataquest review on a high note and see what makes this platform a worthwhile choice. However, let's quickly discuss the background of this platform first.
The idea behind Dataquest.io is to learn by doing. The platform is project-based, allowing you to gain hands-on programming and machine learning experience. We'll get more into what user-based Dataquest reviews have to say about the course catalog shortly.
Nevertheless, it's worth mentioning that Dataquest has over 1 million users and, since its launch nearly a decade ago, has accumulated more than 170 million hours spent studying. In the pros section of this Dataquest review, we'll discuss aspects like course content and quality, accessibility, and advantages you may have after completing the courses.
So, let's finally begin.
Courses for Career Development
As we've already established, Dataquest io is, first and foremost, a platform for your career development. While some people might understand topics like data science in theory, they might struggle to put their knowledge into practice. Dataquest aims to make those skills applicable to your day-to-day tasks from the very first class.
At first glance, the Dataquest data science catalog might appear relatively small, especially compared to other online learning platforms, like DataCamp or Udemy. On Dataquest, you'll find a little over 80 courses – about five times fewer than the DataCamp catalog.
We all know that lower quantity does not mean reduced quality, though – and quality is something that Dataquest reviews are certainly favorable about. The content is focused on some of the most sought-after roles in the industry: data science, business analysis, and data engineering.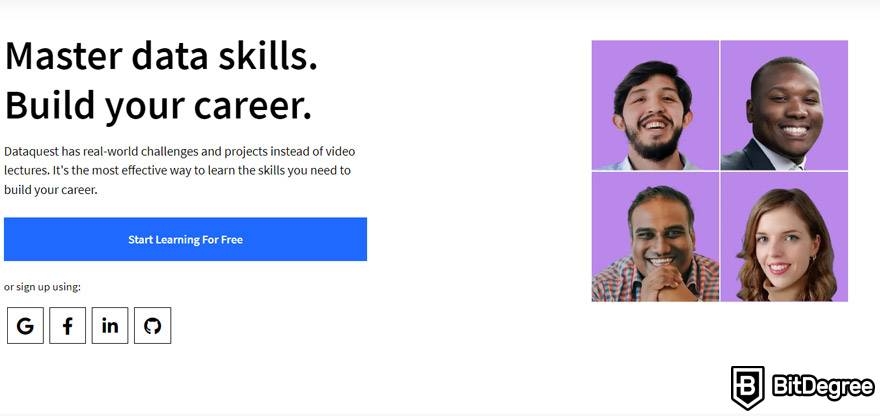 If you have no prior experience with programming or data science, Dataquest will recommend you a course. Once you create a new account, you'll be able to complete a short quiz to determine which programming language and skillset suit your needs best.
The learning materials are structured to help you gradually develop your capabilities without missing a step. You can choose between two types of learning paths:
Career paths – courses that are curated to help build your professional skills and prepare for a specific role. Career paths include Dataquest Data Engineer, a 19-course program, Data Analyst in Python, and Data Scientist;
Skill paths – courses that are focused on mastering a specific topic. Here, you'll find every Dataquest Python course, as well as classes on machine learning, statistics, and cloud data.
You can think of the paths as a Dataquest bootcamp. While the catalog seems relatively small, many of the career and skill paths focus on niche subjects that can help you with more specific tasks and projects. For example, the Business Analyst with Power BI career path offers not just courses on this particular software, but also explains how business analytics work on Excel.
Another thing to keep in mind is that the courses are not time-limited. So, even if you get stumped while taking a Dataquest Python or SQL course, you can step back, take your time, and return whenever you feel ready – there's no clock ticking away and keeping you from finishing the course. The flexibility can be helpful to learners who may be short on time and unable to complete a course shortly after starting it.
So, if your question is, "is Dataquest worth it in terms of career development", the answer is definitely yes.
Sleek Design
How do you like having your work or studying space? Is it more chaotic, or does every pen and notebook has its spot, keeping your desk pristine? Your learning environment can matter as much as the content, and it's always nice to keep things neat.
And in terms of learning surroundings, we can discuss the layout of the Dataquest.io platform. For starters, it's an easy one to navigate – especially when it comes to the course catalog. Everything has been categorized, so you can either look at every single course available, check out the separate skill and career tracks, or see the technical categories.
The platform uses a simple color palette, so it won't overwhelm your eyes. The site also features some minimalistic illustrations that add a bit of charm to the website without getting too distracting.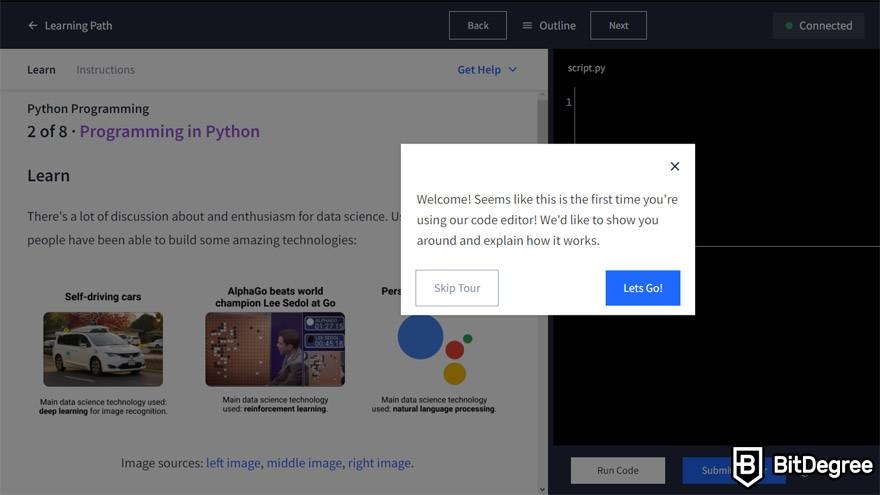 The entire learning process is also conducted within the platform, so you're not required to download third-party resources. It emanates the experience of doing real-world programming on your computer, so it's simple and efficient.
It's also quite easy to get the hang of the Dataquest learning environment. If, for example, you're starting one of the Dataquest Python courses for the first time, you'll be greeted with a tutorial on how to use the interface. So, it's beginner-friendly and helps you quickly learn along the way.
While the aesthetic presentation might not be the core evaluation criteria in some of the Dataquest reviews out there, it's always good to know that the learning process is easy, convenient, and accessible to a broad range of learners.
Paid and Free Courses
One of the biggest advantages of taking MOOCs is the cost efficiency that they offer. Getting a university degree is a very expensive experience, and data science is one of the most accessible fields for finding online resources. So, as you're reading this review, a question might be spinning in your head – is Dataquest free?
It is. Partly.
We'll be discussing the payment plants themselves later on in this Dataquest review. However, if you want to study for free, I can already tell you the good news – part of the Dataquest data science catalog includes courses that you can take completely for free. You'll be able to access the first three lessons in each learning path without paying.

This might not seem like a lot at first. However, let's do some math. With 80 courses in total, you could be looking at more than 200 free trial tasters. That's more than enough time to get a feel for the learning style and decide whether you want to make a full investment in the platform.
Additionally—and this is also something I'll explain later, so make sure to keep reading—there's even a way to gain free access to the entire Dataquest bootcamp catalog, without the free plan restrictions. So, there's a way to really get your money's worth on Dataquest.io and develop a broad range of industry-worthy programming skills.
As far as the "is Dataquest worth it in terms of cost efficiency" question goes, we can safely say that it is.
Certificates and Special Perks
Digital certificates are probably the best selling point of any online learning platform, and you'll also seen them mentioned in Dataquest reviews as one of the perks offered by the platform. So, let's see how the reward system works on this platform.
Earning a Dataquest certificate is a pretty straightforward process. All you need to do is successfully finish any course on the platform, and the certificate automatically shows up on your account. What about career and skill paths? Well, the same rules apply – if you finish a path, you gain a certificate for each course included in it.
So, if you're a collector, it's going to pay off more to go for a full path and earn multiple Dataquest certificates rather than an individual course. After all, you'll be paying the same price for either. It must be noted that the certificates are not accredited by any academic institution. Nevertheless, they act as solid proof of your data science skills.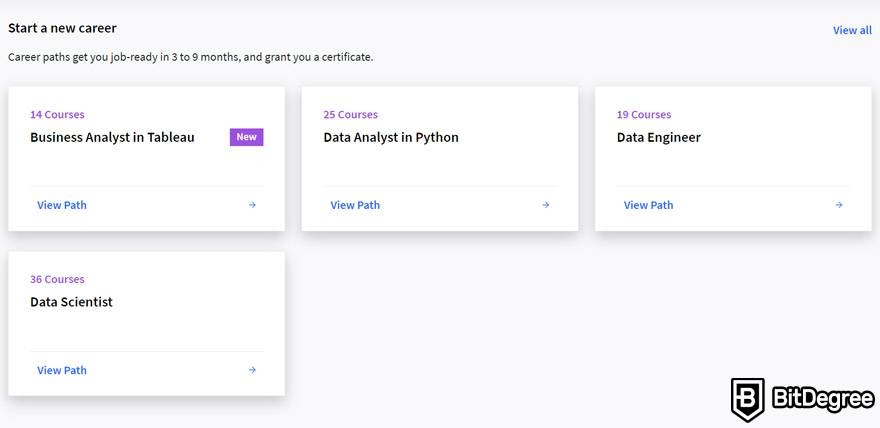 Aside from the conventional method of completing courses, there's another way to earn certificates that you might not see mentioned in some of the Dataquest reviews. Have you ever heard of alpha/beta testing?
Well, community members that decide to assist Dataquest.io and test some of the new and upcoming features will be awarded for their efforts with unique certificates. Additionally, members that engage with the Dataquest Community and reach the tier 3 Learning Assistant status also receive a special reward for their contributions.
As you can see, there's more than one way to earn a Dataquest certificate – and it doesn't necessarily have to take completing a bunch of courses.
Extra Resources
While online learning courses are a great way to get some hands-on experience with your brand-new skills, sometimes, you need some extra help to really get a grip on the theoretical side of things. To help with this, many platforms, including Dataquest, provide various downloadables, webinars, and other resources to enhance your experience.
In addition to the Dataquest bootcamp of career and skill paths, you can also join various live events and tutorials. These often discuss the newest updates to the course catalog, introduce recent developments in the data science space, and can, in general, give you a sneak peek into what the industry is working with now. So, you can be ready for your tomorrow career today.

And, as I mentioned before, the Dataquest.io Community is interconnected. Learners can help each other, provide helpful tips and tricks, as well as offer additional learning support. Taking an online course by yourself can sometimes get lonely as you can't really compare your progress to anyone else. The Community helps you to connect to other learners and stay on track.
Another community perk is user-created projects. The Dataquest bootcamp is known for its hands-on learning courses with projects that use data taken from the real world. The Community projects take it a step further, allowing users to provide their own data that may not be available elsewhere on the platform – or even other learning websites or apps.
So, while our Dataquest review is focused on the platform as it has been developed for the learners, the community-built aspects cannot be overlooked, as they can strongly enhance your overall progress while studying data science.
Latest DataCamp Coupon Found:
CLAIM 50% OFF
DataCamp Cyber Monday Deal
DataCamp Cyber Monday special is here! Enjoy a massive 50% off on DataCamp plans. Subscribe now and redefine your data and Al skill set for the better!
Expiration date : 07/12/2023
5,324 People Used
Only 36 Left
Dataquest Reviews: CONS
Now that we've got the advantages and perks out of the way, it's time to get more critical and discuss some of the letdowns and flaws of the platform. While most Dataquest reviews are positive and praise the platform for its course quality and job-ready content, some aspects can make the learning process less accessible for some learners.
No Foreign Language Support
While we're used to the internet providing us endless content in English, with over 8 billion people on the planet, of whom about 5 billion have access to the world wide web, this language is naturally not everyone's native tongue. Not everyone finds it easy to read or study in English – and, let's be honest, a lot of content is catered exclusively to speakers of this language.
So, it's useful to come across an online learning platform that has content available in multiple languages. Whether that's subtitle support for video content, as you can find on DataCamp, or complete foreign language courses that you can take on Coursera, it can make your life a lot easier – and the content more understandable.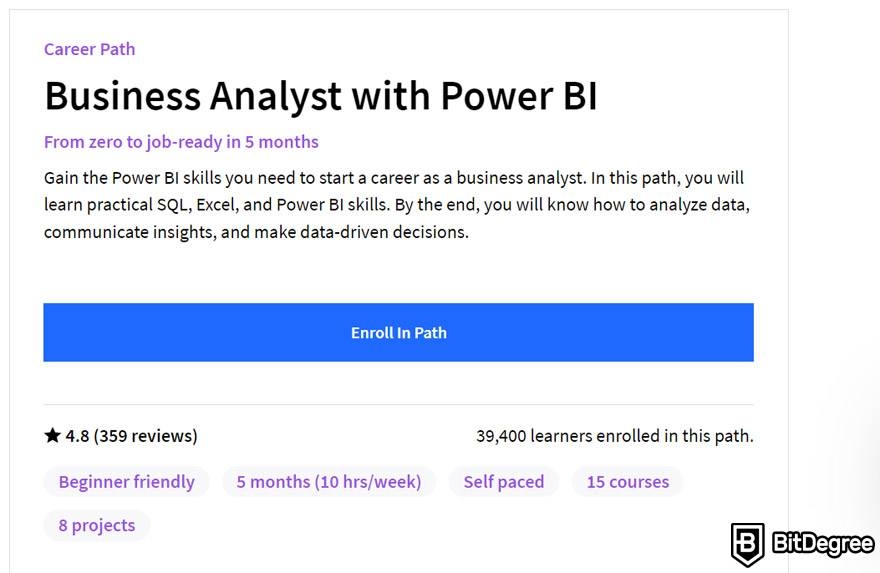 Unfortunately, Dataquest.io is not one such platform.
All content on Dataquest is currently available exclusively in English. This means that if you find it easier to learn in your native language, the Dataquest bootcamp may not be the ideal choice for you.
That said, this is only the situation at the time of writing. According to the Dataquest team, there are plans to introduce more languages on the platform in the future. While there are no specific dates, and it's unclear how broad this localization would be—whether all courses would be translated or just a handful—this is still good news for prospective students.
Of course, the lack of a clear timeline might spook some learners off. However, knowing that the team is aware of this restriction and is working on it is a step in the right direction.
Limited Visual Content
Have you ever considered the type of learner you are? If you're a visual learner, you've probably already seen the appeal of online learning platforms that offer a combination of text, interactive learning environments, video classes, and other tools that round up your skills. If so, you've probably looked at Dataquest reviews, wondering what this platform has to offer.
Well, compared to video-based platforms like Coursera and Udemy, or the gamified DataCamp learning environment, Dataquest.io might appear a bit bland.
The Dataquest teaching method is based on providing contextual learning with structured paths. That's all the upsides, of course. So, what are the flaws? Well, the content is all text-based. While you'll come across various data charts and tables that provide you with the information you need to work on your projects, the rest of the content is all written in paragraphs and bullet points.

Although, according to the Dataquest data science feedback, knowledge retention is quite high, it can be a bit more difficult to get into the courses themselves and finish them. The coding environment adds a level of interactivity to the learning experience. However, it's hard to compare it to DataCamp's Jupyter Notebook, for example.
That said, the text-based lessons are a deliberate choice. According to the team, there were attempts to integrate video classes into the Dataquest bootcamp structure. However, after a while, it was noted that this did not bear desirable results, so the videos were phased out.
Of course, the lack of multimedia content doesn't affect the skills and quality of the courses. But if you happen to be a visual learner, it's possible that Dataquest won't be the right platform for you.
No Mobile or Offline Access
There's no going around it – many of us spend as much time on our phones daily as we do on our computers, if not more. Odds are you're currently reading this Dataquest review on your smartphone. Given this convenience, many platforms have started adapting to technical needs. Having a mobile-friendly website is no longer enough – you need an app as well.
Often, as you look on different MOOC platforms, you'll see the links to download an Android or iOS app somewhere on the homepage – not on Dataquest, though. And it's pretty obvious why this is the case – Dataquest.io has not developed as a mobile app.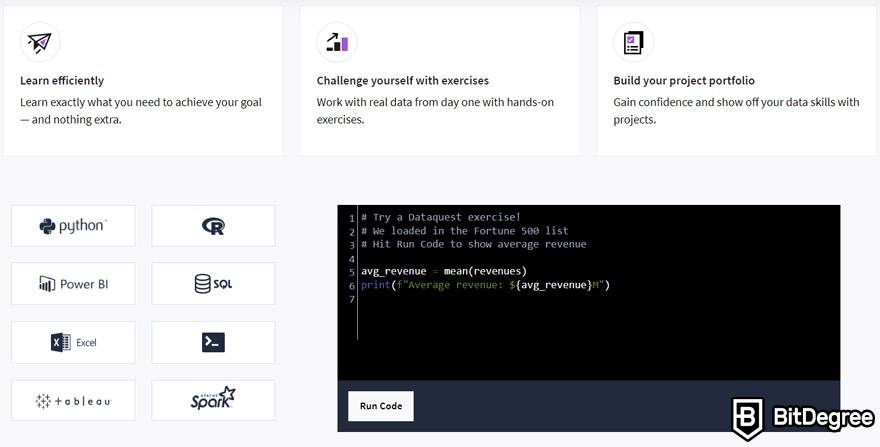 Now, this doesn't mean that you won't be able to learn on your phone at all. If you use a mobile browser, you can still easily access your account and study. However, you won't be able to go to an app store and download a pocket learning program.
As with the text-based learning content, the decision to omit a mobile app was deliberate.
9 times out of 10, a developer is going to work exclusively on desktop. The reasons for that are simple – it's a lot more convenient to write your code on a big screen, and you often need an extra monitor (or a few) to preview your work as it progresses. Even if you're a mobile app developer, you're probably more likely to preview your WIP on a desktop emulator.
The developers of Dataquest Python and other courses are well aware of this. So, their aim was to create a learning environment that is suited for desktop and helps you get a feel for what it's like to work on your code in the real world.

Additionally, you won't be able to finish your courses if you don't have an internet connection. This was similarly a deliberate design choice – you often need to be connected to preview your programming work, so it's only natural that you do your studying online. However, some resources, like data sets, can be downloaded and used offline, whenever you need them.
So, while we're deducting some points in our Dataquest review for the lack of mobile and offline learning convenience, it makes sense as to why this is the case.
Pricing
By now, we've covered the key pros and cons, and you can start drawing conclusions on whether Dataquest is worth it for you. As you're taking aspects such as course variety and accessibility into consideration, there's one more thing left to discuss – the price tag.
The Dataquest pricing is calculated based on a subscription model. This basically means that once you've picked the plan, you're going to be paying the same rate monthly. As we look at the pricing, let's also see what plans it has to offer its users:
As you can see from the name of the first plan (and as we've already established in the Pros section), the answer to "is Dataquest free?" is that it can be. The perks of this plan, aside from the aforementioned preview to all career and skill tracks, include live weekly walkthrough projects and access to all Dataquest.io Community resources.
And remember the other perk I was hinting at earlier in this review? It's finally time to reveal it – if you choose the Premium plan and refer at least 4 users to the platform, you'll be able to gain free lifetime access to the entire catalog. Sounds neat, doesn't it? Additionally, your friends will get a $15 discount on their subscriptions.
Now, let's take a closer look at the Premium subscription. You have two options here – Premium Monthly and Premium Annual. It's probably unsurprising that the Annual plan is more cost-efficient. With the annual plan, you'll be paying a rate of $24.50 a month, coming up to $399 a year. The Monthly subscription, meanwhile, costs $49.

With the Premium plan, you'll get access to the entire Dataquest bootcamp catalog – every single course, project, and path. Additionally, you'll be able to solve one of more than 700 practice problems and put your skills to a good test. As far as what you're getting for your money's worth, the Premium Annual plan makes sense.
Finally, you've got the Teams plan. The rate here is going to depend on how many people you'll be adding to the group. In addition to every perk that Premium users get, Teams will also have additional account management and reporting features.
So, whether you're an individual user or an enterprise worker, Dataquest might suit your needs in terms of its costs.
Alternatives
As we've seen, while we're among the positive Dataquest reviews out there, some downsides might make this platform less than ideal for your needs. So, to help you out, I've got a couple of alternatives to offer – DataCamp and Udacity.
DataCamp
DataCamp has been mentioned a couple times already throughout this review. It's one of the best-known data science learning platforms out there. If you haven't encountered DataCamp before, you should know that it's often praised for its unique gamified learning model and the broad variety of content, ranging from video guides to interactive projects.
DataCamp is mobile-friendly, even offering some additional daily tasks for its app users. It covers the subjects of data science and data analysis, and its catalog exceeds 400 courses. You can read more about DataCamp in our review here. Additionally, we've got a comparison of DataCamp and Dataquest that goes more in-depth into the similarities and differences between the two platforms.
Udacity
Udacity is one of the best-rated data science-focused online learning platforms that you can come across. Since its launch in 2011, Udacity has curated an impressive course catalog, ranging from the basics of programming to the sophisticated nuances of artificial intelligence.
While it's one of the more expensive options out there, Udacity is known for its long-term accredited certification programs. Nanodegrees are a unique service offered by the platform. These learning programs provide mentor support and allow you to work with real-world projects developed by industry professionals. You can find our full Udacity review here.

Pros
Easy to use with a learn-by-doing approach
Offers quality content
Gamified in-browser coding experience
Main Features
Free certificates of completion
Focused on data science skills
Flexible learning timetable

Pros
High-quality courses
Nanodegree programs
Student Career services
Main Features
Nanodegree programs
Suitable for enterprises
Paid certificates of completion

Pros
A huge variety of courses
Easy-to-navigate interface
Over 600 free courses
Main Features
A huge variety of courses
30-day refund policy
Free certificates of completion
Conclusions
Our Dataquest review has come to an end, and it's time to have one last rundown of everything we've learned about this platform. The team has introduced it as a learning environment for career-driven individuals who want to earn more real-world programming skills. How does that compare with what we've discovered?
Dataquest is undeniably a solid choice if you're interested in developing specific programming and data science skills. Although the catalog does not seem quite as extensive compared to its competitors DataCamp and Udacity, the quality is good and has received positive user Dataquest reviews for the course structure and ease of learning.
While there are some downsides, such as the lack of foreign language localization or mobile access, the team is either working on introducing new features in the future or has provided a clear explanation as to why some features might be lacking. Overall, the Dataquest pricing is quite fair for what it offers, and the free plan will help you familiarize yourself with the learning environment.
So, is Dataquest worth it? If you're looking into carving your niche in the data science field and want to learn some specific skills, it's definitely a worthwhile option. However, if you prefer visual learning over the textbook format, it might not be ideal for you.
Nevertheless, feel free to try out the platform for yourself and start working towards your first Dataquest certificate. Good luck!
Leave your honest Dataquest review
Leave your genuine opinion & help thousands of people to choose the best online learning platform. All reviews, either positive or negative, are accepted as long as they're honest. We do not publish biased reviews or spam. So if you want to share your experience, opinion or give advice - the scene is yours!