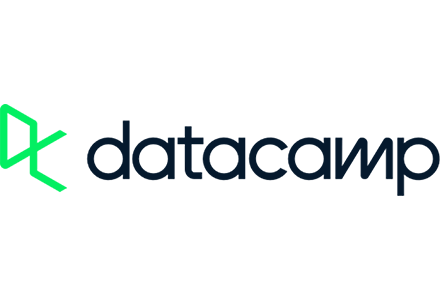 Data science is undoubtedly one of the more-popular career paths in modern times. With the IT sector booming, there's a constant demand for individuals who are savvy with data analysis and management. At the same time, there are now tools being developed to address many of the staple-problems that these same individuals face, on a daily basis - in this DataCamp Workspace review, we'll talk about one such tool.
DataCamp is a pretty well-known online course provider. The platform is a favorite among many individuals who are looking at the IT sector, as their potential future career choice. With the DataCamp Workspace data science project, the company has taken a step further, and is addressing common issues faced by current professionals in the field.
Whether you are currently a data scientist, or are just learning to become one, chances are that you'll find a lot of value with DataCamp Workspace. So, let's not waste any time, and jump straight into it!
Pros
A tool for students and professionals, alike
R and Python support
Version control and data syncing
The option to showcase your work on your profile
Collaborative features
Cons
Still in development (certain features missing)
A Brief Introduction to DataCamp
So, before we get into the deep end of things, allow me to first introduce DataCamp to you, in general. If you're already familiar with the online learning platform in question, you can feel free to skip this part - however, if you've never used DataCamp before, learning a bit about the platform could be a great start!
DataCamp was founded in 2013. Straight from the get-go, the platform was oriented around IT-focused courses - that's probably quite evident from the name, alone.
As time went on, the number of courses - as well as professional instructors - on the platform grew steadily. Today, there are nearly 360 different courses available on the online learning platform, and close to 300 instructors teaching those courses.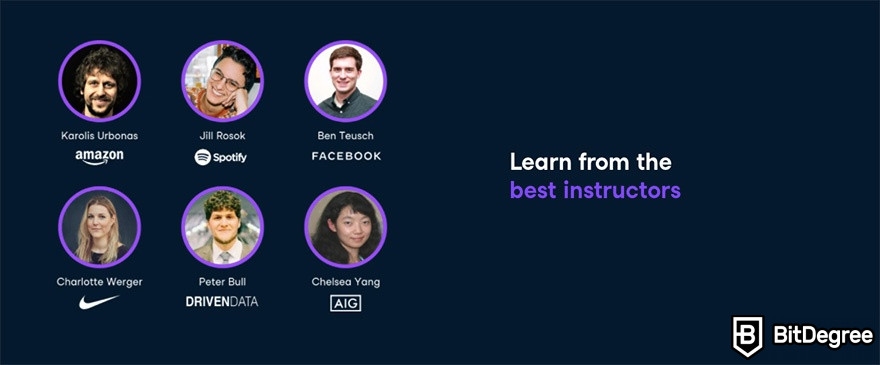 The core focus for DataCamp has been (and still remains) data science, and everything surrounding the concept. You have dedicated courses on the topic, as well as tracks (learning paths) available to be studied on the platform. Furthermore, if it's something relevant to you, there are certifications available, as well!
Pricing-wise, DataCamp uses a subscription model. There are four different plans to pick from (including a free lifetime subscription plan, as well), each coming with their own unique perks and benefits. The DataCamp Workspace prices, though, will be a separate topic in this review.
Throughout the nearly-decade of existence in the space, DataCamp has managed to become one of the most notable names in online learning, at least as far as IT-centered courses are concerned. The platform is reliable and trusted by countless numbers of students from all around the world, and is held to a high standard by IT sector-interested individuals.
Table: General information about the DataCamp online learning platform
This doesn't only include individual students, though - DataCamp is trusted by some high-profile companies from all around the world, too! Brands such as Google, PayPal, Microsoft, eBay, and Uber use DataCamp's services - that's definitely a statement about the company's credibility!
As far as this DataCamp Workspace review is concerned, the company is seemingly branching off to offer its students additional resources, in the fields of data science, analysis, and management. One of the most notable of these resources is just that - the DataCamp Workspace project.
Latest DataCamp Coupon Found:
CLAIM 50% OFF
DataCamp Cyber Monday Deal
DataCamp Cyber Monday special is here! Enjoy a massive 50% off on DataCamp plans. Subscribe now and redefine your data and Al skill set for the better!
Expiration date : 04/12/2023
5,324 People Used
Only 36 Left
DataCamp Workspace: PROS
As per usual with our online learning platform reviews, we'll take a look both at the pros of a project, as well as any potential cons that are associated with it. Towards the end of this DataCamp Workspace review, we'll also look at the prices associated with your Workspace subscription, too!
A Revolutionary Tool for Data Scientists
Probably the biggest benefit that you might come across when reading through different DataCamp Workspace reviews is that there's even a platform like this, in the first place!
Allow me to explain.
The DataCamp Workspace data science platform is a designated online IDE (Integrated Development Environment) where data scientists can come in, and work on projects in a collaborative manner. The Workspace aims to provide these same scientists with a tool that would allow them to both track their progress in an easy and efficient manner, as well as create visualizations and charts, on any device.
As far as this DataCamp Workspace review is concerned, it's rather obvious that the tool in question is addressing issues that have been present within the data science field, for the longest time now.
It's no secret that the field does often lack optimization, on the other end of the spectrum - instead of focusing specifically on their own work, data scientists often have to waste time setting up their machines, looking for data, and communicating their progress via non-field-specific channels, such as Slack.
These things do add up - over time, they can lead to a large slump in potential productivity, which then also affects the project's bottom line.
Instead, DataCamp aims to provide a solution to these issues. And that solution comes in the form of the DataCamp Workspace data science platform.

Essentially, the Workspace aims to provide data scientists with an all-in-one environment - one that would solve many of these daily issues that they face. It would serve as a collaborative space where you could work on data projects together with your team!
On top of that, from the visual side of things, you would also be able to employ visual-rich graphics and charts, in order to illustrate your data work. This will simplify the process of visualizing data parameters, exponentially!
All things considered, if there's one thing that's for certain in this DataCamp Workspace review, it's the fact that a tool like this is definitely going to make the lives of data scientists much easier!
For Professionals and Students, Alike
While looking for user DataCamp Workspace reviews, you might eventually stumble upon articles published by the company itself, talking about all of the different things that you'd be able to do with the DataCamp Workspace. A point that you're bound to notice pretty fast is that the tool is useful for both industry professionals, as well as students and beginners, alike.
Up to this point in the DataCamp Workspace review, we've already addressed the professional side of things - data visualization, collaborative endeavors, and so on. The DataCamp Workspace is a very well-rounded tool in that regard - no matter if you already work in a company, are a freelancer, or are just building up your portfolio.
Now, where things get really interesting is when you take a look at the student and learner side of things.

In order to use the DataCamp Workspace, you will need to have created an account on the DataCamp website, in general. So, let's assume that you're someone who's interested in learning about data science, and want to take a course on DataCamp.
You create your profile, and set it up. After that, you can start a course - sure -, but you may also go straight to the DataCamp Workspace platform! If you have some knowledge about data science, aggregation, analytics, and programming, you'll be able to start playing around with custom-made, pre-written code templates on a designated playbook.
In doing so, you'll have the opportunity to practice real-world-like data science scenarios, which will in turn provide you with a significant amount of experience and knowledge!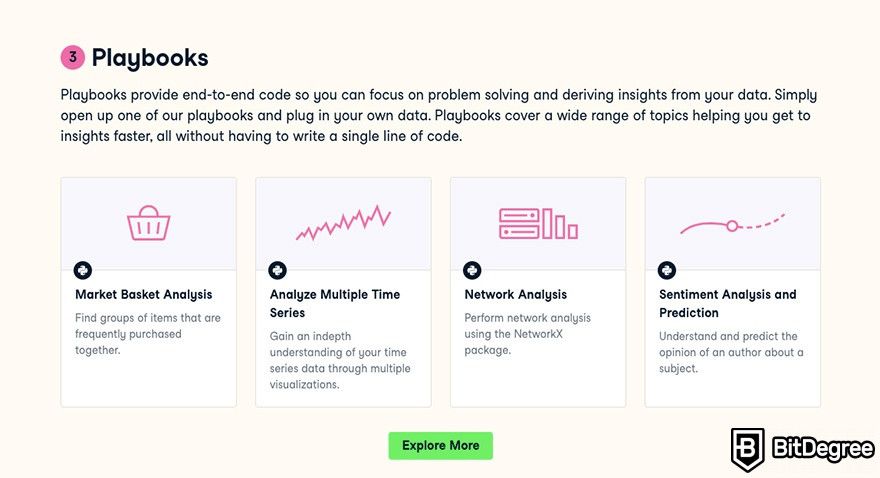 To add to that, the benefits don't end there, either. Another huge factor that you should consider while reading through this DataCamp Workspace review is the fact that you'll be able to showcase your work on your DataCamp profile.
Upon publishing a workspace, you'll have the chance to pin your work to your profile. You can then use that profile as a sort of portfolio, to showcase your work to potential future employers.
That's fantastic! It adds additional use cases to an already awesome tool, with supported features for both professionals, as well as beginners in the field. Good stuff!
Support R and Python Programming Languages
As you're probably perfectly aware, the field of data science requires you to know and be proficient with certain programming languages. There are quite a few languages to pick from, learning-wise, and they each come with their own benefits.
That being said, some languages are still more popular than others, when it comes to their application in the field of data science. These languages include R and Python.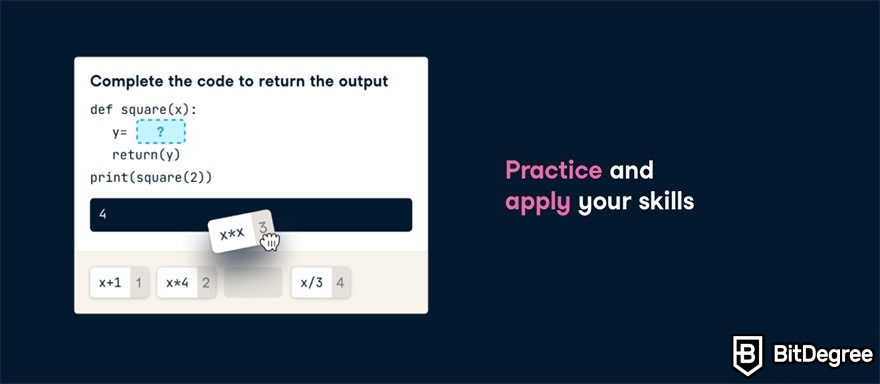 The point here is simple - if you were looking for a DataCamp Workspace review in order to check the supported languages of this particular tool, you can rest assured that you'll be able to use both R and Python!
To add to that, the DataCamp Workspace data science tool will also support SQL, at some point in time in the future. As time goes on, users can expect even more tools to be added to the platform!
The support for R and Python isn't only present when working on your own or your team's data models. Instead, if you're just studying the subject, and aren't yet as proficient with data science as you'd like to be, the same two programming languages can be used within the Workspace built-in playbook, too.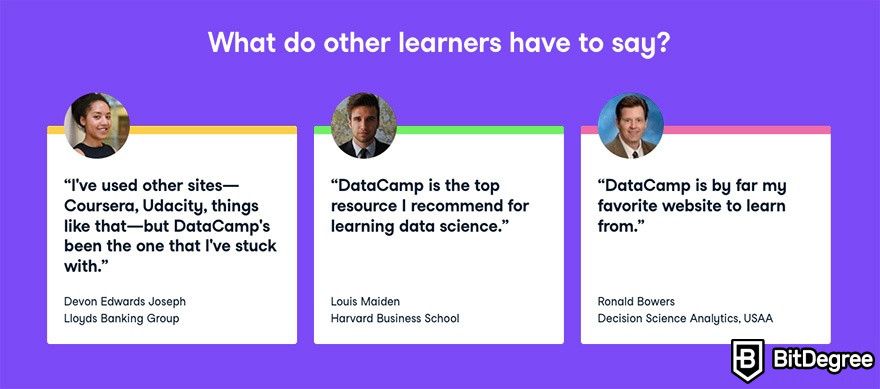 Specifically, you'll be able to work on pre-coded models, and thus, improve your skills in the field through practice!
All in all, if you were worried about not being able to utilize some important programming languages in your data science projects, worry not - the DataCamp Workspace has got you covered!
No Installation Required
One of the core focuses of the DataCamp Workspace is convenience. This is true in every step of the way - the user interface, the profile (account) creation and customization process, and, of course, the actual usability of the tool in question.
After you read through this DataCamp Workspace review, and decide to try the platform out for yourself, you'll be able to do so straight from your browser - meaning, there's no downloadable content, and nothing that you'd need to install on your machine.
Table: The general statistics of the DataCamp online learning platform
This is very notable, since it adds a ton to the convenience side of things.
Think about it - essentially, you won't need to stick with a single device, all the time. Forgot your laptop at home? No problem - simply log into your DataCamp account on your phone. Need to use a public computer? Again - all that you need is a username and password, and you're set!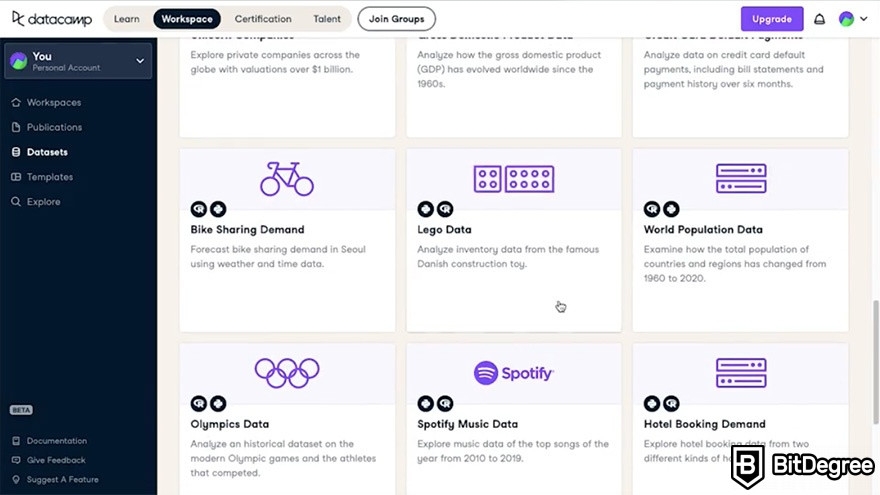 The beauty of the platform here lies in the fact that DataCamp aims to allow everyone to use it everywhere - in other words, on all devices. Whether it be a smartphone or a computer, iOS or Android, Windows or Linux, it doesn't matter - the DataCamp Workspace should be supported on all of the major platforms and operating systems.
It also makes everything THAT much quicker, too. You can simply hop onto your account, and start working on the data science project in a matter of seconds. There's really no difference whether you're a professional or a beginner - it's something that everyone can appreciate, for sure!
Data Stored on the Cloud
Data security and preservation are, undoubtedly, some of the most important features that information management systems (or, IDEs - Integrated Development Environments) need to take into account.
On the security side of things, everything's rather obvious. If you're reading this DataCamp Workspace review, chances are that you either are a data scientist, or want to become one. Well, either way, you do likely understand that working with data entails a lot of confidential information.
Information that many hackers and scammers would love to gain access to.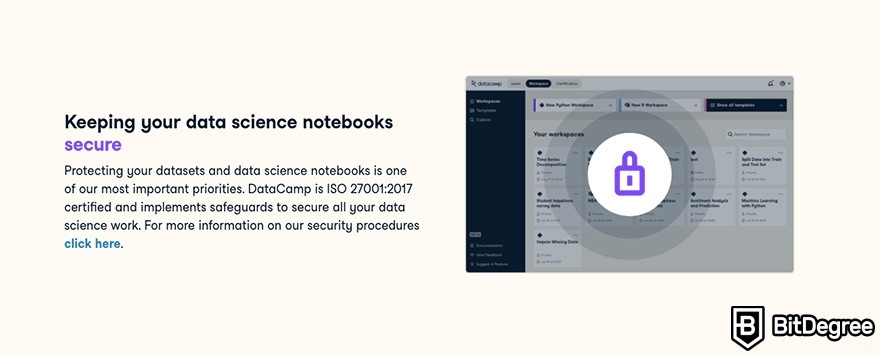 Naturally, all of this information needs to be stored safely, and in a secure and reliable manner. While there isn't all that much information about the security features enforced by DataCamp, data storage-wise, it would seem that there aren't any complaints regarding the matter, either!
Data storage & preservation, however, is where the DataCamp Workspace data science tool really shines - and it's all thanks to the Cloud.
You see, all of the data that you'll be working on will be stored on the Cloud. So, if you're working on a project (either alone, or together with a team), you don't need to worry about some sort of a third-party data storage method after you're done, or mid-progress - DataCamp takes care of that for you!
Table: The general features of the DataCamp online learning platform
This takes away from you having to worry about the preservation of your work, too. Everything will be accessible via your DataCamp profile, and you'll be able to load it up in a matter of minutes, if not seconds.
All things considered, one thing's clear - as far as this DataCamp Workspace review is concerned, you won't need to worry about anything related to the security or preservation of your data!
The End Vision: "A Centralized Insights Layer for Organizations of Any Size"
Earlier in the DataCamp Workspace review, I've pointed out the fact that the tool in question will be useful for both individuals, as well as various organizations and companies working with all kinds of data.
Well, this is actually a major point that's worth emphasizing, and one that shouldn't just be glanced over! On top of that, it also ties in perfectly with the end goal of the platform, in regards to the Workspace tool.
Let's focus on the first part, first.
We've already established that collaboration is one of the components of DataCamp Workspace. In other words, while you may work on solo projects, it's super-simple to switch into a team-focused data science and analysis point of view, too!

Note, however, that you won't only be able to collaborate with other individuals - if you're part of a larger company, the DataCamp Workspace will allow you to work on the data-led projects that your team is concerned with! In other words, it's an enterprise-level tool!
Or, rather, it strives to become one. As the company has put it itself, in their blog, their vision is to one day become "a centralized insights layer for organizations of any size".
In layman's terms, DataCamp strives to become the leading tool for data science, analysis, and interpretation, for companies and organizations of all sizes, all around the world. Seeing as it's one of the very few tools that are actually addressing the core problems that specialists in this field face, that's a significant goal!
DataCamp Workspace Review: CONS
Now that we've covered all of the more-notable benefits of the platform, let's continue our DataCamp Workspace review by taking an honest look at some of the negatives.
Admittedly, as you'll see in a minute, there aren't really all that many "negative" things to cover, in regards to the tool in question! As well-rounded as it is, though, probably the biggest factor to acknowledge is that it's still very new, and is being developed continuously.
A New Platform (Still Lacks Certain Features)
Being "a new project" isn't inherently a bad thing - far from it! However, even the DataCamp team themselves acknowledged that there are still certain features missing from the platform, and that it's in constant development.
A great example of this would be SQL. As of writing this DataCamp Workspace review, it's still not implemented into the platform, and, as mentioned earlier, users are only able to use R and Python.
SQL isn't the only thing missing from DataCamp Workspace, though. While the core product is available to be checked out and used, there are still quite a few quality-of-life features that need to be added.

The good news here is that this will happen with time - perhaps, depending on when you're reading this DataCamp Workspace review, many of those features are already implemented!
To be more specific, DataCamp plans to roll everything out in phases. Starting off, students and users of the DataCamp platform should be able to transfer all of their projects (courses included) into some of the current industry-leading IDEs, such as Jupyter.
Then, the team plans to work on allowing users to upload their data and work files in a seamless manner. Whenever users would collaborate with other individuals, their environment would link up, which would then result in zero issues with version control, or having to worry if the right packages are used, in general.

Following all of that, users should be able to use tagging, commenting, and other work discussion-related features on the DataCamp Workspace data science tool. This would be followed by larger-scale features involving workflow optimization, management architectures for bigger companies, and so on.
As you can see, the DataCamp team has many plans ahead! With time, the product should mature and become a standalone and fully-optimized IDE.
Price
One last thing that we need to cover in this DataCamp Workspace review are the DataCamp Workspace prices.
Specifically, DataCamp employs the same pricing model on its Workspace product as it does with its courses - a subscription service.
Right off the bat, you should be aware of one thing - the Workspace platform is priced separately from the course subscriptions. Meaning, if you want to use the tool in question, and also study the courses available on the platform, you'll need to pay separately!
Now, the DataCamp Workspace prices look like so:
One of the best things here is that the Basic plan is completely free to use! Of course, it's going to involve some limited resources, and won't be as powerful as the Premium version, but it's still great news for anyone who wants to try the platform out before committing to a purchase!
With the Basic plan, you'll receive the ability to create an unlimited number of workspaces, participate in multiplayer collaboration, as well as use curated datasets and templates.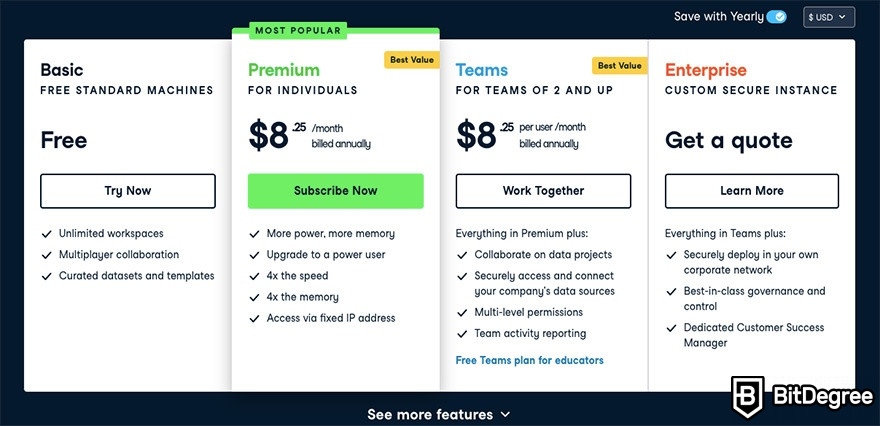 The Premium plan includes more memory and power (4 times that of the Basic plan), as well as access via a fixed IP address (which really adds to the security & data integrity preservation side of things).
Moving on, the Teams plan is priced the same as the Premium one, with one exception - pricing is calculated per user in the team. The plan itself is focused around a team environment, and the features showcase this pretty well - you get the chance to collaborate on projects, use multi-level permissions, access team activity reports, and more.
The plan also ramps up on the security side of things, too!
DATACAMP

Unlimited for some courses
$13.00
32
Free subscription, Premium subscription, Teams subscription, Enterprise subscription
Paid
N/A
Visit site
Read review
Table: The pricing model of the DataCamp online learning platform
Lastly, the Enterprise plan is a type of a custom deal. It's aimed at large companies that want to utilize the Workspace platform for their own data science projects. Here, the DataCamp Workspace price will be dependent on multiple factors, so you'll need to get a quote from DataCamp themselves.
With the Enterprise plan, though, you'll receive a designated Customer Success Manager for you and your team, as well as the ability to deploy a corporate network of your own, with full governance and control in your hands.
All things considered, while there aren't many user DataCamp Workspace reviews that would express their opinions about the pricing of the product, I'd say - it's definitely fair! The only issue here is that you will need to pay for the courses separately (via a separate subscription), but that makes sense, given the magnitude of the tool in question.

Pros
Easy to use with a learn-by-doing approach
Offers quality content
Gamified in-browser coding experience
Main Features
Free certificates of completion
Focused on data science skills
Flexible learning timetable

Pros
High-quality courses
Nanodegree programs
Student Career services
Main Features
Nanodegree programs
Suitable for enterprises
Paid certificates of completion

Pros
A huge variety of courses
Easy-to-navigate interface
Over 600 free courses
Main Features
A huge variety of courses
30-day refund policy
Free certificates of completion
Conclusions
As I've mentioned at one point in the DataCamp Workspace review, the company in question aims to provide the data science community with an all-around useful tool. The Workspace integrated development environment was created with the goal to one day become a one-stop-shop for all-things data science.
The platform caters to both individual data scientists, as well as larger companies and enterprises. On top of that, even if you're only starting out in the field, you'll be able to sharpen your skills with pre-made custom code playbooks, and then showcase them on your DataCamp profile.
In general, the DataCamp Workspace tool aims to address many of the issues that the industry faces daily. Things like worrying about version control, having to sync up your files when collaborating with others, using different tools, and so on - these and many more nuances are addressed with DataCamp Workspace!
The platform is also in constant development, so while it may lack certain features, this will be addressed, at some point in time in the future. Thus, if you're a data scientist (or are looking to become one!), make sure to check the project out - it might be the perfect tool that you need!
Thanks for reading my DataCamp Workspace review - I do hope that you're now much more knowledgeable about the platform in question! Make sure to check it out, and best of luck in your data science endeavors to come!
Leave your honest DataCamp Workspace review
Leave your genuine opinion & help thousands of people to choose the best online learning platform. All reviews, either positive or negative, are accepted as long as they're honest. We do not publish biased reviews or spam. So if you want to share your experience, opinion or give advice - the scene is yours!