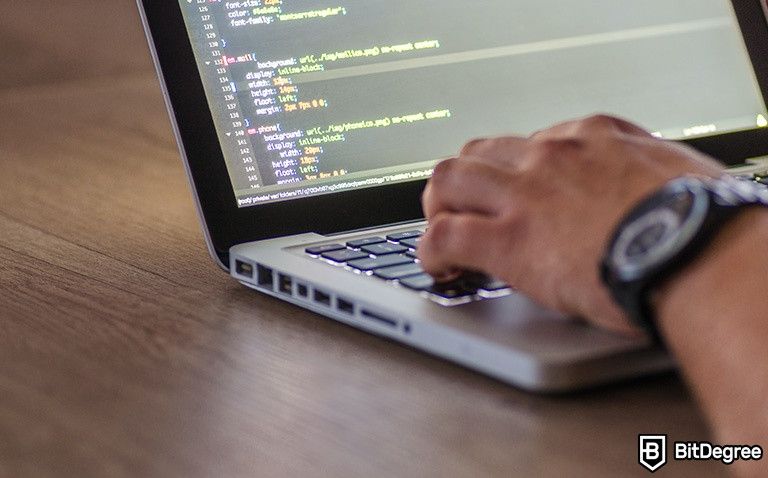 When you think about it, programming is a much broader subject than what first meets the eye. And during the almost 70 years of its existence, programming has branched out to many different coding languages, still used today - one of them being Structured Query Language (SQL). So, I've decided to take a look at this programming language through the lenses of the best Udemy SQL courses out there.
In this article, I take an in-depth look at 7 of the best Udemy SQL programs offered by the platform. You can take a look at them here:
Like any other coding language, SQL has many intricacies to be aware of, as well as many uses. That's why it's crucial to choose the correct course for your needs and skill level so that learning would be as easy and enjoyable as possible.
In this article, I will be giving you the complete rundown of each of these SQL courses, from the providers behind them to what students have to say about their experiences and everything in between.
But before we can jump out to the main reviews, let's take a moment to talk about why you should be choosing Udemy to be part of your SQL journey.
Why Should You Choose Udemy SQL Courses?
At the moment there are many different MOOC providers out there, however, Udemy is definitely one to stand out from the bunch. Being the best-known online learning platform, Udemy is at the top for a reason.
Latest DataCamp Coupon Found:
EXCLUSIVE 50% OFF
On DataCamp Subscriptions
Follow the Datacamp promo code link & get an exclusive 50% OFF Datacamp subscriptions. Act now while the offer is still available!
Expiration date : 08/06/2023
2,765 People Used
Only 35 Left
Firstly, let's take a look at what they have to offer. And boy do they offer a lot! Currently, you can choose from more than 183 thousand courses, covering everything from design to personal development and growth, which is one of the most impressive course catalogs I've seen.
Additionally, there are over 65 thousand instructors partnering with Udemy, so you have a chance to learn from both field experts and university professors from around the world. It's almost like you're studying abroad without having to leave the comfort of your home!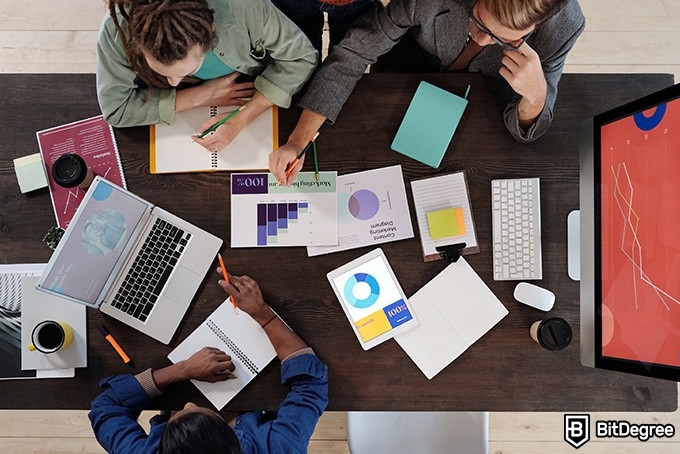 When it comes to programming and coding languages, it's one of the most robust categories. With tens of thousands of courses - and that number is increasing every day - there is something for every skill level and niche of interest.
SQL, being the go-to coding language among data scientists and data engineers, is covered in almost 7.5 thousand Udemy courses, so those interested in the coding language definitely have many options to choose from.
While picking out courses to mention in this list I was paying the most attention to student reviews and the content of the programs, to make sure that you are choosing from nothing but the best.
And on that note, before ados are any more furthered, let's jump into the top SQL Udemy courses.

Everyone has to start learning somewhere and being completely new to a subject often makes the beginning look quite daunting. The key, however, is often simply grabbing the subject by the horns and just giving it a shot.
If you've never encountered this coding language, it's best to choose the Udemy SQL courses that focus on laying down the foundation first, before going into the more intricate details. And in my opinion, the best place to start is with the Microsoft SQL for Beginners program.
What I liked about this Udemy SQL course is how broad and varied the syllabus material is. The video lectures are accompanied by various real-life case studies and even ebooks that have additional information so you could easily and quickly get the hang of the learning material.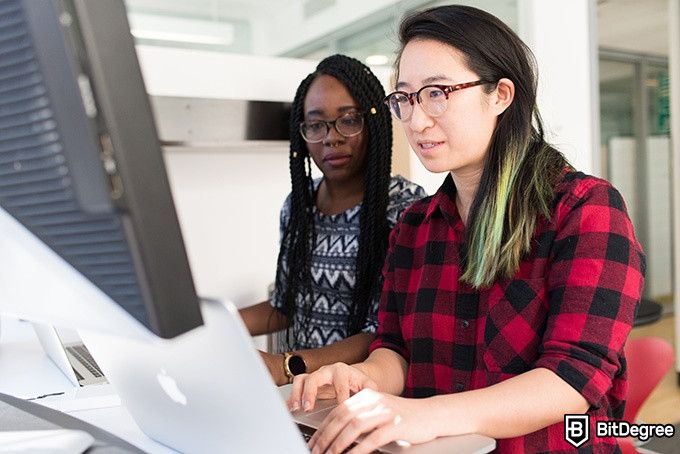 This is a wonderful addition to the standard video lecture package, making learning a new skill much easier and more enjoyable.
It's no wonder that such detailed learning material is provided by someone with experience in many fields. Brewster Knowlton basically knows every facet of the business intelligence field like the back of his hand. With significant experience writing SQL code, developing ETL processes, and architecting and designing data warehouse systems, Brewster knows exactly what it takes to learn SQL, and has put all of his expertise into one SQL Udemy course.
The program is structured very simply, with each of the 7 sections focusing on a different aspect of SQL. To add to that, the syllabus is quite concise, with just 4 hours of content. In my opinion, these kinds of courses are the best for picking up a new subject, as it's not as overwhelming as a 10 or more hours long bootcamp.

And the students think the same. Many reviews left under the course are highlighting how easy-to-follow the course is, with clear, simple examples being included in every lecture. The majority of reviews left by beginners also mention how comfortable they were moving through the lectures even without any previous SQL experience, which just shows the quality of the course.
Of course, I can't forget to mention the cost of the program. The very affordable price of €44.99 left me very pleasantly surprised. In my opinion, this Udemy SQL class is definitely worth your attention.
Those enrolled in this course will learn:
The fundamentals of SQL and how they translate to various functions;
What database design and normalization is;
How to understand the difference between the inner join, left/right outer join, and full outer join.
If you are someone who would like to learn a skill that can open you many success opportunities, then this Udemy SQL course is the best place to start learning!
Start the course NOW.

Some people like to ease into a new subject, taking their time with each topic before they move on to the next step. Then there are people like me who want results almost instantly. Luckily for us, there are several Udemy SQL bootcamp courses to choose from.
And the one that caught my eye almost immediately is The Ultimate MySQL Bootcamp: Go from SQL Beginner to Expert. Catchy title, right? Well, it's an accurate one, too. Because this course has everything you might need to be able to call yourself an experienced SQL programmer.
One thing I especially like about this Udemy SQL class is that you have a chance to practice what you've learned during the lectures. Right from the beginning, you are given access to an educational browser-based SQL workspace where you can practice and perfect your coding skills.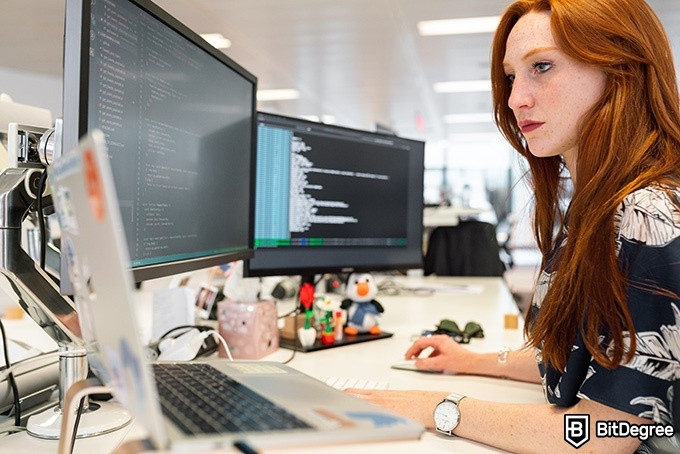 This is a great feature of a course like this, as many skills require to pair theoretical material with practice runs, just to make sure everything is as clear as possible.
With experience working with companies like Google, Salesforce, and Square, the instructor of the course is definitely worth your trust. Colt Steele has been teaching programming online since 2016 when he was voted Udemy's Best New Instructor of the year and has a 94% success rate of his students receiving full-time developer positions.
One thing is for sure, Colt is definitely qualified to teach a Udemy SQL course.
Now, one thing is certain, this course is excellently structured and organized by topic, allowing students to easily fly through the course. That being said, there is truly more than meets the eye. The 18 sections contain a total of 325 lectures and 20 hours and 33 minutes of content, making it the second-longest course on my list.
But hey, it is a Udemy SQL bootcamp after all!

According to students' reviews, the best thing about this Udemy SQL course is how the instructor and the TA interact with the students. And not just during the lectures. Many students thanked Cole for quickly and genuinely helping them with individual queries, which made the learning process much easier for many.
If we're talking about an all-in-one bootcamp program, you might expect it to cost more than an average SQL course. However, you will be glad to learn that this class is only €89.99 for the entire package, making it a great investment in a valuable skill.
Those enrolled in the course will learn:
Work with databases, whether preexisting or created by you;
Write complex SQL queries across multiple tables;
Model real-world data and generate reports using SQL.
I would definitely recommend this program to anyone looking for an all-included course that will take you through all of the essentials of SQL.
Start the course NOW.
Of course, an A-Z course covering a certain topic can come with some costs, such as the program being on the longer side. However, some people, myself included, might not have the time to dedicate several weeks' worth of evenings just for one online class.
And I'm happy to say that we eager learners have the perfect option when it comes to a Udemy SQL bootcamp. The Complete SQL Bootcamp 2023: Go from Zero to Hero is a course with everything you might need compacted into just a few hours.
As the name suggests, this Udemy SQL course is designed to take you through all essential information about the coding language, from introductory lectures for those completely new to the subject to more complex topics, some even overlapping with other coding languages, such as Python.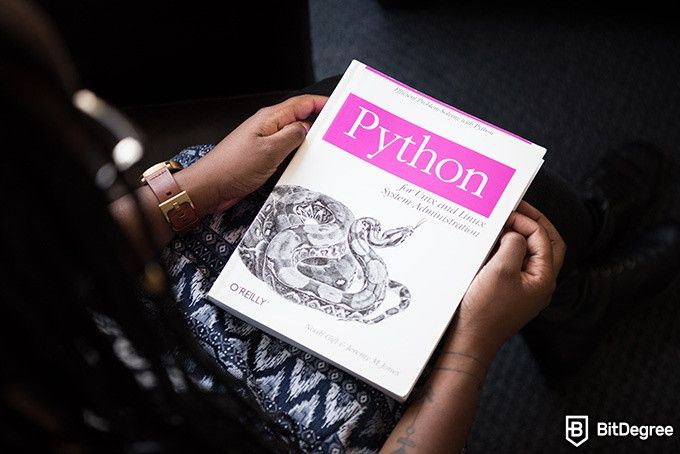 This, in my opinion, is one of the most unique features of the course, as programming classes usually tend to stick to the one language they're covering.
If you would like to meet the man behind this Udemy SQL course, let me introduce you to Jose Portilla. With years of experience teaching data science and programming, Jose focuses his work on data analysis and visualization. As the current Head of Data Science in his company, Jose is definitely an instructor worth your attention.
What made me realize I have to include this course is how concise and straight-to-the-point it is. The 83 lectures include the complete rundown on SQL and much more, so you might expect the course to be over 12 hours. However, you can really go from zero to hero in just 8 hours and 51 minutes!
This is a great option for busier students or those looking to upskill while already working, as it will only take a few evenings to fly by!

An overwhelming majority of student reviews mentioned that this Udemy SQL course was what helped them jumpstart their journey of learning programming. According to the reviews, the instructor Jose has a wonderful method of teaching complex subjects even to absolute newbies, which makes this bootcamp especially appealing to SQL beginners.
The pricing of the course did not surprise me at all. Sticking with the running theme, the course is priced at €89.99, which, in my opinion, is very appropriate for the amount of information provided.
Those enrolled in the course will learn:
How SQL can be used to perform data analysis;
How to replicate real-world situations and query reports;
How Python can be used in tandem with PostgreSQL.
If you are someone looking to start your journey into SQL with a running start, then this course was made for you.
Start the course NOW.

Like any other coding language, there are many fields that use SQL. Data analytics and business intelligence are no exception, mostly utilizing it for database management.
SQL - MySQL for Data Analytics and Business Intelligence focuses on exactly that. This Udemy SQL course is perfect for those who would like to start a career in these fields.
While many courses tend to focus on either SQL or MySQL at a time, this Udemy SQL program is an exception. Including both fields, the class can be seen as two courses in one, working together to equip you with as much experience and expertise as possible.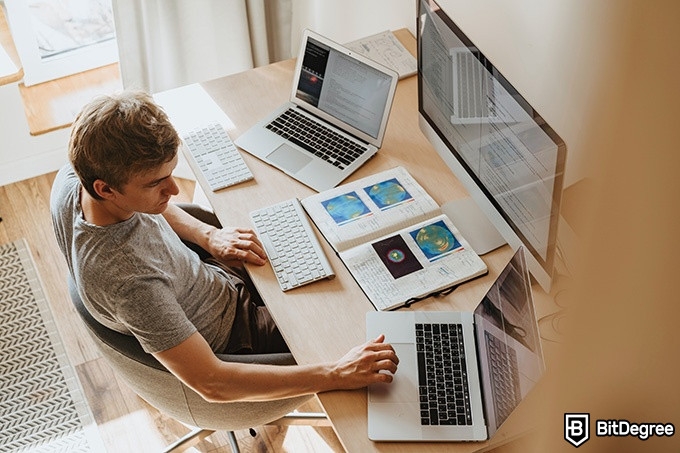 I particularly liked that this wasn't done by an introductory or bootcamp-type course, but one focusing on SQL being used in a specific sector, which you don't come across often.
This Udemy SQL course is provided by one of the biggest instructors on the platform. 365 Careers has seen more than 1.5 million students enroll in their courses focusing on business, finance, and data science. In fact, they are so good that even such giants as Apple, PayPal, and Citibank have used their courses to upskill employees.
Yes, they're that cool!
If we're talking structure, this course is one of the best. Every step of the learning process is covered in several lectures, and with 287 lectures, you know they didn't forget anything. That being said, don't feel intimidated by that number - the course is only 10 hours long, so you definitely won't have to sacrifice sleep for your certificate.

Though this is one of the longer Udemy SQL courses on our list, this did not deter many SQL beginners to try it out and love it. One review that really stood out to me mentioned that the course is structured in such a way that you don't even notice how much you've learned - the process is that simple and intuitive!
Like many other Udemy SQL courses - those mentioned in this article and not - the program is priced at €89.99. And I can definitely say - it's worth every penny.
Those enrolled in the course will learn:
How to create, design, and operate with SQL databases;
How to answer specific business questions by using SQL's aggregate functions;
Prepare for SQL developer, Database administrator, Business Analyst, and Business Intelligence job opportunities.
With so many field-specific details included in the syllabus, this is a great tool to prepare for the specifics of this job market.
Start the course NOW.

Just as there are many beginners looking for introductory courses for one subject or the other, there are many experienced professionals looking to elevate their skills to the certified expert level.
If intermediate-level SQL classes are becoming too simple, you might want to consider upskilling and becoming an expert on the subject. Luckily for you, Advanced SQL: SQL Expert Certification Preparation Course is exactly the course you need.
The content of this program is definitely one of the most in-depth and advanced I've seen. Naturally, the syllabus includes all the topics you might find in other SQL courses, just without oversimplifications and with even the most advanced techniques included.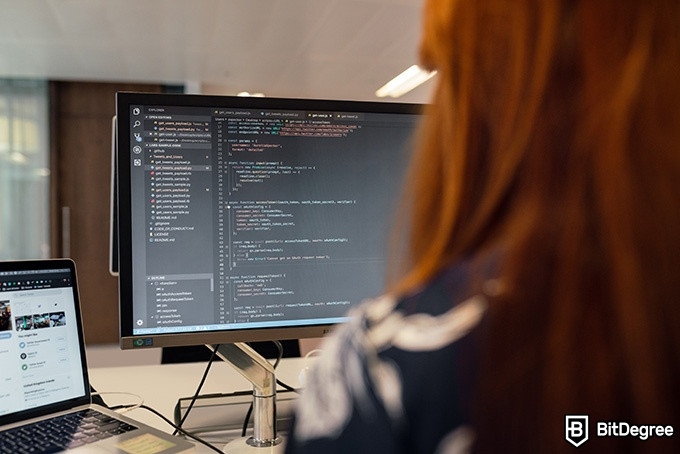 That being said, the course is almost entirely theory-based, meaning there are no practice questions or projects students can work on to hone their skills. Though minor, this is important to keep in mind while considering if this course is suitable for you.
What's more, you will learn to work with the Oracle database, which uses SQL more than any other coding language.
And what better instructor to teach you about the intricacies of Oracle than the Oracle Master of Udemy. During the 25+ years of working with various programming languages - SQL included - the instructor developed several courses on the topic, out of which this is the most high-caliber of all.
Being an expert-level course, there's little wonder that the syllabus is so multi-layered and broad. With 138 lectures and 13 hours and 5 minutes of content, this course is guaranteed to prepare you for any scenario.
Many student reviews on this SQL Udemy course thank the instructor for finding ways to explain even the most complex topics in an easy-to-comprehend manner. In addition, many thanked Oracle Master for opening them up to new career opportunities.
Pricing, as with many other Udemy SQL courses, makes perfect sense. In fact, I wouldn't have been surprised if this class was priced higher than the rest, given its advanced level. However, at €89.99, this program is an incredible deal!
Those enrolled in the course will learn:
How to master advanced functions, such as data manipulation and subqueries;
Everything you need to know about SQL's role in Oracle;
How to prepare for an SQL Expert Certification.
So, why not join the satisfied students and become a certified SQL expert?
Start the course NOW.

Out of everything SQL is utilized for, creating and managing databases is one of the main uses of the programming language. And because we are currently living in the age of information and big data, this can be one useful skill to have.
SQL for Beginners: Learn SQL using MySQL and Database Design is a Udemy SQL program that focuses specifically on the MySQL and database side of things, providing an alternative and often niche angle on the subject.
In fact, this course is unique exactly because of the perspective it presents in the syllabus. Though it is a class for beginners, students are immediately introduced to SQL as a database tool, which allows them to go much more in-depth throughout the course.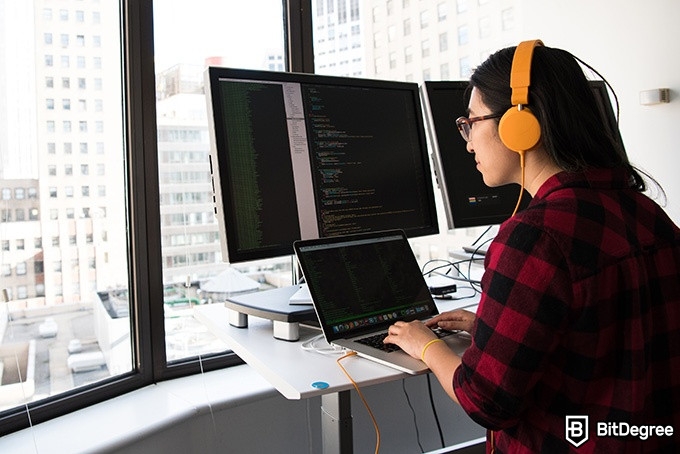 The class is provided by Tim Buchalka's Learn Programming Academy, which, created by a software developer with 35 years of experience, has seen over 1.3 million students enroll in their courses from around the world. Focusing on various coding languages, the academy and its instructors prioritize building experience on experience.
Because the course focuses on a specific use of SQL, the syllabus is structured in a very simple and precise way, avoiding any unnecessary information to assure a clear understanding of the matter at hand. Which is quite quickly covered in 7 hours and 51 minutes, making it, in my opinion, quite a compact program.

While looking through reviews left by those who have completed the course one word stands out a lot - balanced. Whether students are raving about being able to learn both theoretical and practical skills, or the syllabus including both explanations and demonstrations of different cases, many believe this class has just the right amount of everything.
Following the pricing trend, this course also comes with a tag with €89.99 on it, which is pretty much standard for many Udemy SQL programs. This, in my opinion, allows one to focus on the course quality and not settle for something you don't want simply based on the price.
Those enrolled in the course will learn:
The basics of SQL and how they translate into databases;
How to easily use ​​MySQL, one of the most widely used databases in the world;
How to design and use various databases.
I think this is a great course to choose if you're looking to learn the basics of SQL, but in a more specific way, avoiding overgeneralized information.
Start the course NOW.

While looking through Udemy SQL classes you most likely came across the word 'Oracle' at least a few times. And if it has piqued your interest, then I have just the course for you.
Oracle, being a database management software product, is almost inseparable from SQL, as the language is very often used in creating and managing databases. So when I saw The Complete Oracle SQL Bootcamp (2023), I immediately knew I had to include it in this article.
The syllabus immediately jumps into introducing students to databases and what they're used for, laying down a basic understanding of what's to come later on in the course. And they really did include everything - from creating to designing, simplifying, and managing databases.
This truly is a database bootcamp.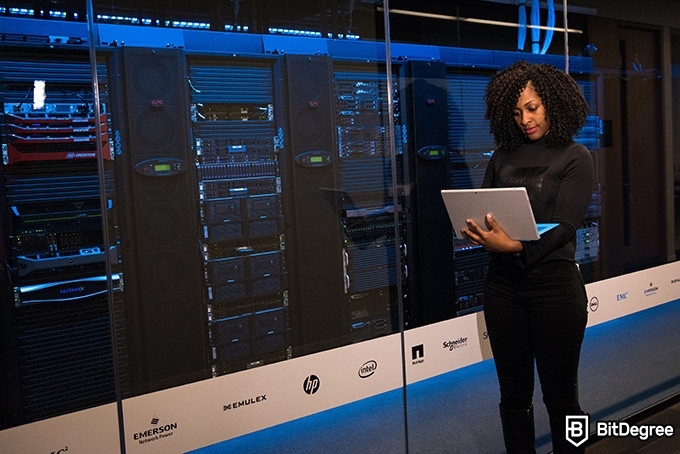 This Udemy SQL course is created by Code Start Academy, which has already seen 111 thousand success stories come out of their classes. Their two main focus fields are coding and anything data, and both of these beautifully collide in this course.
With experienced professionals creating and teaching the courses, you can be sure that you are in great hands!
Now, don't worry. Even though this is the longest program on our list, with a total of 25 hours and 26 minutes of content, you will definitely fly through it in no time. Because of the great structure, you can be sure that the 161 lectures will not make the course feel like it's been dragging on forever.

The student reviews on this course are perhaps some of the most positive ones out there. However, an interesting point was made - the quizzes are too easy. There's not enough of a challenge. This is a very interesting take on the course, and it just shows how clear and understandable the content really is.
As with almost all other Udemy SQL classes mentioned, this program is priced at €89.99. Which, keeping the broadness of this course in mind, is an absolute bargain!
Those enrolled in the course will learn:
Everything about Oracle SQL like the back of your hand;
How to write, read and analyze any SQL queries easily and how to play with data;
How to solve any SQL-related problems by yourself creating analytical solutions.
So, if you think that you would like to learn this specific use of SQL, you have come to the right place.
Start the course NOW.
Conclusions
As we've come to the end of this article, it's become quite clear to me that Udemy SQL courses are some of the best ones out there.
If you would like to refresh your memory, feel free to look through them here:
A few things stood out to me while making this list. The first one is how detailed the classes, no matter the skill level, were. Both beginner and expert programs had the same amount of effort and information put into them.
Secondly, the pricing is great. Pretty much all courses mentioned are priced the exact same way, which takes the spotlight off of costs and allows quality and content to be the deciding factors while choosing a course.
Thank you for taking the time to read about my findings on the best Udemy SQL courses. I hope this was helpful and I can't wait to see you soon in my future articles!
Leave your honest feedback
Leave your genuine opinion & help thousands of people to choose the best online learning platform. All feedback, either positive or negative, are accepted as long as they're honest. We do not publish biased feedback or spam. So if you want to share your experience, opinion or give advice - the scene is yours!