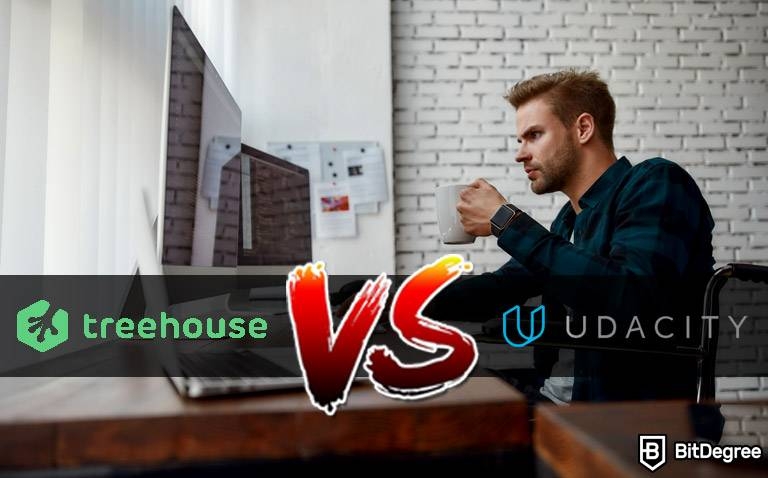 Are you looking for resources to help you learn coding at your own pace? With the recent boom in online learning platforms, programming and other similar subjects related to digital technologies have become some of the most popular among learners. Today, we'll see how two platforms focusing on digital skills face off against each other in our Treehouse VS Udacity comparison.
Through the comparison, we'll cover various criteria, such as course quality, accessibility, and price, to determine where the platforms stand out and where the learners may encounter some downsides. We won't be analyzing specific courses, but instead, see how the Treehouse platform fares as one of the main Udacity competitors.
However, before we start, allow me to give you a brief introduction to today's two subjects. Treehouse is an online learning platform focusing on technical skills such as web design, data analysis, and Python programming. Udacity is a platform for those looking to develop their job skills. Some of the available topics include cloud security, artificial intelligence, and data science. Both platforms were launched in 2011.
So, let's take a look at the evaluation criteria for our Udacity VS Treehouse comparison.
Treehouse VS Udacity: Comparison Criteria
As we're getting started with our Treehouse VS Udacity face-off, let's first answer the question – why are these two platforms worth considering? Instead of any Treehouse or Udacity competitors, why these two in particular? Well, both are favored by both students and industry professionals looking for personal and career development.
Latest DataCamp Coupon Found:
CLAIM 50% OFF
DataCamp Cyber Monday Deal
DataCamp Cyber Monday special is here! Enjoy a massive 50% off on DataCamp plans. Subscribe now and redefine your data and Al skill set for the better!
Expiration date : 01/12/2023
5,324 People Used
Only 36 Left
However, there are different reasons why some learners may prefer one platform over another. To help determine which option may be better for you, we've developed an evaluation criteria system that covers five aspects – accessibility, course variety, language support, certifications, and pricing.
Here's what we're taking into account in our Udacity VS Treehouse comparison:
Accessibility & Usability. You can't start learning in the first place if you can't figure out how to navigate the platform. So, our first category will look at how easy the two platforms are for beginners to figure out. We'll consider things like the menu and layout, as well as the overall navigation for someone who hasn't used either of the platforms before. We'll also take mobile learners into consideration and see how the platform works on Android and iOS devices, if these apps are available.
Content Quality & Variety. Each learner has different needs – some join these platforms or the Treehouse and Udacity competitors to learn something from scratch, others want a refresher course, while a certain niche might be doing workshops for their career. We'll see what course ranges you can find on the platforms and what learner levels are supported. We'll also cover the overall range of the course catalogs to see whether they offer only the core skills or some niche subjects as well.
Foreign language support. Learning online can be easy and convenient – if you understand what you're learning. Many students start developing their skills in their native tongues, and statistically speaking, more often than not, this means languages other than English. So, in this category, we'll take a look at what accommodations foreign language speakers can find. Is the content localized? Can you find subtitles or support in your preferred language? We'll find all of it out.
Certificates & Rewards. While college graduates receive diplomas, online learners are eligible for recognition of their own. Many Udacity competitors offer successful learners certificates of completion, which can sometimes even be accredited. We're going to see how the reward systems work on Treehouse VS Udacity and what value they might hold in the industry or academic spaces. We'll also find out whether the certificates are accredited or not.
Pricing. Last but not least, we need to talk about the prices. Getting a full university degree can be an expensive endeavor, even with scholarships. Online learning courses can be a great way to learn quickly and without having to spend as much. We'll see what payment models the two platforms use and what discounts might be available. If you're a student or a business owner, you might be eligible for special plans. Additionally, we'll see what options there might be for those interested in free courses on Udacity VS Treehouse.
By the end of the comparison criteria, you should have a pretty good image of what makes the two platforms similar and what sets them apart. Of course, we can't make the decision for you – we can only aid you in your way. Based on the facts that we present, you can decide what suits your needs as a learner better.
So, let's finally jump into the Treehouse VS Udacity comparison.
Treehouse VS Udacity: The Comparison
We'll go through the comparison criteria in the same order as presented in the section above.
Accessibility & Usability
Starting to learn a new subject can be daunting at first, whether that's at university or from the comfort of your home. So, some guidance is always appreciated – that can mean a convenient campus map in the first case and an easy-to-navigate website in the second. In terms of Treehouse VS Udacity usability, the main question is which portal is more user-friendly.
We'll start by looking at Treehouse. As you open the portal, you are instantly faced with a lot of information, like the different services offered, the perks, and the prices. However, one thing you'll find lacking is a clear presentation of the course catalog. So, instantly, you might be wondering – where's the starting point?
Here's where one of the first Treehouse beginner-friendly features can be spotted – the Get Started Quiz. It's a feature that helps you determine which course is the best starting point for you. You'll have to answer questions such as what your learning goal is (answer options include career development, desire to work on an idea you have, or simply wanting to learn a new skill), what your skill level is at the time, and whether you want a guided learning path.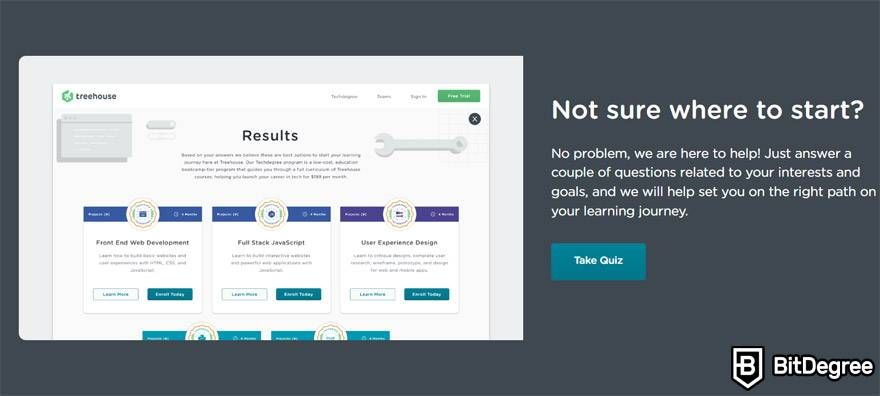 Once you've completed the quiz, you'll be recommended three courses that you can explore. However, if you're interested in the broader catalog, you'll want to check out the Library section. Here, the courses are sorted based on their topic. We'll take a better look at what the full catalog has in store in the Content Quality section.
Now, let's take a look at Udacity. As you scroll down the homepage, you'll notice a map introducing each of the key subjects offered by the platform, including artificial intelligence, autonomous systems, cybersecurity, and executive leadership. Additionally, the course catalog can be easily previewed based on whether you need content for enterprise, governmental, or individual learning.
For now, let's focus on the individual learners' catalog. All courses, known as Nanodegrees, can be filtered based on their topic, field, skill level, duration, and price range. So, if you're looking for, say, beginner-friendly free Python courses, you can find just that.
One downside compared to Treehouse as a Udacity competitor is that Udacity doesn't offer its learners a recommendation system or a starter quiz. You have to know what you're interested in and find the course in the catalog yourself. While the manual process is easy to navigate, it can nevertheless be a bit overwhelming for a newcomer who's interested in just about anything and everything.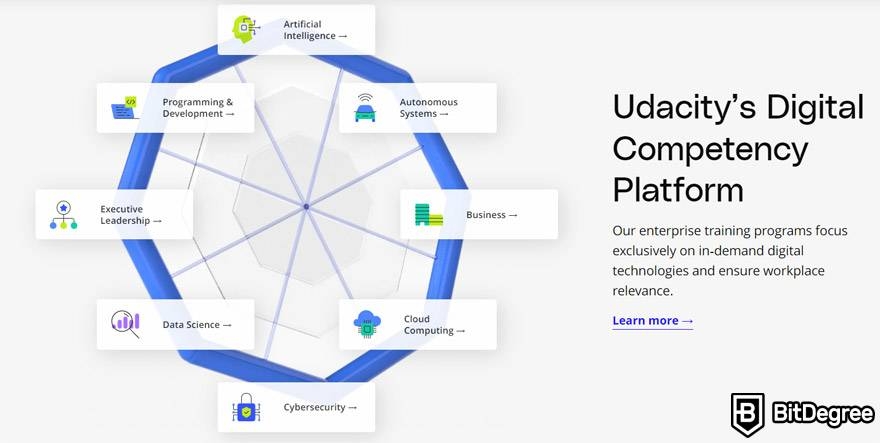 So, when it comes to the desktop version comparison for Treehouse VS Udacity, both platforms have their upsides and downsides. Udacity is the easier one to navigate around, while Treehouse offers better guidance if you're feeling indecisive.
Next, we'd talk about mobile availability. Unfortunately, we have to take points away here for both platforms. Although both Treehouse and Udacity were available on the iOS and Android stores some years ago, they have since been removed. According to the Udacity team, there are no plans to reinstate the app in the foreseeable future. Treehouse has not announced any plans to reintroduce the mobile-friendly service either.
If you're looking for mobile learning convenience, unfortunately, both platforms are lacking here. However, if you plan on working exclusively on desktop, the Treehouse VS Udacity match-up is going toe-to-toe.
Content Quality & Variety
As far as learner needs are concerned, matters can get very subjective. Are you a complete newcomer to the IT field? Do you have some useful experiences already but it's been years since you put those skills to the test? Perhaps you want to requalify and test yourself in a new role? No matter what you need, a good online learning platform should offer versatility.
There are two things to consider in this part of the Udacity VS Treehouse comparison – quality and quantity. We'll start with the latter. Both platforms can boast pretty impressive and extensive catalogs. Treehouse offers its learners over 1,000 courses. The platform focuses primarily on programming languages and web development.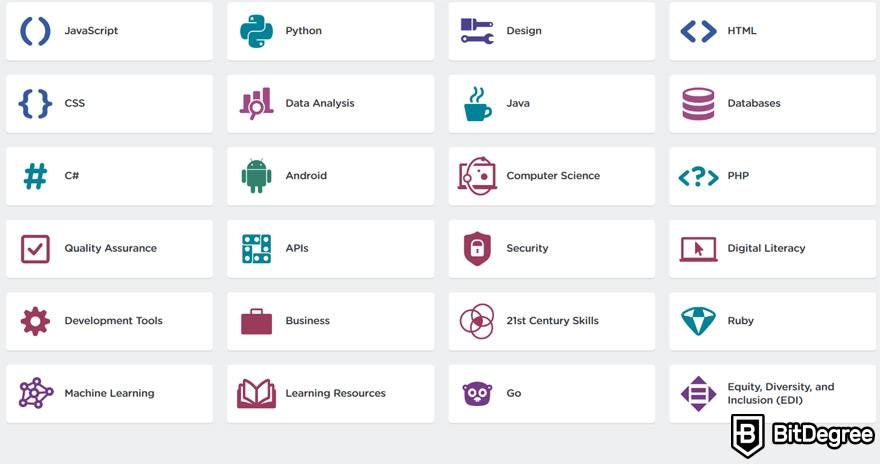 Udacity's selection is significantly smaller, coming in at just over 200. However, consider how many courses you'd take during a uni degree – this number is still nothing to scoff at, especially when you see how niche some of the content can be. Think back on the map we saw – you won't find autonomous systems offered by many of the biggest Udacity competitors.
Treehouse offers two types of courses – lectures and Techdegrees. Lectures consist of content for all learner levels, while Techdegres are more focused on long-term learning programs.
Lectures are the integral part of the main Treehouse course library. Popular technical topics include your usual programming languages like Python, R, and JavaScript, Android app development, data analysis, machine learning, and others. You can also access content more focused on career development, such as skills for the 21st century and soft skills for business.
The general catalog also includes workshops. These are short presentations, usually lasting no longer than 10 minutes, that show you how to use various shortcuts, as well as other tips and tricks for your subject of choice. Practice exercises allow you to test your theoretical knowledge by working on various projects.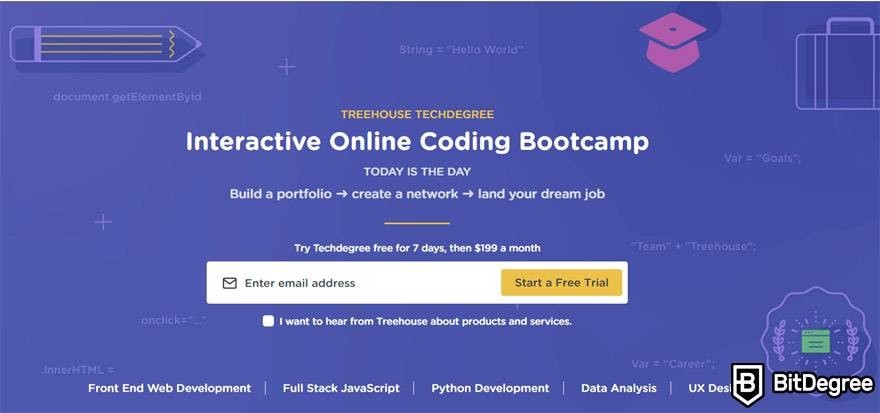 For bonus content, you can access various conferences where industry professionals share their insights and knowledge. Learners who have purchased Courses Plus can watch video guides on career development, job interviews, and other practical skills.
Techdegrees are described as the Treehouse bootcamp. These are long-term projects that allow you to build your portfolio and earn a certificate – something we'll be discussing shortly. Techdegree programs typically take about 4-5 months to complete. At the time of writing, Treehouse offers six Techdegrees.
Now that we've covered the course variety on Treehouse, let's turn towards Udacity. As I've already mentioned, there are three learner groups:
Enterprise – workshops, hiring programs, and schools for businesses. Udacity for Enterprise is often used for staff training and management;
Government – Udacity has created special learning programs with governmental institutions from numerous countries, including Chile, Egypt, and the US. The Udacity-affiliated governmental programs aim to provide more career development opportunities in the national markets;
Individuals – these courses are the most accessible to the everyday user. With over 200 courses to choose from, you can learn not just basic programming skills but also focus on more specific content, such as using AI in healthcare, iOS app development, or ethical hacking.
Nearly all courses (excluding the free content) for individual learners are part of Nanodegrees. Unlike some of Udacity competitors that offer short guides that rarely exceed several weeks, Nanodegrees are intensive learning programs that require several months to complete. As the name implies, they're mini-digital degrees that cover a broad range of technical skills.

Something to keep in mind while comparing Techdegrees on Treehouse VS Udacity Nanodegrees is that both offer technical mentor support. You won't be thrown off the deep end – course representatives will be available to answer your questions and aid you during your projects. You'll also be able to keep in touch with the student community and discuss the tasks with your peers.
Some prerequisites, like basic programming knowledge, may be expected before you enroll in a Nanodegree. These will vary from course to course, so keep an eye on the descriptions to see what you might need. There is no entrance exam. Another great perk of the Nanodegree is that you are not required to download any third-party software – it's all available in one place.
While Udacity does not offer the same range as Treehouse, it's great for a career-focused learner that wants to upgrade their portfolio. The regular Treehouse course catalog can help you build the foundation of not just your technical skills, but also your professional behavior via soft skill development.
So, in terms of course quality, both platforms certainly deliver respectable results.
Foreign Language Support
Language is a twofold term when we discuss data science platforms. If you don't specify what you're talking about, some might presume that you mean programming languages, while others might first think of English or Spanish. The latter is what we're covering here today.
The fact is that it's simply a lot easier to study when you understand what you're studying. And while we use English a lot online, when it's not your mother tongue, trying to memorize complex terms and rules can be difficult. Being able to access this content in your native language can be really helpful.
So, how do Udacity VS Treehouse fare in this regard? Well, Udacity is the clear winner here.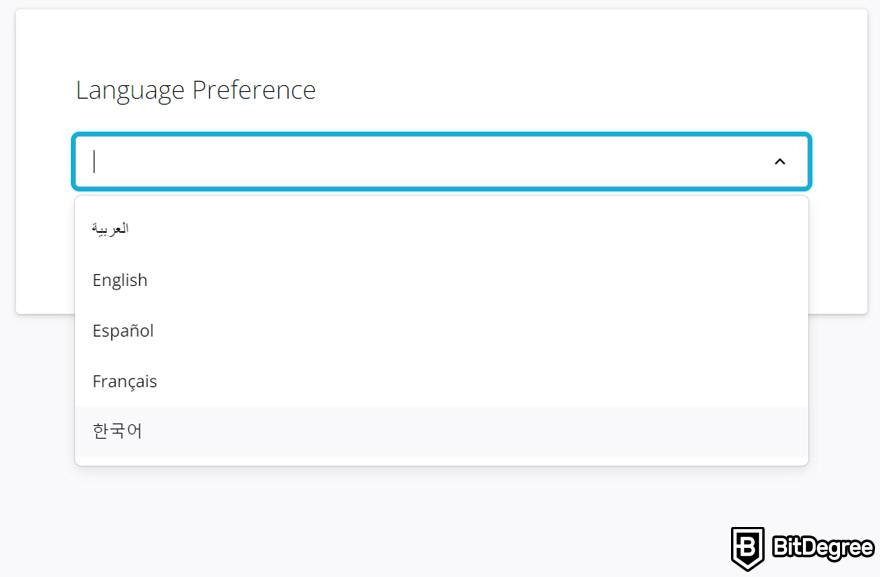 When taking Udacity courses, you'll have the option to change the subtitle language. At the time of writing, Udacity offers its users five subtitle options – English, Arabic, Spanish, French, and Korean. Of course, this only covers a small group of all prospective learners. However, having this option available points towards the possibility of more languages being added in the future.
Keep in mind that Udacity's governmental services might play a role in language availability. So, if you ever see Udacity courses advertised by a national institution, take a look at the platform's subtitling options, and maybe your preferred language will be made available.
However, things aren't quite as lucky once you look at Treehouse. Unfortunately, there are no such accommodations available for the video content. Team Treehouse responded to some questions regarding foreign language support on the community board many years ago, stating that there was no timeline to introduce these new features but that they were aware that Spanish, in particular, was in high demand. There have been no further updates since.
So, neither Treehouse VS Udacity platform offers a massive variety of foreign language options to aid your learning process. Nevertheless, Udacity still gets points here for its subtitled content.
Certificates & Rewards
Let's be honest – certificates are probably the biggest selling point for many online learners. Of course, you can brag about learning a new skill by just telling people about it. But isn't it so much nicer to have proof that you can add to your CV, LinkedIn, or set as your wallpaper (that way, you can save printing paper)?
When it comes to Udacity VS Treehouse certifications, we need to talk about Techdegrees and Nanodegrees in particular. As we've already discussed, these two learning modes share some similarities – they're long-term courses that last several months and focus on mastering a specific subject. Other than community support and mentor guidance, they have another thing in common – certifications.
By completing a Techdegree or a Nanodegree, you receive proof of completed projects that can be added to your technical portfolio and a certificate of completion. Essentially, these are industry-level qualifications that may help you in a data science or data analysis role.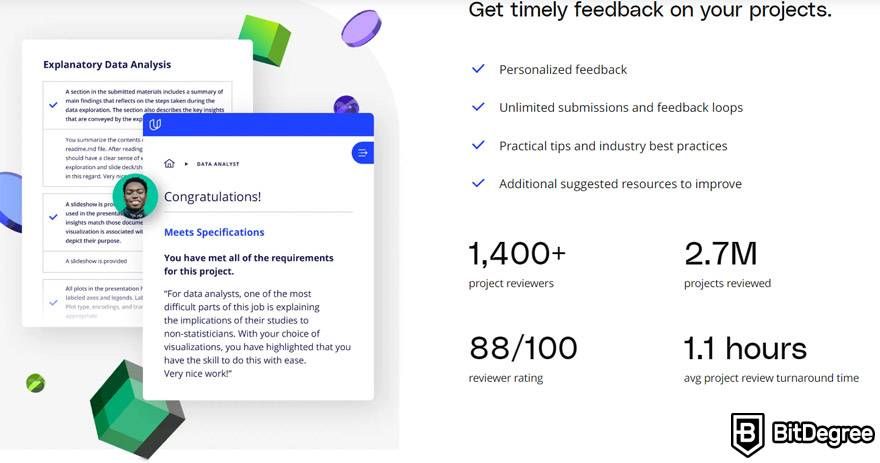 The process of acquiring a certificate is similar on both platforms – you need to successfully complete all courses, pass all tests, and complete the required projects to be eligible for graduation. Udacity also specifies that you must complete the ID verification process to ensure that the certificate is valid.
Udacity users will be able to access their certificate directly on their account, while the Treehouse certification can be accessed via Accredible. The files can be downloaded and shared on various social media platforms.

However, there's one caveat here. Some of the Treehouse and Udacity competitors offer accredited certificates, meaning that the digital degree is backed by an academic institution. Unfortunately, the certificates on these two platforms are not accredited, so if that's what you're after, you may have to look elsewhere.
Nevertheless, the qualifications offered by Udacity VS Treehouse can be useful in building your CV and providing proof of your digital skills.

Pros
Easy to use with a learn-by-doing approach
Offers quality content
Gamified in-browser coding experience
Main Features
Free certificates of completion
Focused on data science skills
Flexible learning timetable

Pros
High-quality courses
Nanodegree programs
Student Career services
Main Features
Nanodegree programs
Suitable for enterprises
Paid certificates of completion

Pros
A huge variety of courses
Easy-to-navigate interface
Over 600 free courses
Main Features
A huge variety of courses
30-day refund policy
Free certificates of completion
Pricing
We've reached our final point of comparison – pricing. Often, the price is the selling point – you need to be sure you're getting your money's worth when you sign up for online courses. It's even better if you can get a free trial first and see how things work before you commit.
So, let's focus on the free perks of Treehouse VS Udacity first.
The Udacity course catalog includes not just the Nanodegrees that we've discussed in-depth but also a broad range of free courses. These are often part of the introductory section in some nanodegrees and take far less time to complete – typically a few days up to a week. Much like with paid courses, you'll have access to interactive quizzes and video lectures, and you'll be able to study at your own pace. The biggest downside? You won't receive a certificate of completion.
Treehouse has chosen a different approach – before you settle on a plan, you'll receive a 7-day free trial, allowing you to have your pick at any of the 1,000+ courses available on the platform. There is no free plan, so this week of free content is your best chance to test things out.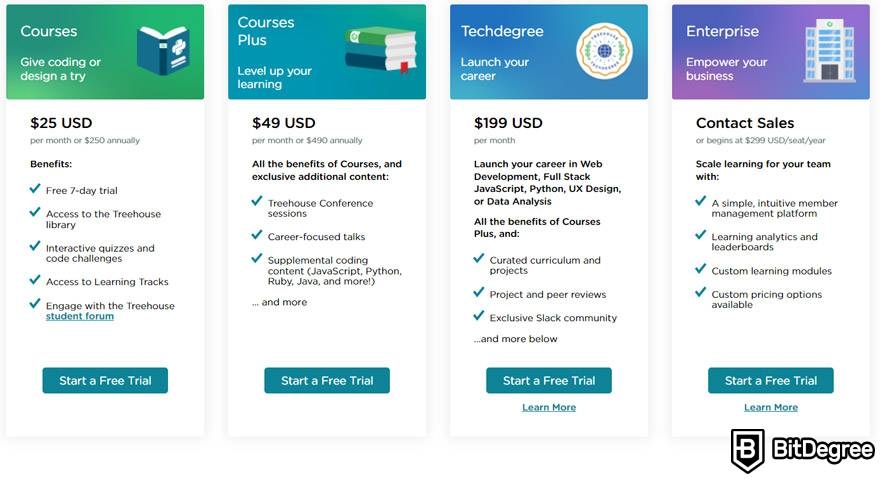 So, as far as the free options are concerned, there's some range, albeit it's not very broad. Next, let's talk subscription plans and costs.
Udacity Nanodegrees have a predetermined duration, ranging from 2 months to nearly a year. Therefore, the payments are made on a monthly basis. The base rate for a single month is $399. However, you can pay upfront for the entire Nanodegree and be eligible for a discount.
So, for example, you'll pay $678 instead of $798 for a two-month program and $1,356 instead of $1,596 for a four-month program. You can swap between an upfront and a monthly payment anytime, and the discount applies even if you need a few extra months to study.
All things considered, this platform is pricier than some of the Udacity competitors. However, you're getting a full-rounded, intensive studying experience with live support and portfolio-building tools. So, the price is worth the quality you're getting.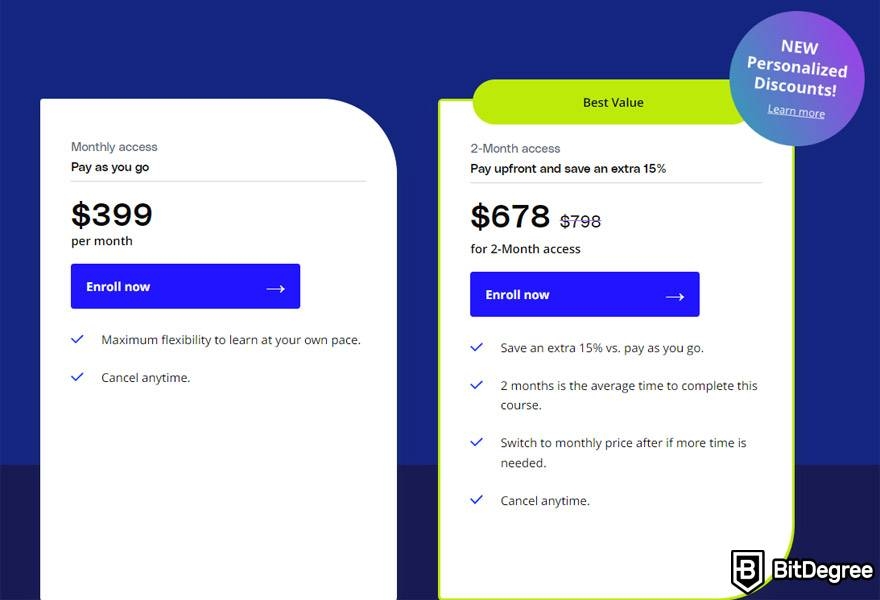 Treehouse, on the other hand, uses a more conventional subscription-based model. There are four plans based on your individual or institutional needs:
So, in terms of Udacity VS Treehouse cost efficiency, the latter is definitely the cheaper option. However, if you're looking for quality online learning resources, either of the two platforms can be a solid choice.
Conclusions
We've reached the end of our Treehouse VS Udacity comparison. As you can see, both platforms have a lot to offer to all types of learners – from those looking to learn something new to those working on their career development.
Both Treehouse and Udacity offer a broad range of data science and analysis courses. However, in Treehouse's vast catalog of over 1,000 courses, you'll also find tips and tricks for your career development. Although Udacity offers a smaller catalog, you'll also be able to enjoy some free courses. Keep an eye out on your national social and labor institutions, as they may offer special programs organized with Udacity.
If you want to learn more about either of the two platforms, we have reviews for both Udacity and Treehouse. Don't forget to take a look at our comparison tool to get a better look at the technical specs of the two platforms, or even see how they fare against other Treehouse and Udacity competitors.
The ball's in your court now – which platform suits your needs as a learner better? Don't forget to share your Treehouse VS Udacity experience in the comments below.
So, make your call, sign up for Treehouse or Udacity (or even both), and enjoy the learning process!
Leave your honest feedback
Leave your genuine opinion & help thousands of people to choose the best online learning platform. All feedback, either positive or negative, are accepted as long as they're honest. We do not publish biased feedback or spam. So if you want to share your experience, opinion or give advice - the scene is yours!