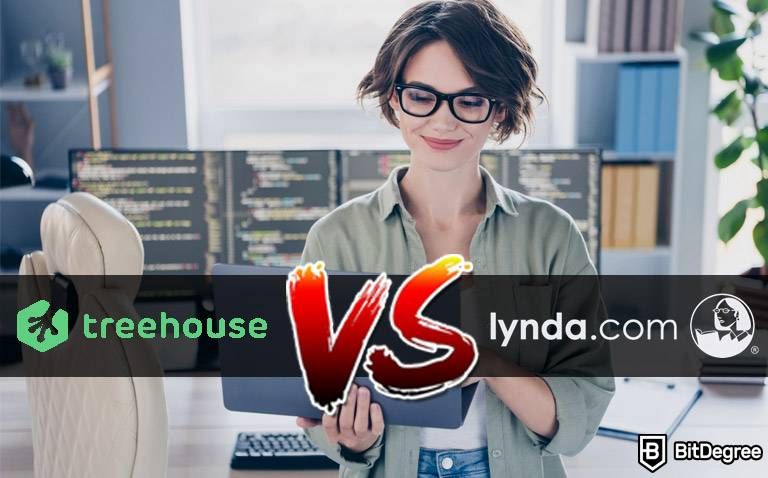 There's never a wrong time to work on your professional skills. With so many career development tools and online learning platforms around, it can be hard to tell what's worth your time and which resources aren't built for your needs. So, today's Treehouse VS Lynda comparison will show you how these two platforms can help you advance in your workplace.
As always, we'll cover the key criteria, such as course quality, costs of studying, and accessibility for desktop and mobile learners. Our goal isn't to pick apart each course chapter-by-chapter but to get a better idea of how a newcomer might feel when they make the final decision to study on one of the platforms.
Before we jump into our Lynda VS Treehouse evaluation criteria, let's have a quick introduction to our learning platforms. Treehouse, sometimes referred to as Team Treehouse, is an online hub for learning all things coding. It was developed in 2011 and now has over 50,000 students.
Lynda is one of the oldest names in the market. It was founded back in 1997. LinkedIn acquired Lynda in 2015. Although the platform is now known as LinkedIn Learning, for the sake of simplicity, we'll be referring to it as Lynda throughout this comparison. The Lynda.com domain automatically redirects you to LinkedIn Learning.
Now that we've got the basic facts out of the way, let's run through our Treehouse VS Lynda evaluation criteria.
Treehouse VS Lynda: Comparison Criteria
If you have seen any of our previous online learning platform comparisons, you're probably already familiar with our five-category system. However, before we look at the Treehouse VS Lynda criteria, let's discuss why finding the right learning platform is such a rigorous process and why there is no single perfect platform for every learner.
Latest DataCamp Coupon Found:
CLAIM 50% OFF
DataCamp Cyber Monday Deal
DataCamp Cyber Monday special is here! Enjoy a massive 50% off on DataCamp plans. Subscribe now and redefine your data and Al skill set for the better!
Expiration date : 03/12/2023
5,324 People Used
Only 36 Left
For starters, different platforms focus on varying needs. Sites like Lynda and Treehouse cater to diverse learning style preferences, price ranges, and topics. In this case, both platforms offer a variety of courses for soft skills, career development, and data science, so we'll cover the full scope of their respective catalogs.
The evaluation criteria are not listed in any particular order, and we will not be grading the platforms at the end of each category. The goal is to help you make the final decision and determine which platform suits your needs better using the information you're about to acquire.
Here are the five Treehouse VS Lynda comparison criteria:
Language Support. I must first emphasize that "language" here refers to foreign languages and not programming tools. We're used to seeing English everywhere online – including Treehouse and Lynda.com competitors or even our website – but passively scrolling doesn't require the same amount of effort as learning does. For this reason, it's important for us to know if learners who would feel more comfortable studying in their native language would find foreign language support.
Site Usability. Language is one side of accessibility. Another aspect that we need to examine is how easy the platform is for users to navigate. Is it straightforward, presenting all you need to know on your homepage, or do you need to click around to find what you need? We'll discuss how easy it is for you to find your starting point if you've never tried any sites like Lynda or Treehouse before. We'll also see if mobile users are supported with access to apps.
Quality of Courses. To many, this will be the most important Lynda VS Treehouse evaluation category. We'll take a look at the course catalogs that the two platforms offer. However, instead of dissecting individual courses, we'll look at a broader range by focusing on learner levels and catalog variety. Are the platforms beginner-friendly, and how well do they accommodate intermediate or advanced students? We'll also see what other resources learners can access besides the main content, like quizzes and downloadables.
Certification. When you study using sites like Lynda and Treehouse, more often than not, you receive a certificate once your course is finished. Certificates can be an important tool for learners, especially when they're accredited – they represent a notable academic achievement and prove that you have what it takes to do your job. We'll see what reward systems Treehouse and Lynda employ, and how well-recognized they are.
Pricing. Finally, we can't talk about online learning platforms without discussing their costs. From platform to platform, the costs may vary, as some platforms adopt a subscription-based model, while others allow you to pay only for the content that you need. We'll see the pricing options for Lynda VS Treehouse learners, and what services there might be for enterprises. And to make things a little sweeter, we'll have a glimpse at some of the free perks.
By the end of the comparison, you should find it easier to decide which platform is the right fit for your needs as an online learner. Remember – what works for others may not work for you. You can also always give both platforms a go to see if the real experience matches your first impression, and share your experiences in the comments at the bottom of this article.
So, now that we know what we're going to cover, let's jump into the Treehouse VS Lynda comparison.
Treehouse VS Lynda: The Comparison
We'll follow the category order as covered above, starting with language support.
Language Support
Here are a couple of simple warm-up questions: do you speak any language other than English? And if so, is that other language your native? Statistically, chances are that this is the case. While we're used to having access to so many digital tools and resources in English, some might not be able to use them to their fullest potential due to a language barrier.
Struggling to understand the content can be discouraging when you're trying to learn a new skill. So, it's always helpful to have some aiding tools to assist you – and in terms of language support, we might be talking about things like subtitles, learner communities, or even fully localized online courses.
So, in terms of Treehouse VS Lynda, which platform is more suitable for foreign language speakers?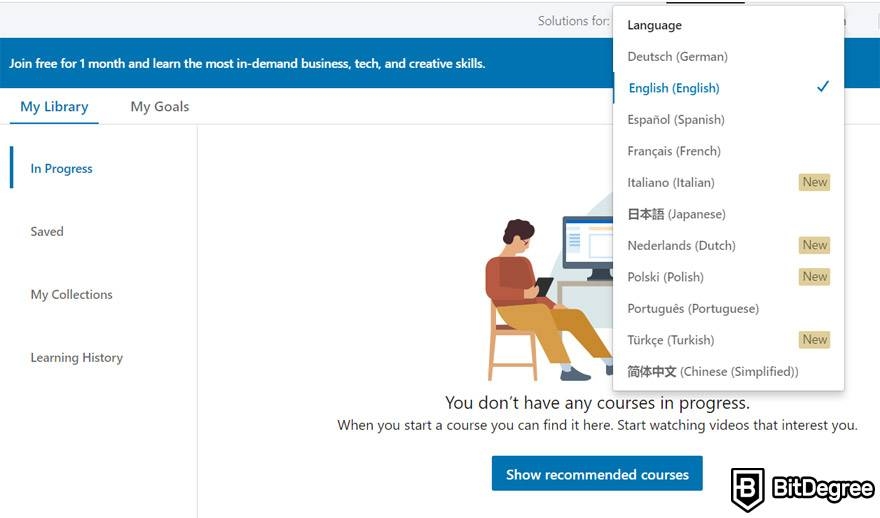 Without any competition, Lynda is the winner here. As part of the LinkedIn infrastructure, the platform itself can be accessed in more than 26 languages, including Arabic, Dutch, Polish, Turkish, and Chinese. LinkedIn is one of the biggest social networking platforms, so it's unsurprising that such immense support has also been set in place for the learning platform.
As for the courses themselves, a large chunk of the video content you'll come across will contain multiple subtitle languages. You can view subtitles in 11 languages (at the time of writing), such as Mandarin, Japanese, and French. Other course content is available in 7 languages, including the ones I've listed. However, bear in mind that not all content has been localized. So, check the details of your course to make sure your preferred language is available.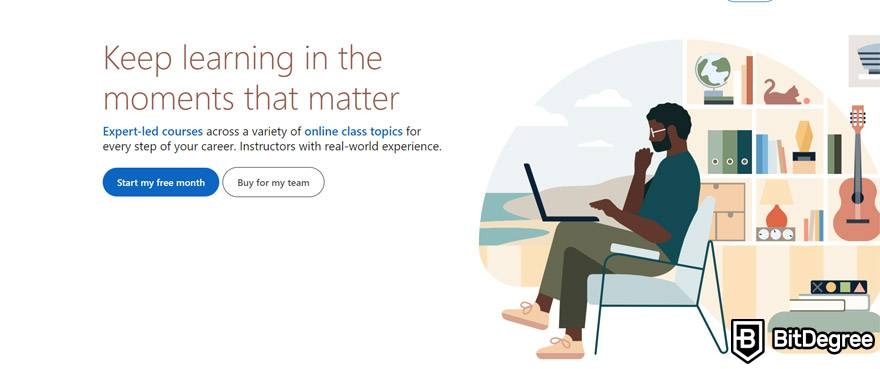 As for Treehouse? Well, I'm going to disappoint you here. All content, as well as the platform interface, is available in English only. While some message board archives contain messages from the team saying they are aware of the inquiries into adding other languages, there has been no talk or a roadmap for these features.
So, if you want a more convenient learning experience – or if you want to put your foreign language skills to a test while learning something new – Treehouse is certainly not one of Lynda.com competitors. The LinkedIn-affiliated platform offers extensive foreign language support, and Treehouse would have a lot of work to catch up on.
Site Usability
The next thing we're taking a look at in our Treehouse VS Lynda comparison is how easy the platforms are to navigate. Think about it like this – on your first day on campus, it's nice to have some guidance while you're looking for the right faculty building. Similarly, once you register on sites like Lynda or Treehouse, you should be able to figure things out easily. Otherwise, you might not want to stick around.
Let's start with Lynda here. If you're a LinkedIn user, you might know that some features are unavailable while logged out. However, here's the first upside – you don't need to have a LinkedIn Learning plan or even be registered to preview the Lynda course catalog, which consists of an astounding number – more than 20,000 courses for all learner levels. Immediately, you'll be able to select one of the three main categories:
Business
Technology
Creative
If you happen to be a registered LinkedIn user, you'll also receive personalized recommendations based on your current or prospective career. You can simply type in your preferred role, and LinkedIn Learning will recommend the top courses. You'll also get recommendations based on your peers and the pages you follow on the platform.
LinkedIn integrations also make it easy to sync your learning with your portfolio. You can add new skills, complete assessment tests, and compare to other users all in one place.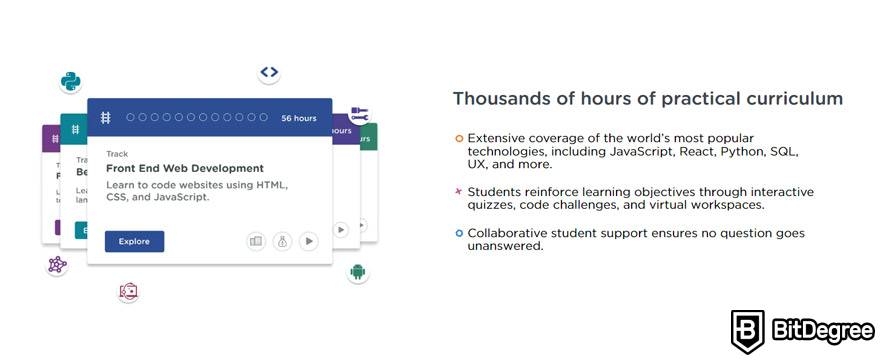 Treehouse users have a few paths they can take as they start learning. One of the options is to browse the entire course catalog, which consists of over 1,000 courses, workshops, projects, and other resources. Another option is to take the Get Started Quiz to determine which course is the best starting point based on your needs.
The Treehouse library can be a lot to take in at first. With 24 different categories ranging from soft skills development to the newest programming languages, you might struggle at first. However, all categories are color-coded and sorted by the learning level, so it shouldn't take long to get the hang of things.
That's just what learning on the desktop is like, though. What about the Treehouse VS Lynda mobile experience?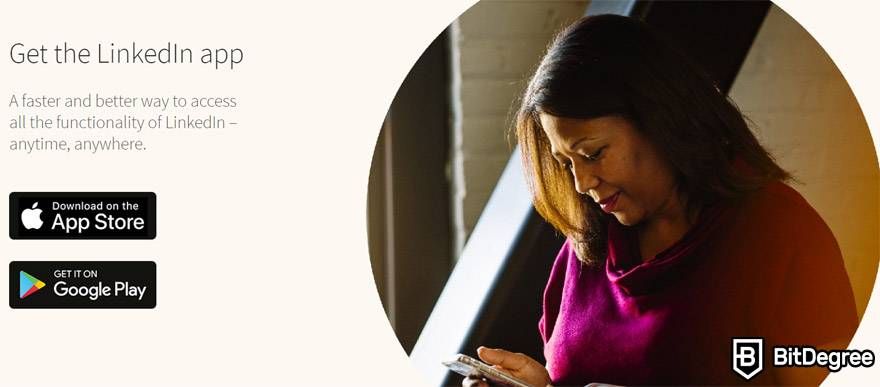 Similar to the language variety, Lynda is the clear winner here. In addition to the regular LinkedIn app, you can also download LinkedIn Learning and complete your courses on the go. The app lets you showcase your achievements by syncing up to your profile and has a Discussion section to connect you to other learners.
While Treehouse had a mobile app some years ago, it was discontinued, meaning the mobile learning prospects aren't as well-established as Lynda's. The team has not mentioned whether the app would be reinstated in the future.
So, while both platforms are pretty easy for newcomers to figure out if you plan to spend more of your time learning on your phone, then Lynda.com is the choice for you.
Quality of Courses
Now that we know how both platforms work, we can take a better look at the courses. As I've mentioned, we won't be analyzing the course content itself. Keep in mind that both platforms use a combination of video classes and interactive quizzes. So, in terms of technology, there are some similarities.
In terms of course variety, Lynda is hard to compete with. However, you also need to keep in mind that Lynda has been around since 1995 and is one of the oldest online learning platforms – it's certainly had the time to accumulate such an impressive catalog. Treehouse's catalog is also nothing to look down on – with over 1,000 courses, you'll find many hidden gems.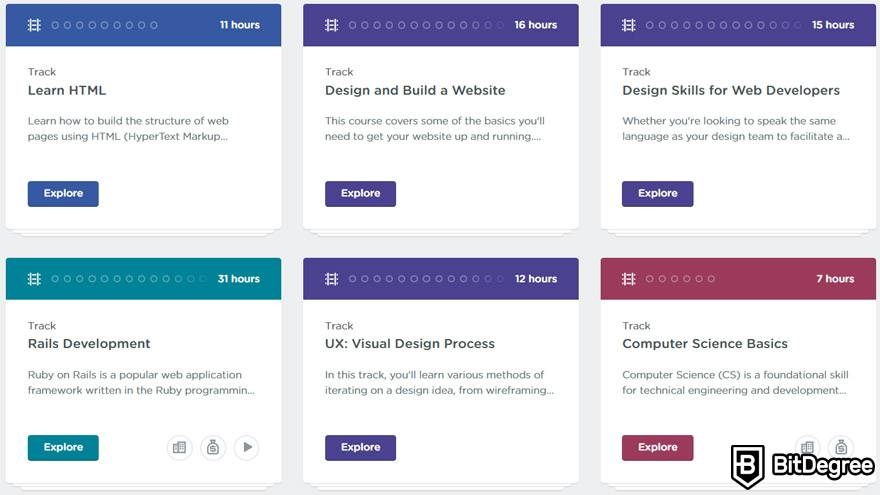 By now, you already know that all LinkedIn Learning courses fall under one of the three general categories – Business, Technology, and Creative. Many other sites like Lynda only focus on one or two broad skillsets, so there's a big advantage of catalog depth here. The nearly three decades of industry experience also add a flavor of quality and reliability to the selection of courses.
Business courses are focused on topics such as marketing, personal branding, and job interview prep. The Technology category offers content that you might find on many data-science-based Lynda.com competitors – Business Intelligence essentials, DevOps skills, and even tips to optimize hardware. Creative content is great for artists, architects, and engineers. The courses teach you how to use software like Blender and what the process of designing tools for consumer electronics is.
The Treehouse course library consists of five sections:
Popular Tracks – beginner-friendly learning tracks that consist of several courses;
Topics – the main categories of skills on Treehouse;
Courses – the complete list of courses;
Workshops – short tutorials and presentations;
Practice – practical exercises to test your skills;
Conferences – recordings from various industry events;
Bonus Series (for Courses Plus users) – additional courses and helpful content with industry insights.
Committing is often the hardest part. So, Treehouse offers its users a 100 Days of Code challenge. As the name suggests, the goal is for you to code for at least 30 minutes a day, 100 days in a row. You'll have daily reminders sent to your email to keep your track going. This will help you get into the habit of daily practice and consistently work on your skills.
To get started, you can take a look at the Learning Resources topic. Here, you'll find tutorials for the platform itself and learn how to use the tools at hand to develop your programming skills.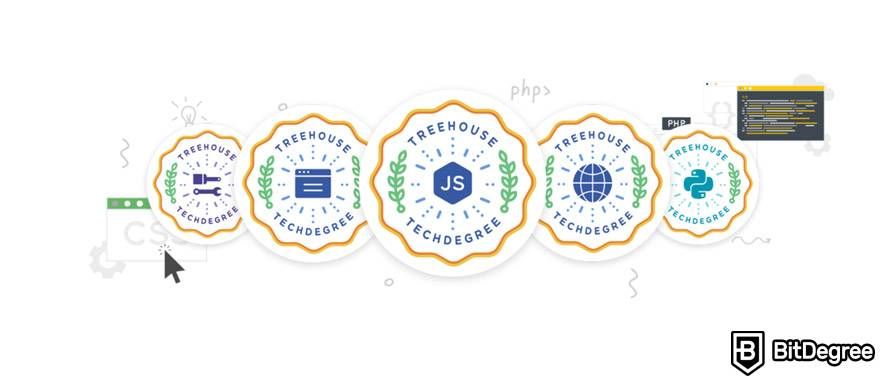 In addition to technical skills, including both hardware and software courses, you'll also be able to work on your professional development. Topics such as Equity, Diversity, and Inclusion (EDI) will teach you about discrimination and equal rights in a workspace, while 21st Century Skills courses discuss technical interviewing practices, dealing with imposter syndrome, and ways to give and receive feedback. That's not something you'll find on many Treehouse of Lynda.com competitors.
Aside from the regular courses, you can also complete the Treehouse Techdegrees. These degrees are intensive programs that take several months to complete and help you go from zero to master. You are not required to meet any prerequisites to take a Techdegree, and once you're done, you'll receive a certificate (more on that later). You'll also be able to join a special Slack channel and talk to other Techdegree students, so you won't be alone in your learning process.
So, this Treehouse VS Lynda face-off is pretty tough – both platforms offer an impressive range, customized recommendations, and something for all learners to discover.
Certifications
Let's talk about the second-most fun part of online learning, aside from seeing your new skills work in practice – certifications. It's nice to get recognition for your achievements. It's like getting a gold star sticker – but a certificate has a more practical use. Most online learning sites like Lynda and Treehouse offer learners certificates of completion. The biggest question is whether those rewards are accredited or not.
Accredited certificates are ones you earn on platforms like Coursera or edX. They're awarded for finishing courses that are affiliated with academic institutions. Usually, such certificates might have some additional value. For example, you might be able to convert them to be used as part of your college credit.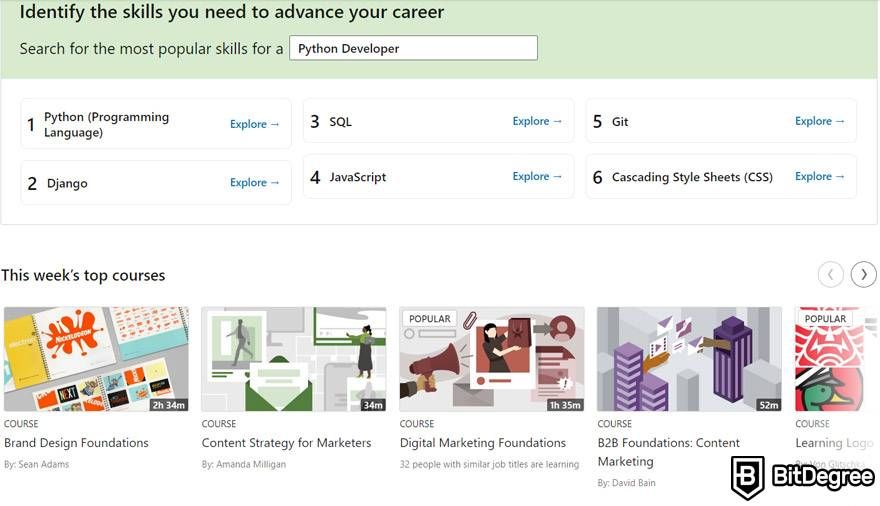 Are Lynda VS Treehouse certificates accredited? Put simply – no. Neither platform has affiliated courses with accreditation. However, don't let this make you think that the rewards are worthless. Far from it – let's see how useful they can be, starting with Lynda.
Since Lynda is part of LinkedIn, any course that you complete and any certificate that you earn will be automatically added to your profile. This is very useful for your career opportunities – many companies use your LinkedIn profile as another CV they can look at. So, all your Lynda achievements will be in one place for recruiters to take note of.
Some content, such as the weekly tip courses, aren't eligible to award you a certificate because they're considered to be frequently updated courses. However, as long as you're a LinkedIn Learning or LinkedIn Premium subscriber, you can earn certificates from all other courses and learning paths.

Treehouse users can earn certificates by completing the Techdegrees. As part of the Techdegree process, you'll gain not just this reward, but you'll also be able to present a full portfolio using the projects and tasks that you've completed. As I've mentioned, the Treehouse certificates are not accredited. However, you can download them and share them on your LinkedIn profile – so, if you take both Lynda and Treehouse courses, you might end up with an impressive LinkedIn portfolio.
So, this Lynda VS Treehouse match-up is pretty even-footed. Neither platform offers accredited rewards. However, no matter which one you pick, you'll be able to prove your new skills both in theory – by showing off your certificate – and in practice, as you use your knowledge during your personal and professional projects.

Pros
Easy to use with a learn-by-doing approach
Offers quality content
Gamified in-browser coding experience
Main Features
Free certificates of completion
Focused on data science skills
Flexible learning timetable

Pros
High-quality courses
Nanodegree programs
Student Career services
Main Features
Nanodegree programs
Suitable for enterprises
Paid certificates of completion

Pros
A huge variety of courses
Easy-to-navigate interface
Over 600 free courses
Main Features
A huge variety of courses
30-day refund policy
Free certificates of completion
Pricing
To finish off this Treehouse VS Lynda comparison, let's talk money. In many cases, students opt for online learning platforms as they are a cheaper and faster alternative to work on their skills than enrolling in a university full-time. Besides, often, you can even find various free perks. Free content is precisely what we'll be starting with.
Both Lynda and Treehouse offer a similar option for users who want to try out the platforms before committing – a limited-time free trial. For Lynda users, the trial lasts 1 month, while the Treehouse trial period is 7 days. Given the course variety, Lynda is the more cost-efficient option here. With more than 20,000 courses to choose from, you can do far more in a month.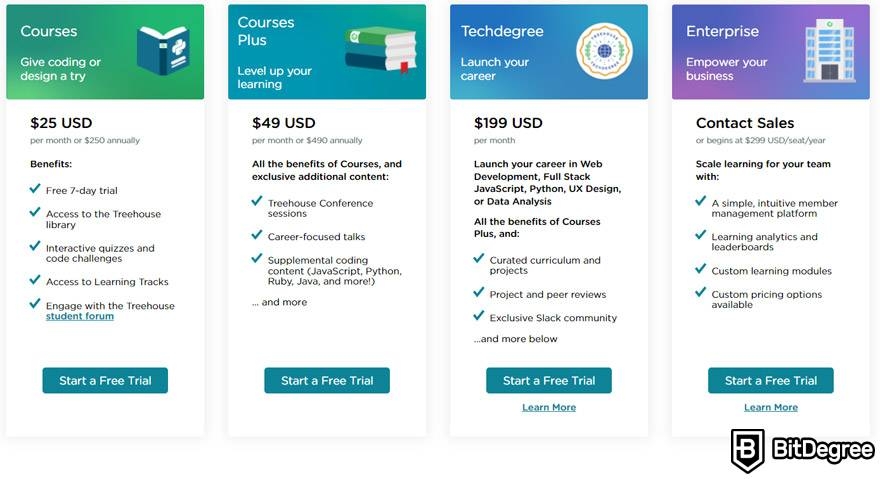 However, that's where the free options end. There are no free courses available on Lynda VS Treehouse, and they both employ a monthly subscription model. to access the full catalog, let's see how much Treehouse services cost.
Treehouse users can choose one of the four plans:
Courses and Courses Plus are two similar plans. However, in addition to the full library, Courses Plus also allows you to participate in the Treehouse Live conference sessions and unlocks the Bonus Series content. The Techdegree plan provides you with these learning programs, as well as the full catalog. Enterprise solutions are available for businesses that are looking for custom modules and team management tools.
If you're a LinkedIn user interested in Lynda, you can choose between an individual and an institutional plan. LinkedIn Learning plans also grant you LinkedIn Premium features. You can choose to pay month-by-month or opt for the annual plan. LinkedIn Learning Monthly costs $39.99/month, while the annual plan offers a reduced rate of $19.99/month.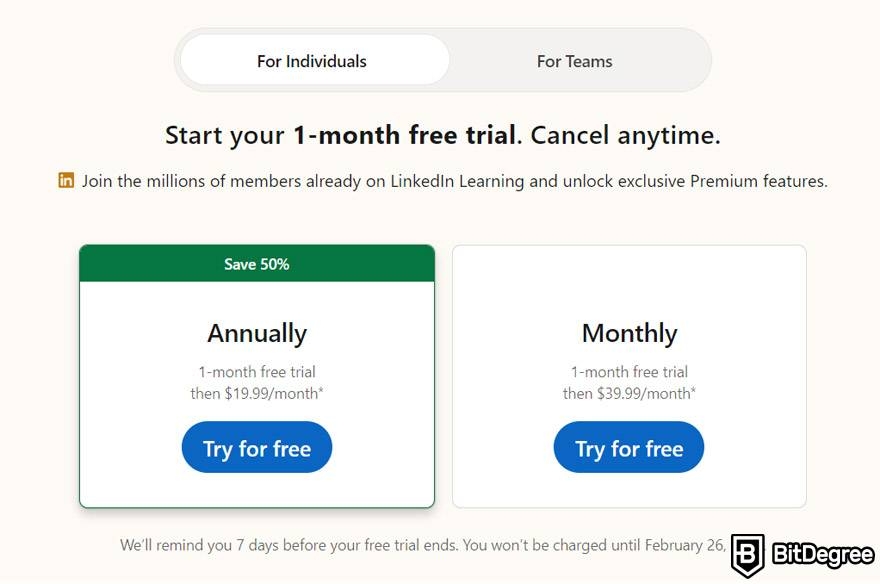 The For Teams plan grants you up to 20 licenses that can be used by smaller companies. The annual rate of this plan is $379.99 per license. Larger enterprises that require at least 21 licenses can reach out to LinkedIn and get a custom quote with the For Organizations plan.
The price range is pretty similar between the platforms when you consider the different plans and payment models. So, it's really up to you to decide which platform would bring you more value for your money.
Conclusions
This brings us to the end of our Treehouse VS Lynda comparison. Let's have a quick overview of what we've found out and decided today. Both platforms are great options for career development, especially if you're interested in the tech sector. You can choose from thousands of courses and work on more than just programming languages or web development – you can grow as a professional in the office space, too.
Sites like Lynda and Treehouse don't always offer such rounded-up content. So, by picking either (or both) of the platforms, you'll be getting a lot of value for your subscription plan. You'll also be able to customize some of your learning experience thanks to personalized recommendations.
There were a couple of categories where Treehouse fell short compared to Lynda – without a mobile app or foreign language support, it may not be the ideal choice for some learners. If you're curious to learn about what Treehouse and Lynda.com competitors have to offer, you can see our list of the best online learning platforms or check out our comparison tool.
So, now you have all the essentials – you know how Treehouse and Lynda work, what their best features are and where there's room for improvement. All that's left is for you to make the final call. Once you do, let us know about your Lynda VS Treehouse experience in the comments below.
Whether you're after professional self-growth or the development of your technical skills, you'll certainly find what you're looking for with these two platforms. So, have fun learning, and good luck!
Leave your honest feedback
Leave your genuine opinion & help thousands of people to choose the best online learning platform. All feedback, either positive or negative, are accepted as long as they're honest. We do not publish biased feedback or spam. So if you want to share your experience, opinion or give advice - the scene is yours!