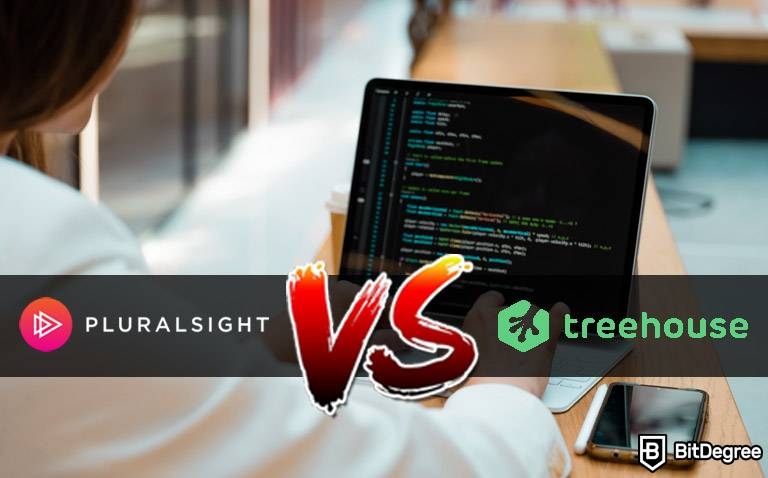 Data science is an ever-changing field, as the technology and tools that professionals use seemingly evolve daily. So, when you're taking your first steps in the data world, you need an online learning platform that offers not just what's tried and true but also what's current. Today's Pluralsight VS Treehouse review will introduce you to two websites that will help you grow as a data specialist at your own pace – without falling behind the market.
Many factors are in play when it comes to telling good online learning platforms apart from the less-than-stellar alternatives. For this analysis, I'll compare criteria like foreign language support, accessibility, and course range. I won't be analyzing any specific courses in-depth, but you should get a good idea of what Treehouse VS Pluralsight have to offer.
Before we begin, let's cover some basics. Pluralsight is among the older players in the online learning platform field. It was founded in 2004 and focuses on data and computer sciences. Its opponent, Treehouse, is a learning platform for programming and career development that was launched in 2011.
So, to start off, let's take a look at our evaluation criteria.
Pluralsight VS Treehouse: Comparison Criteria
We'll start our Pluralsight VS Treehouse face-off by introducing you to the standard evaluation criteria. In case you're unfamiliar with the system, we evaluate each online learning platform based on one of the five aspects: foreign language support, content quality & variety, accessibility, certification system, and pricing.
Latest DataCamp Coupon Found:
CLAIM 50% OFF
DataCamp Cyber Monday Deal
DataCamp Cyber Monday special is here! Enjoy a massive 50% off on DataCamp plans. Subscribe now and redefine your data and Al skill set for the better!
Expiration date : 04/12/2023
5,324 People Used
Only 36 Left
Each online learning platform that we look at is unique and offers services that you may not find elsewhere. So, we've established the evaluation criteria to ensure fair and accurate results. While we won't give a final grade to either, if you want to learn more about each platform individually, you can read our Treehouse and Pluralsight reviews.
The Pluralsight VS Treehouse evaluation criteria are as follows:
Accessibility & Usability. Let's say that you've never tried using an online learning platform before – or at least the two we're comparing. Even if you're a complete newcomer, the interface should be easy enough to navigate to figure out what's where without much trouble. Our first Treehouse VS Pluralsight comparison category looks into how difficult or easy the two platforms are to use. We'll also see whether there's any support for mobile users who prefer studying on the go.
Course Variety & Quality. If you already know the basics of Python or Ruby, you probably won't find much use in a platform that focuses solely on beginners. Luckily, many online learning platforms offer special multi-course tracks to master a specific skill and prepare you for the industry. We're going to see what range of content the two platforms offer and which learner levels are supported. We'll also check out special learning programs for prospective data and computer science professionals.
Foreign Language Support. We've found that this aspect can be overlooked by many. Despite how convenient speaking English on the internet is, it's not always great for all learner levels. So, you and other users might prefer to sign up for a platform that offers content in your native language. We'll see what options you can find on Treehouse VS Pluralsight in case you want to learn in a language other than English, if there are any available.
Certifications. If you're taking online learning courses to embellish your CV, you'll probably want to add certifications as proof of what you've achieved. However, different platforms offer different types of certificates – some are affiliated with academic institutions, others are not. We'll be taking a look at what type of qualifications you receive by completing your courses on both platforms and how much value they hold in the industry.
Pricing. Finally, we'll end the Pluralsight VS Treehouse comparison by talking about how much they cost. While online learning platforms are a cheaper alternative to big-name colleges, their free course selection is often limited. So, we'll discuss what perks you can get without paying. Then, we'll compare the payment modes used by the two platforms and how much different plans cost to determine what might be more cost-efficient for you.
Once we've wrapped up the comparison, you're going to have all the essential data that you need to decide which platform suits your needs as a budding data science student and/or worker. At the end of the day, what works for you won't work for everyone, and it's up to you to make the final call.
Now that we've got the evaluation criteria covered, let's get started with the Pluralsight VS Treehouse comparison.
Pluralsight VS Treehouse: The Comparison
We'll go through each of the five criteria based on the above order. This order is not written by importance.
Accessibility & Usability
First impressions are everything. They can make or break your experience, whether that's talking about a face-to-face class or a self-paced digital course. And when it comes to online learning platforms, your first impression is going to be the interface.
You're probably going to want to take a look around the platform and what it offers before you make an account, even if signing up is free and doesn't require your bank information. Whether you're a complete beginner or someone who wants to work on more advanced skills, you're probably searching for the full course catalog to determine if the website has what it needs. And while this Pluralsight VS Treehouse comparison will get to the courses shortly, let's talk about that first impression.

Let's first take a look at Pluralsight. From the get-go, you're introduced to the two main services offered by the platform:
Skills – the main courses and skills that you can take for career development and self-improvement;
Flow – software delivery intelligence tools for enterprise-level teams.
For the sake of our Pluralsight VS Treehouse comparison, I'm going to assume that you're an individual learner and Skills is the track more suited for you. From here, finding the full course catalog is as easy as it can get.
Pluralsight supports upskilling and reskilling – so, whether you're completely new to the subject of data science or want to revive long-lost knowledge, you'll be able to succeed. Additionally, you can take the SkillIQ assessments to determine your learning level and jump right into what suits your current toolkit best.
Pluralsight applies Agile principles to its studying methods. While this may be more relevant to teams, it's also advantageous to you as an individual. By following Agile, you'll be able to optimize your learning cycles and improve your performance.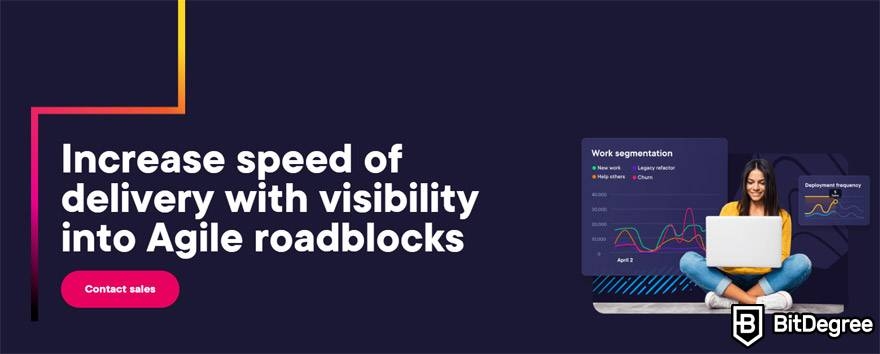 It must be mentioned that a lot of the features available on Pluralsight are team-focused. This means that the platform can be adapted as a workshop tool for the office and help with project management. However, this might also lead to you not finding as much use for some of the stats and features available on the platform.
Next, let's wander around Treehouse. You also get to choose between a few options on the homepage:
Courses – the entire catalog of coding courses offered for all learners;
Techdegrees – special long-term learning tracks that let you specialize in a particular subject;
Businesses – custom-built enterprise solutions for teams.
Once again, the Courses section is the most relevant for now since it caters to individual learners. However, we'll delve into Techdegrees once we're discussing the quality and variety. Keep in mind that the Treehouse catalog exceeds 1,000 courses. So, if you're completely new to data science, it can seem like a lot.
To alleviate the analysis paralysis of picking your first course, Treehouse has created a Get Started Quiz. It's a quick, five-minute survey that takes your skills and interests into account and recommends the first courses that you should take. So, your starting point has been sorted in almost an instant.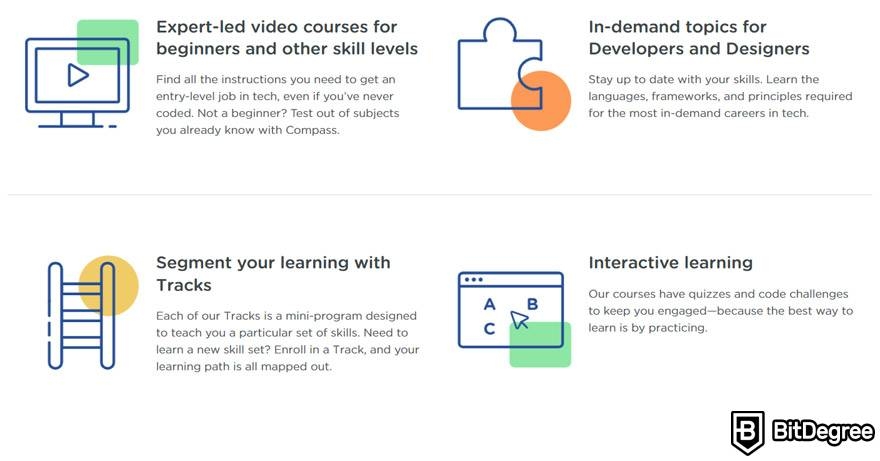 In general, Treehouse is easier for a new user to navigate, especially if you're not interested in the team learning plans. The Course Library also offers an easy and accessible way to preview every single topic available – that's a selection of more than 20 categories for technical and professional skills.
However, this only applies to the desktop experience. What about the differences between Pluralsight VS Treehouse learning on a mobile device? Well, Pluralsight is the obvious winner here.
When it comes to mobile and offline access, Pluralsight has the full range. Support for iOS and Android devices, offline interface, and even TV extensions – you can really optimize your learning experiences based on your needs. Additionally, the mobile app offers extra games and perks that you won't be able to access on the desktop site.

As for Treehouse – this platform doesn't currently have a mobile app for any devices. Although based on old information available on the website and discussion boards, an app available a few years back, it has since been discontinued, and there are no mentions of it ever coming back.
So, if you're looking for a more individual learning platform, Treehouse is a great choice. However, if you'd prefer to learn on your phone, Pluralsight takes this round.
Course Variety & Quality
There's a phrase that could be considered the unspoken rule of online learning platforms – different learners have different needs. This can refer to their preferred learning styles, but it also concerns the material itself. Here's an example.
Let's say that you're a proficient Python programmer. You're not an expert quite yet, but you can apply your skills pretty well for personal projects. However, you've never worked with Java, and you want to try your hand at that. So, you'll probably be looking for a platform that offers you two skills – advanced Python and beginner's Java. While you can probably deal with finding one on one platform and the other elsewhere, it's a lot more convenient to settle for something more versatile.
So, what's the content variety like on Pluralsight VS Treehouse? Let's take a look.

Pluralsight supports all learner levels. Whether you're a complete beginner or want to build on your foundational knowledge, you should be able to find something to suit your needs. And there's more than enough to pick from – Pluralsight offers over 7,000 courses! For a platform that focuses solely on computer and data science, that's an impressive number.
To make things easier, you can filter the content based on one (or more) of the following categories:
Architecture & construction
Business professional
Creative professional
Data professional
IT ops
Manufacturing & design
Information & cyber security
Software development
So, all the essentials you might need for your career development are covered here. As you might recall, the platform is favorable to team learners who'll have access to the same catalog. In addition to the core courses, you'll also be able to take expanded courses or participate in Labs.
There are 2,500 core courses, while the remaining catalog consists of expanded courses. Labs are a space for you to work on various projects to develop practical computer and data science skills. There are more than 950 Labs for you to choose from.

Now, let's take a look at Treehouse. The course catalog here is significantly smaller than on Pluralsight. However, more than 1,000 courses is nothing to scoff at – especially when they're not limited to just the tech stuff. In addition to the best-known programming languages and data management tools, you'll be able to learn what the basics of the web are, how to prepare for tech job interviews, and even how to handle the imposter syndrome.
As for the content levels, it only makes sense that such a broad variety will be applicable to all learners, from complete beginners to those already making their way up the career ladder. The course library search allows you to easily filter out courses based on your interests.
Additionally, you can take learning tracks – special programs that allow you to focus more in-depth on a single skill by completing several courses, going from the beginner level all the way to advanced skills.

Another fun feature offered by Treehouse is Techdegrees. Unlike learning tracks, Techdegrees are considered the bootcamp for the platform. These are certified programs focused specifically on career development. By completing your Techdegree, you'll be building your personal portfolio and receive a certificate once you succeed – but more on that later.
Despite the significant difference in courses available on Pluralsight VS Treehouse, this match-up is a lot closer than it might seem at first. Besides, keep in mind that Pluralsight has been around for nearly a decade longer than Treehouse, so it's had more time to gather all the resources to share with the learners.
As far as a versatile learning experience is concerned, either platform can be a great bet. If you're more interested in technical development and working on a broader range of skills, you might prefer Pluralsight. However, if improving your soft skills is something you're interested in, you might want to check out Treehouse.
Foreign Language Support
Since this Treehouse VS Pluralsight comparison deals with two data science-focused online learning platforms, I'm emphasizing from the get-go that we're talking about foreign languages here, not programming languages. At first glance, it can be easy enough to make this mistake.
If you're a native English speaker, this might be something you haven't considered – not everyone finds it easy to learn programming in English. Although this language is dominant in many data science spaces, it's not accessible to everyone. Some people prefer to study and work with some native language support. And if they're lucky, they might find an online learning platform that aids them here.

So, in terms of foreign language availability, how do Pluralsight VS Treehouse compare? Truth be told, it's not even a competition – Pluralsight takes this one by a landslide.
You see, if you happen to be a foreign language speaker and your mother tongue is among the most widely spoken in the world, such as Mandarin, Spanish, or German, Pluralsight will have you covered. You – and speakers of more than 50 other languages. This is a truly impressive number of supported foreign languages.
As for what content is going to be supported – primarily, that's going to be the video courses. You can change the subtitle language and speed to your preferences and make the learning process easier for you.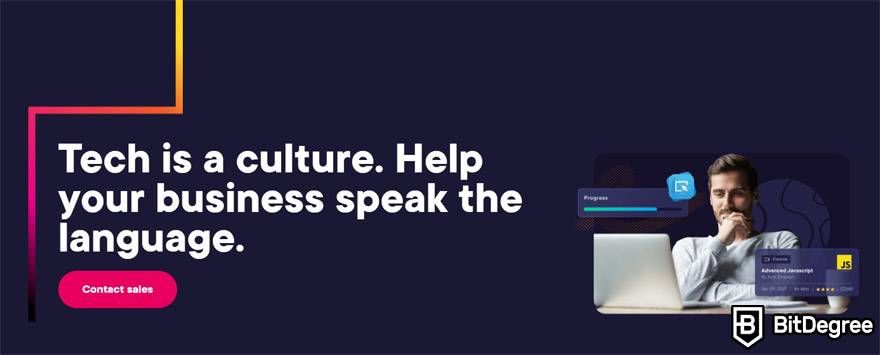 On the other hand, it's sad news for Treehouse. Unfortunately, this platform doesn't have any foreign language support. Although the team once mentioned that they're aware of the demand, it doesn't appear like localization is currently part of the roadmap.
So, this Pluralsight VS Treehouse round is pretty easy. If you want to study in your native language – or simply see how all that theory looks in another language you're learning (really doubling up on languages here) – Pluralsight is the choice for you.
Certificates
Have you ever scrolled down your LinkedIn feed and seen people post about the brand-new certificates they've acquired? Chances are, these came from online learning platforms like the ones we're comparing today. In fact, this is perhaps the most lucrative perk that digital learning has to offer, aside from easily accessible skills.
However, some certificates appear a bit more impressive than others. Those are known as accredited certificates. They're generally regarded as having more value than their non-accredited counterparts as they are backed by academic institutions and can even sometimes be converted to college credit.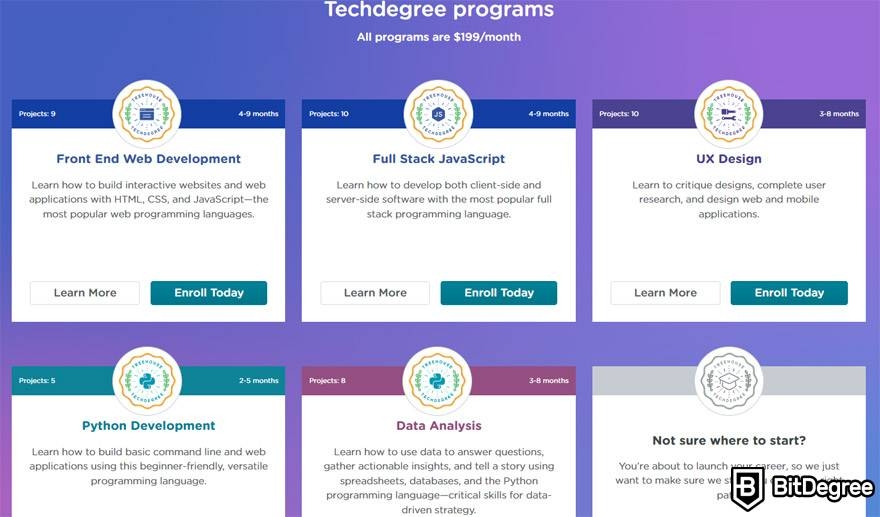 Naturally, accredited certificates are tougher to find. Most platforms offer non-accredited rewards, which, while somewhat less impressive, are still solid proof of your learning achievements. And the subjects of our Pluralsight VS Treehouse comparison both mainly offer non-accredited rewards. They're downloadable and can be added to your digital CV.
First, let's see how to acquire a Pluralsight certificate. For starters, before you even acquire the final reward, you can earn badges. They act as checkpoints during your learning process and can be earned by completing various daily tasks. Essentially, they're here to keep you motivated and ensure that your daily streak is on fire.
As for the certificates themselves, the process is quite straightforward. Once you've finished a video course, you can find the certificate in your profile. While the certificates aren't accredited by default, they can be used as an aid to prepare for various industry-level qualifications. Note that you'll only earn this reward for completing video courses, and they're not applicable to Labs, interactive courses, or projects.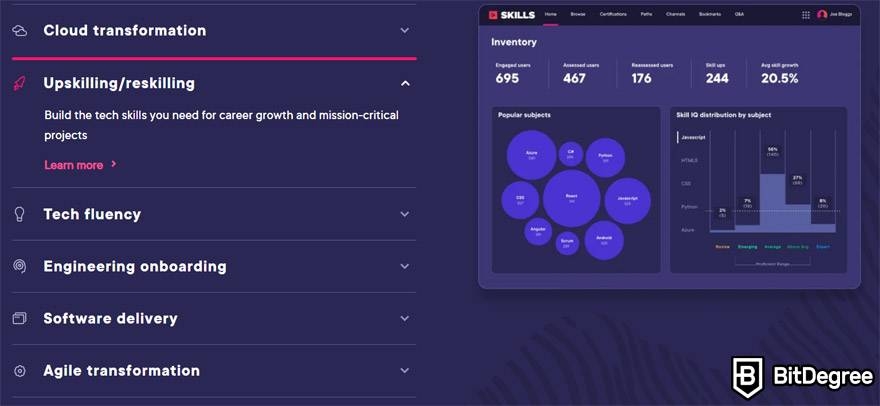 Things are a bit trickier with Treehouse. To earn a certificate, you must enroll in a Techdegree. As I've mentioned, alongside the certificate, you'll also be filling in your programming portfolio. The goal of Techdegrees is to have you industry-ready once you're done. So, while the certificates aren't technically accredited, they are renowned in the tech space and hold solid value.
So, if a certificate is important to you, both platforms offer you options that can serve you well as you grow in your professional life.

Pros
Easy to use with a learn-by-doing approach
Offers quality content
Gamified in-browser coding experience
Main Features
Free certificates of completion
Focused on data science skills
Flexible learning timetable

Pros
High-quality courses
Nanodegree programs
Student Career services
Main Features
Nanodegree programs
Suitable for enterprises
Paid certificates of completion

Pros
A huge variety of courses
Easy-to-navigate interface
Over 600 free courses
Main Features
A huge variety of courses
30-day refund policy
Free certificates of completion
Pricing
Last but not least, we're going to discuss how much the two platforms cost. Some people refer to online learning platforms as college lite, since it's a cheaper, more convenient alternative that offers the same level and quality of knowledge. You can even use these courses as bonus content to expand on your college studies!
However, cheaper is not synonymous with free. Nevertheless, some platforms offer special perks or limited access to the content without you having to pay. So, to start, let's see what freebies you can find on Pluralsight VS Treehouse.
Both platforms use a subscription model for payments. Unsurprisingly, the free perks that come with this mechanic are similar – Treehouse offers a 7-day free trial, while on Pluralsight, it's a bit longer – you'll get 10 days of free studying. Given that the combined catalogs of both platforms consist of thousands of courses, this might be just enough for you to get a feel for the learning experience and decide which one you prefer.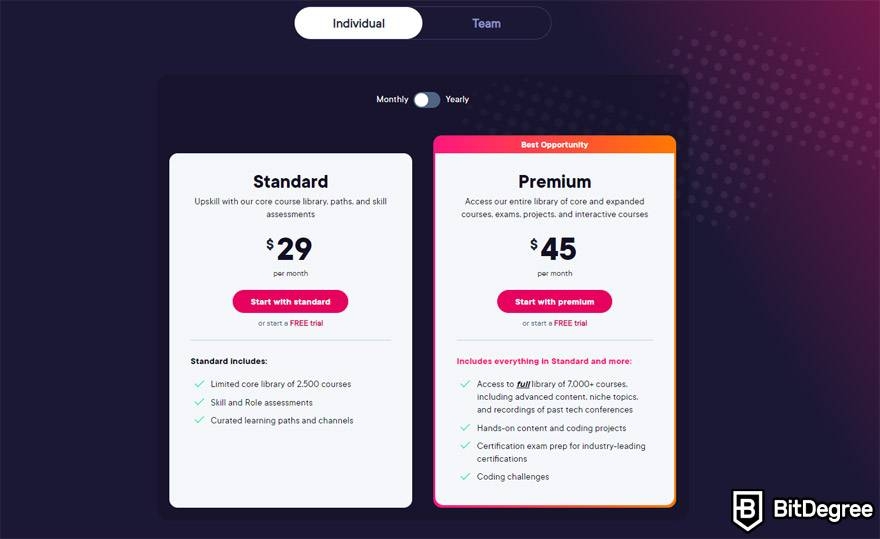 So, let's see the Treehouse VS Pluralsight subscription plans. If you're an individual Pluralsight user, the Standard plan costs $29/month. This plan limits the catalog to just more than 2,500 core courses. If you want to unlock the full range of over 7,000 courses, you should opt for the Premium plan at $45/month. And in case you're wondering – yes, we have Pluralsight discount codes to help bring that price tag even lower.
If you're looking into Pluralsight plans for teams, here are your options:
Starter (2-10 people, $33.25 per user/month)
Professional (2-10 people, $48.25 per user/month)
Enterprise (11+ people, starting at $64.91 per user/month)
The difference between Starter and Professional plans is the access to the full course catalog and additional team analytics and management tools.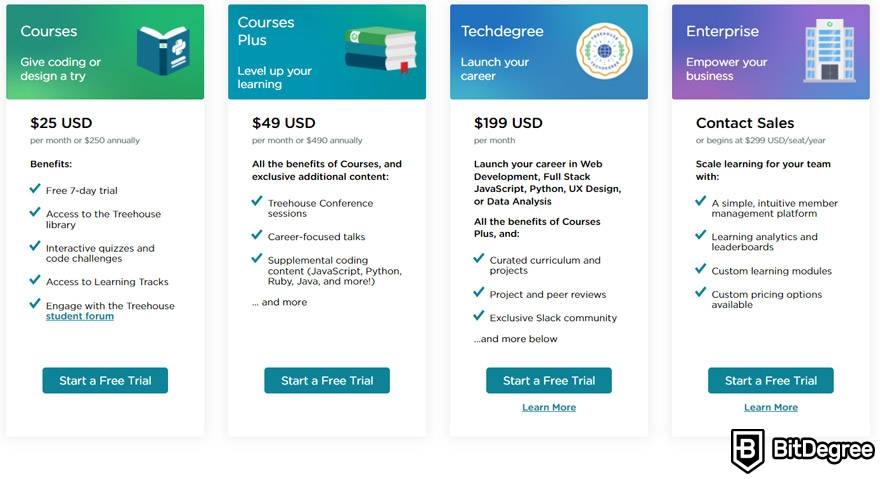 Next, let's see how much learning on Treehouse costs. Here, you'll have four plans to choose from:
The Courses plan grants you access to the main course catalog. However, if you wish to participate in the Treehouse conference sessions or use supplemental learning materials, Courses Plus is the plan for you. Techdegree contains all the perks of the Courses Plus plan, and, most importantly, allows you to take the Techdegrees. And here's a little extra perk for you: a peek into our Treehouse discount codes.
As far as the price ranges are concerned, Treehouse VS Pluralsight rank pretty similarly. So, with that in mind, it's up to you to decide which platform will be the more worthwhile investment.
Conclusions
With this, our Pluralsight VS Treehouse comparison has come to an end. Let's take one last look at what we've learned about the two platforms today. Pluralsight is one of the oldest players in the online learning platform field, while Treehouse has established a catalog of courses that will help you grow not just as a programmer, but also as a coworker.
Both platforms offer a good range of courses for all learner levels and are easy to navigate. Pluralsight is particularly a great option if you plan on working alongside an international team, as this platform has many foreign language options and is optimized for teamwork. Treehouse will give you tools to work on a practical portfolio thanks to its Techdegree program.
So, let's turn towards you now. You've got all the data you need, and all that's left is to decide which platform is the right option for you. And once you've settled this Pluralsight VS Treehouse dilemma for yourself, make sure to share your experience in the comments.
So, whether you're looking to study alone or with a group – good luck!
Leave your honest feedback
Leave your genuine opinion & help thousands of people to choose the best online learning platform. All feedback, either positive or negative, are accepted as long as they're honest. We do not publish biased feedback or spam. So if you want to share your experience, opinion or give advice - the scene is yours!