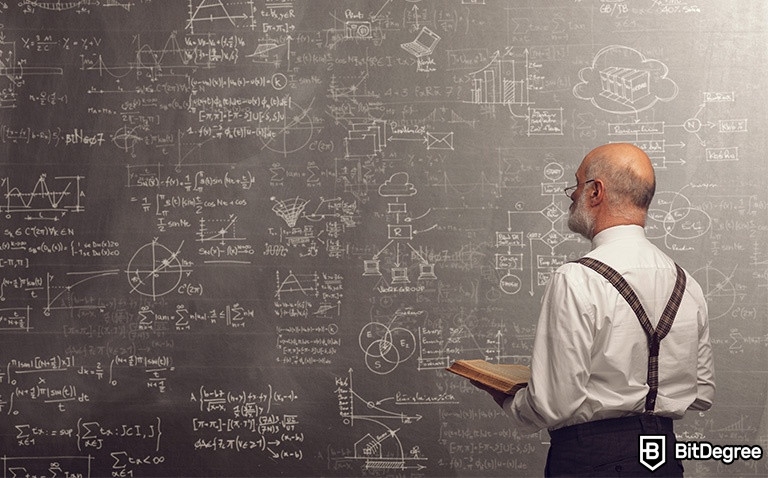 Let's say you're working on your Moral Philosophy paper and you're looking for online ethics courses to really settle your knowledge into place. Or you're a manager who wants to boost morale in the office with the help of business ethics courses. Maybe you're simply someone who's excited to learn something new about this fascinating subject.
Is it as easy to learn philosophy online as web development? Absolutely! That's why today we'll be looking at some of the best free and paid online ethics courses that MOOCs like Udemy, edX, and Coursera have to offer.
From the classical moral principles in both the East and the West to the role ethics plays in the future of technology. This field has a rich history that we will only have time to briefly touch upon, and there's much ground to cover.
But before we get started, let's figure out why online ethics courses are something you shouldn't miss out on.
What's so Good About Online Ethics Courses?
Now, I'm not going to bore you with the whole history of ethics. While it's incredibly fascinating and has quite literally shaped the course of humanity, we can't cover everything from Aristotle to Žižek.
Latest DataCamp Coupon Found:
EXCLUSIVE 25% OFF
On DataCamp Subscriptions
Follow the Datacamp promo code link & get an exclusive 25% OFF Datacamp subscriptions. Act now while the offer is still available!
Expiration date : 12/06/2023
2,765 People Used
Only 35 Left
Instead, let's focus on the now. Why should you study ethics in this day and age? Isn't it more useful to focus on something like STEM or business & finance?
While it doesn't exactly seem like the most practical subject career-wise, ethics is as important as ever in some of the biggest industries out there. Take business and management, for instance.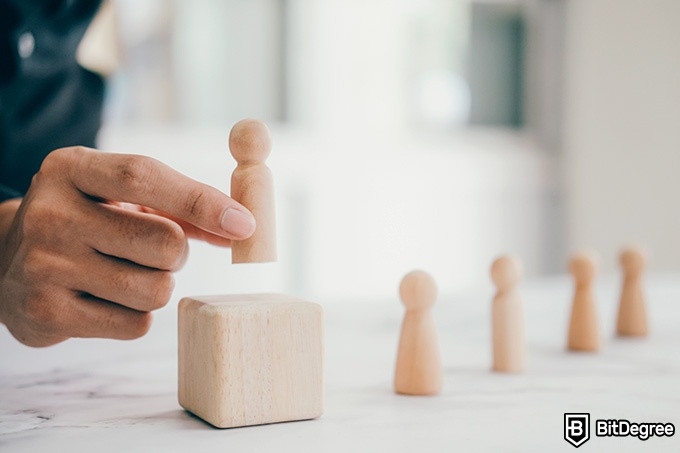 Ethical culture is a huge aspect of business communication. Moral principles help maintain a healthy, transparent work environment and a hierarchy with a smaller vertical distance between its participants.
So, to sum things up, online ethics courses won't just teach you about philosophy and being a morally good person. You can see it as an interdisciplinary field – it helps other industries remain morally sound and not exploitative of their workers.
Without further ado, let's dive into the best online ethics courses to keep your philosophical knowledge relevant and diverse.

Platform: Udemy
Duration: 33 min
Price: FREE
Certificate: No
Level: Beginner
Discount: N/A
Where to apply? HERE
There are certain unwritten rules to the way we communicate online. How we structure our sentences, how we adapt to Twitter's character limit, how we use emojis and memes to make our language more colorful.
There's one rule of thumb that we always have to keep in mind, though – once it's on the internet, it's on the internet forever. Anything we write, post, upload, share – it all leaves a digital footprint that can be traced back to us.
This is why you'll often hear people talk about posting online cautiously. Family, friends, potential employers, or bad faith actors – they can discover what you're really up to on your socials easier than you think. And frankly, just because you can tweet it, doesn't mean that you should.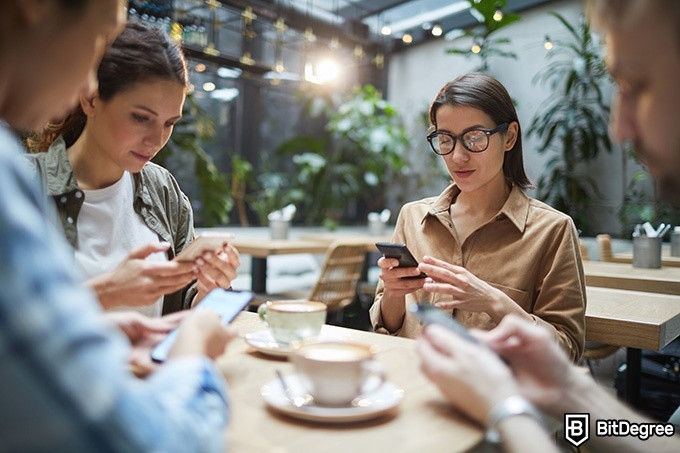 That's precisely the sentiment you'll come across if you choose to take the Social Media Ethics course on Udemy. This short, free online course will introduce you to the basics of social media etiquette and communication norms.
When it comes to online ethics courses, this is one you should give a go, even if philosophy isn't really your thing. It's useful to anyone who uses social media both in their private lives and for work. You might be surprised by how much you can learn in such a short time.
For example, have you ever thought about the legal consequences of a scam tweet? Or that anonymous harassment can lead HR to start a defamation claim? How about just how easy it is to breach a confidentiality agreement?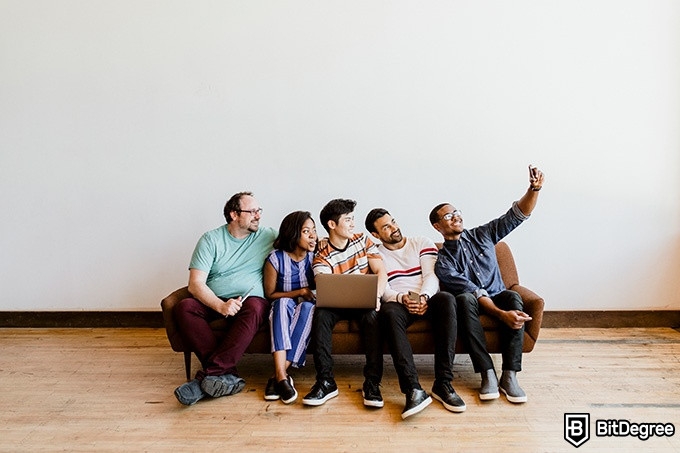 In just 33 minutes, you'll learn about:
The responsibilities of using a personal social media account vs. a professional one
Legal responsibility of representing a company and what laws protect employees
What information remains private or becomes public on a social media platform
The concept of netiquette and acceptable behavior online
What actions count as defamation, discrimination, and harassment
The risks and responsibilities of handling confidential information
The Social Media Ethics course was created by Eric Schwartzman. He's a digital transformation advisor and digital marketing consultant. Schwartzman's work concerns B2B business development, effective marketing strategies, and successful employee training.

You can start learning today, completely free of charge. The course is only half-hour long, so you can set aside your lunch break and learn how to be an ethical communicator online. This course can be an excellent addition to business ethics courses used for workspace training and teambuilding.
Of course, this isn't one of the most in-depth ethics classes on our list. However, with a rating of 4.7 and more than 14 000 learners, it can be a good starting point to make sure your social media use is ethical and appropriate for your workplace.
Start taking the Social Media Ethics course on Udemy, and build the foundation of good netiquette habits today!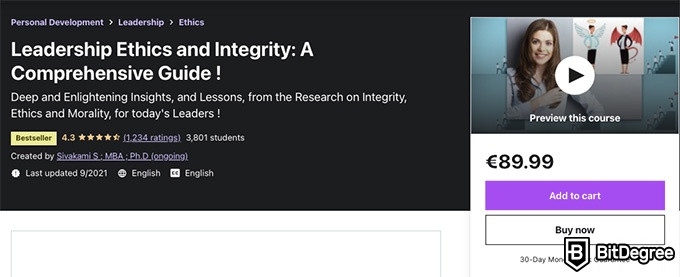 Platform: Udemy
Duration: 4.5 hours
Price: €89.99
Certificate: YES
Level: Beginner
Discount: Available
Where to apply? HERE
Aristotle saw two general types of leading[1]. One was the true, good form of government, ideally a polity. The other was despotic, like a tyranny. And, of course, we should all aspire to steer away from tyranny and towards the good of the people.
I know, I said there wouldn't be a deep dive into Aristotle 101. But bear with me for a moment. The point I'm trying to make is: as a leader, you should strive to be democratic and just, not act as a tyrant.
A good leader should possess integrity, a strong moral compass, and cultural sensitivity. They should not just be an industry professional but also a morally just person who knows when to be encouraging and when to be strict. If you want to learn how to maintain this balance, check out the Leadership Ethics and Integrity course on Udemy.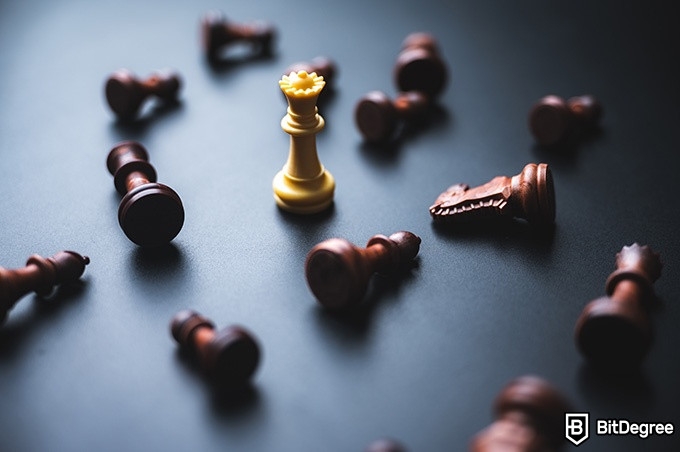 You may find the structure of this course a little unconventional compared to other business ethics courses. It's not limited to just what personality traits a leader should have. You'll also see how biases can impact our worldview and how our perception of morality and violence has changed over the centuries.
You'll cover topics like questions of morality and what defines it outside of the general sense of right-wrong. You'll also see how the understanding of ethics, morality, and integrity can vary from culture to culture. Along with this comes advice on how to avoid cultural insensitivity and misunderstandings.
Aside from the theory, you'll also get to work on case studies and see the moral dilemmas that leaders encounter. You'll learn to apply everything you've learned about ethics both at work and in your day-to-day life.
The goal of this nearly five-hour course is to help you understand the deeper meaning and intentions of not just ethics but subjects like psychology, anthropology, and history. By the end of the course, you should recognize the benefits of creating an ethical corporate and social culture in the workplace.
Some of the topics covered by this course are:
The question of universal morals & evolution of morality
Cultural differences in the workplace
The morality of good and bad
The horrors of human history
Game theory concepts for integrity, morality, and ethics
Social emotions and moral behavior
Ethics and morality at work
The author of the Leadership Ethics and Integrity course is Sivakami S, a business leader with over two decades of experience in global corporations. Her course has been offered to employees at international businesses like Apple, Volkswagen, and Netflix.

You can enroll in this course for €89.99, and if you have any questions, you can get in touch with the instructor, who will be glad to help you. You can also take a look at Udemy's special offers and discounts by clicking here!
So, now's the time. Enroll in one of Udemy's best-recognized business ethics courses, Leadership Ethics and Integrity, and become the leader of tomorrow.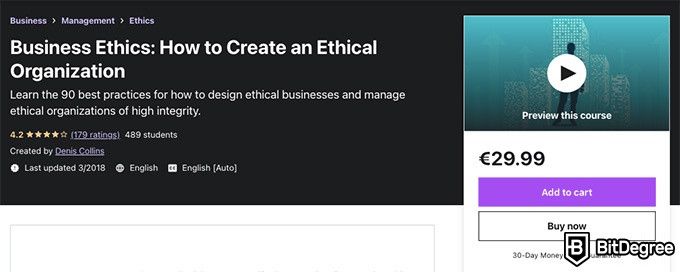 Platform: Udemy
Duration: 3.5 hours
Price: €29.99
Certificate: YES
Level: Beginner
Discount: Available
Where to apply? HERE
We're all about keeping a friendly workspace. Treating our coworkers with respect, solving conflicts transparently, and making sure everyone feels comfortable whether they're working in the office space or remotely — all these things make sure that everyone can work peacefully and efficiently.
However, have you ever wondered how much of maintaining an orderly workspace is down to ethics? Every gear that has the business engine going – from the hiring processes to annual reviews and workshops – has to follow a specific set of rules based on ethical work principles and integrity standards.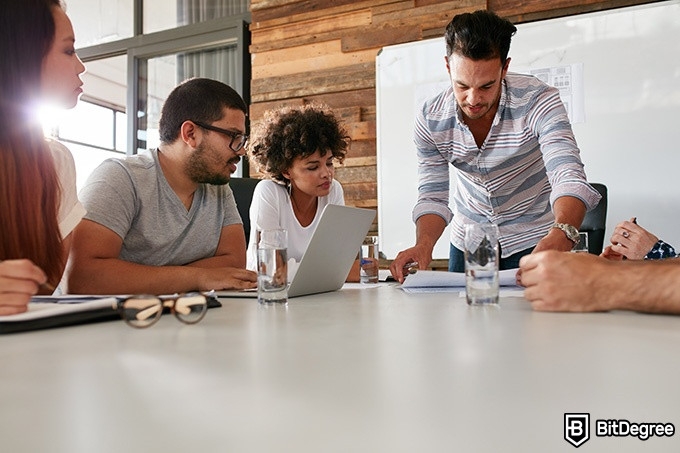 While the way each business works from the inside is unique, certain standards apply across the board. And not only can these standards be clearly defined, but they can also be learned. In fact, you can get to know them by taking the Business Ethics: How to Create an Ethical Organization course on Udemy.
In this course, you'll learn an astounding number of 90 best practices for managing ethical organizations of high integrity – which makes it stand out from many other online ethics courses for businesses. In nearly four hours, you will go through the different processes of organizational management.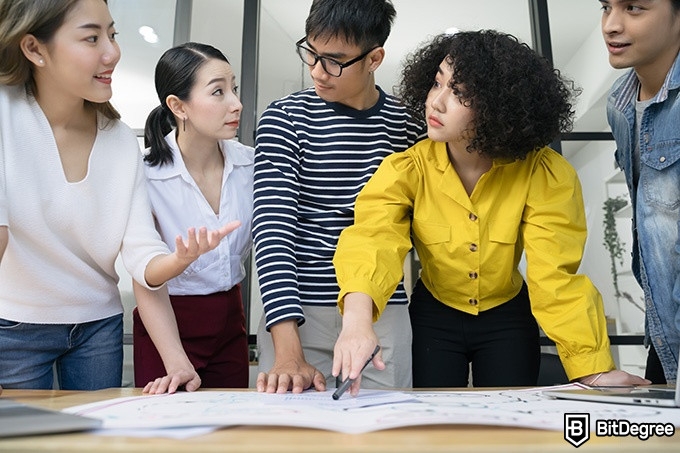 The course contains 12 sections of content that cover all things ethical in the business workplace processes:
Hiring Ethical Job Candidates
Codes of Ethics and Conduct
Ethical Decision Making
Best Practices for Ethics Training
Best Practices on Employee Diversity
Best Practices for Ethics Reporting Systems
Ethical Leadership, Work Goals and Performance
Engaging and Empowering Employees
Environmental Management
Community Outreach
Organizational Assessment
The Meaning of Life
Of all the business ethics courses on this list, this one may be the most universal. It covers different stages of employee interactions, from the initial screening process to ensuring ethical teamwork and tolerance policies. It's great for all hierarchical structures within an organization and will be as useful to a newcomer as it is to a long-standing leader.
You'll also get tips on how to conduct an organizational assessment in your business based on ethical practices. And as for that last section about the meaning of life? Well, you'll simply have to try it to find out.

Throughout the course, you'll be guided by Denis Collins, Professor of Business at Edgewood College. He has published numerous academic works on the subject of business ethics and has conducted business ethics workshops, talks, and consulting projects. Rest assured that his course material is not just insightful but tried and tested in practice.
Along with the video courses, you'll have access to over 30 additional learning materials. All of this is available at just €29.99 – that's an absolute (completely ethical) steal! And if that's not enough, Udemy is always offering its learners discounts and special prices, which you can find by clicking here.
So, whether you feel like you have to step up somewhere, or you simply want to improve your understanding of organizational morals, Business Ethics: How to Create an Ethical Organization on Udemy is worth checking out!

Platform: edX
Duration: 9 weeks
Price: FREE
Certificate: YES (Paid)
Level: Beginner
Discount: Available
Where to apply? HERE
Ethics is a matter of massive concern when it comes to international trade and politics. You'll often hear about ethical businesses or corrupt political actions. However, defining what makes political or economic acts ethical or unethical can get a little tricky.
There's also the matter of cultural and environmental impact. What sacrifices are made for the sake of profit? How do they influence our lives? Can we be certain that a business entering our country has good intentions and won't cause harm to our environment with its production techniques and results?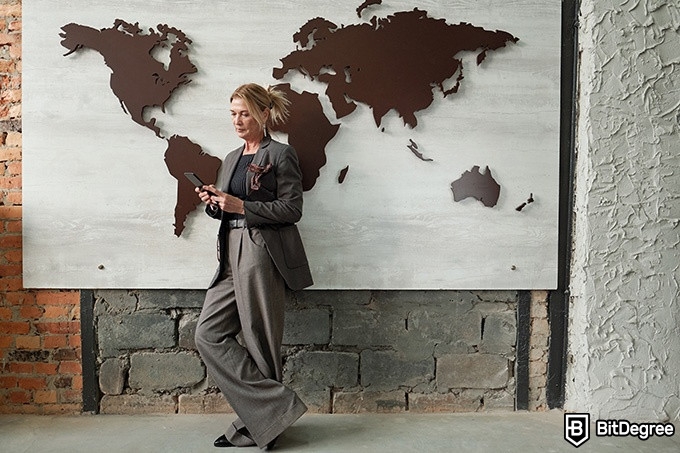 An international business – one that strives to be seen as ethically responsible – needs to accept a certain level of accountability. Otherwise, the consequences can be dire not only for the country they work in but also for the climate and environment as a whole.
So what can you, as an international business representative, do to make sure your decisions aren't deceptive or unethical? Well, you can start by taking one of the business philosophy, and ethics classes offered on edX, Ethical Decision-Making: Cultural and Environmental Impact.
This course focuses on the cultural shifts and environmental impact caused by international corporations. It looks into the morality of dubious marketing practices and analyzes the role foreign corporations play in the environmental conservation and economic growth of developing countries.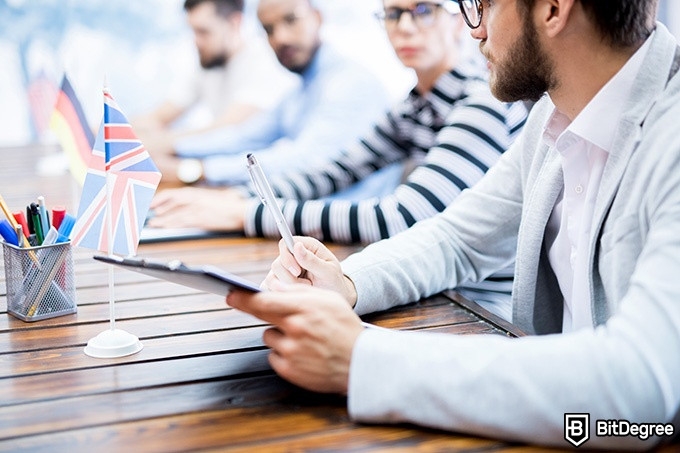 Throughout this nine-week course, you will learn about:
What approaches are needed to assess restrictions on global sales and marketing
Measuring the impact of advertisement and marketing techniques with regards to audience vulnerability
Pre-planning human and environmental impact scenarios and applying appropriate measures to reduce the negative impact
Describing the challenges of assessing the economic value of nature
By the end of the course, you should know what practices can help make your business more transparent and how you can reduce any harm caused to the environment. You will be able to lead a global, ethical business with a more positive impact on the local culture and environment.
Ethical Decision-Making: Cultural and Environmental Impact is part of the online ethics courses in the edX Ethical Decision-Making for Global Managers professional certificate program. You can check out the two other ethics classes in this program, Government and Political Issues and Labor and Production Dilemmas.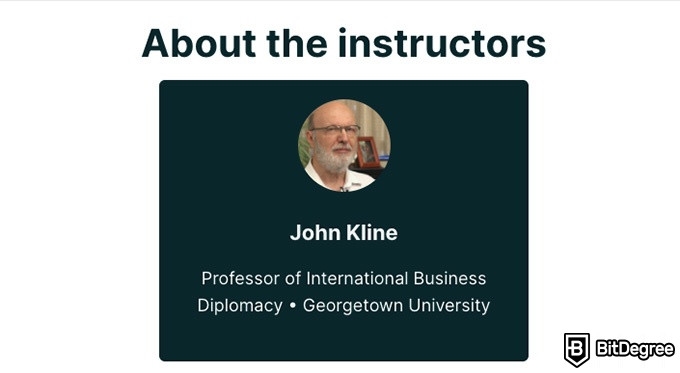 This course was brought to you by John Kline, Professor Emeritus of International Business Diplomacy in the School of Foreign Service at Georgetown University. One of his areas of interest is international business ethics, and he's sharing his academic experience with edX users.
You can start auditing this course on edX completely for free today. However, if you want to take part in the assessments and keep the course materials forever, you can check out the verified track for just $139. You can also find edX's discounts and special offers here.
Is your business truly ethically sound? Do you feel there are still things left to learn and improve? Then enroll in the Ethical Decision-Making: Cultural and Environmental Impact course on edX today and start building a brighter future for the world!

Platform: edX
Duration: 13 weeks
Price: FREE
Certificate: YES (Paid)
Level: Beginner
Discount: Available
Where to apply? HERE
It's a simple, unquestionable, fundamental truth of life – we all want to be happy. Yet there are those times when it feels like happiness is completely unattainable. How can you find happiness and keep it in your life?
This is a tough cookie – but it's a good question to ask yourself. After all, he who knows all the answers has not been asked all the questions. This was the belief – and the words – of Confucius, ancient Chinese philosopher and poet.
While nowadays happiness can be seen as something very individualistic, something we should be seeking from within ourselves, for Confucius, happiness was achieved through living in peace with other people[2] and following the example of moral goodness.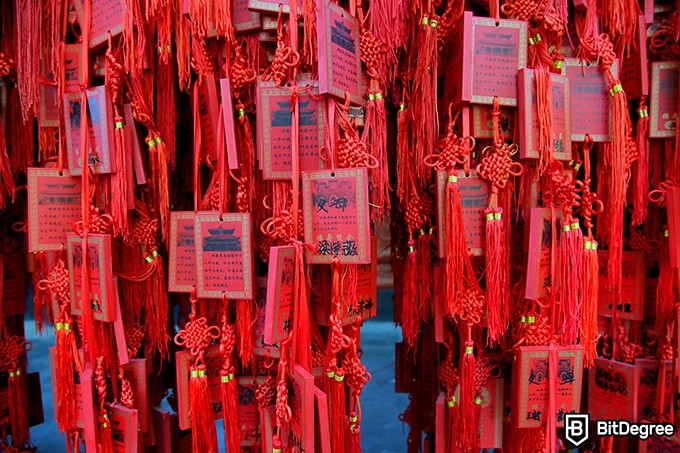 If you want to learn more about Confucianism, Daoism, and other Chinese philosophies (and maybe even find the secret to leading a good, happy life), you should check out The Path to Happiness: What Chinese Philosophy Teaches us about the Good Life on edX.
Ancient philosophies like Confucianism and Daoism still hold true to this day! Many of the teachings are not just relevant in modern times, but also still in use all over the world – and you can learn to follow them too. It's completely beginner-friendly, so don't be scared of any knowledge gaps!
The Path to Happiness will show you how connecting to the world around you helps with your self-improvement. By following daily rituals, you can not only find happiness but also change your life as a whole. Unlike other online ethics courses, this one focuses more on lifestyle changes.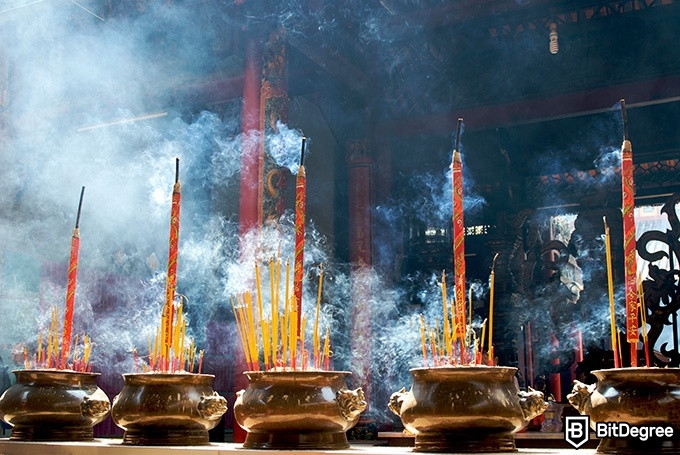 By the end of this Chinese Philosophy course, you will know more about:
How ancient Chinese philosophy can help you lead a better life
What tools you can find around you to become more aware of yourself and the world around you
The importance and power of daily rituals on your path to happiness
This course is taught by Michael Puett, Professor of Chinese History and Anthropology at Harvard University. He has been researching early Chinese history and philosophy for over two decades. Not only will you be learning from an expert, but you'll also have a chance to explore the same content as students at Harvard!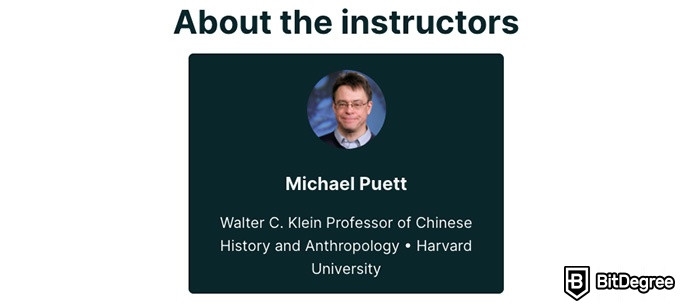 Here's the fun part – you can enroll in this course free of charge if you'd like! Of course, this means you'll miss out on little sparks of happiness like unlimited access to the course materials, graded and reviewed assignments, and, of course, your very own verified certificate! If that all sounds delightful, you can sign up for the verified track for just $99!
Life is really simple, but we insist on making it complicated. So, make things simpler for yourself, and experience tranquility by enrolling in The Path to Happiness: What Chinese Philosophy Teaches us about the Good Life on edX!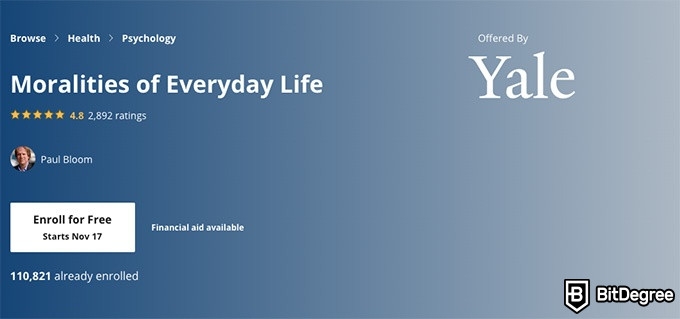 Platform: Coursera
Duration: 24 hours
Price: FREE
Certificate: YES (Paid)
Level: Mixed
Discount: Available
Where to apply? HERE
Morality is a word that goes hand in hand with ethics. In fact, you can see a lot all over this article. After all, the Oxford dictionary defines ethics as a system of moral principles. So, morality is at the very core of this discipline.
But what exactly are the ideas of morality? How can we know for sure what is right and what is wrong? How do we develop this sense to tell the just from the unjust? If it's really all so black and white, why is there so much discourse everywhere?
If you've been kept up at night by any of these questions – or feel like you'll be losing some sleep now – Yale's Moralities of Everyday Life course on Coursera might pique your interest. Unlike the other online ethics courses on this list, this one focuses directly on the overall moral issues in the real world.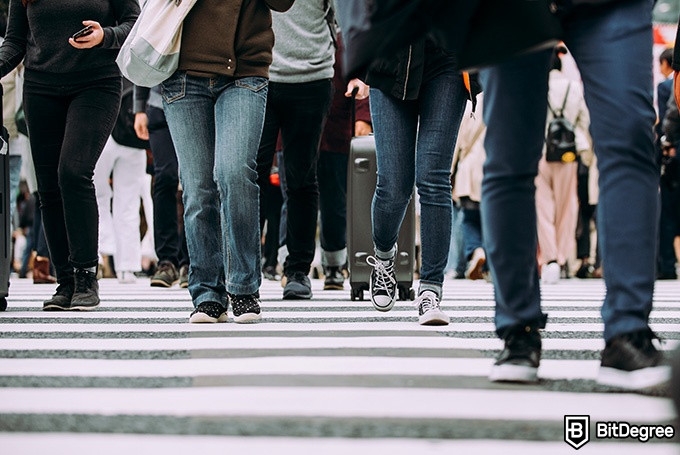 Moralities of Everyday Life explores the ways we encounter ethics in domestic scenarios of our lives. It analyzes real-life situations, like how we interact with strangers, how we perceive attractiveness, and how religious upbringing can affect our values and ideas of the world.
Since this course delves into different aspects of society and culture, it's great for all learning levels – from complete philosophy newbies to established ethics experts. It's a mixture of theory and analyses of case studies. In addition to that, you'll have extra reading materials to explore at your own pace.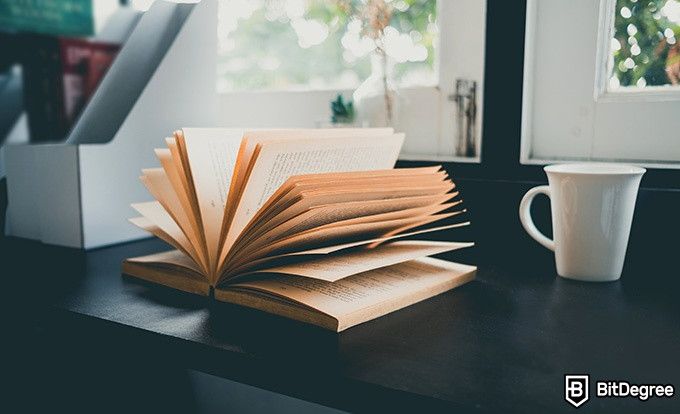 Clocking in at 24 hours, this course is constructed as six weeks of modules. Week by week, the topics will have you answering these questions:
The Big Questions: what is morality?
Compassion: why do we care about others?
Origins of Morality: is it nature or nurture that makes us moral?
Differences: why don't we all understand morality the same way?
Family, Friends, and Strangers: how can societal bonds shape our biases?
The Big Answers: do we really have free will, or is everything already predetermined?
The author of this course is Paul Bloom, psychologist and professor at Yale University. He's a cognitive scientist whose research focuses on how we interact with the world from societal, cultural, and religious angles. He's a renowned expert in his field, so by taking this course, you'll be in good hands.

If you're interested in Moralities of Everyday Life, you can audit the course for free or check out Coursera's free 7-day trial, along with other special deals. However, if you're interested in being part of the learner community and receiving an official certificate, you can check out Coursera Plus, starting at just $49/month!
As grey as morality can sometimes be, it's absolutely a good idea to enroll in the Moralities of Everyday Life course on Coursera today!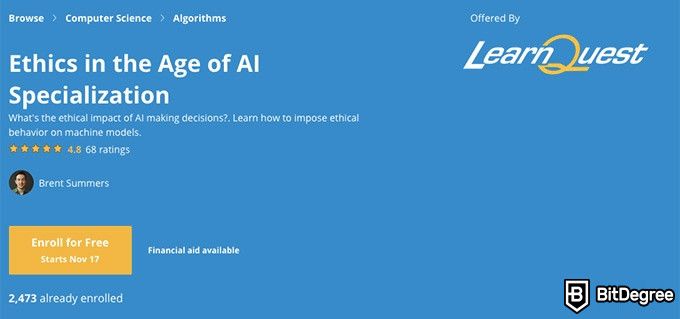 Platform: Coursera
Duration: 4 months
Price: FREE
Certificate: YES (Paid)
Level: Beginner
Discount: Available
Where to apply? HERE
We all know about the quest to develop the perfect artificial intelligence. A sophisticated, genius machine capable of solving humanity's problems and preferably isn't homicidal like HAL 9000.
Well, to make sure that an AI doesn't decide to go haywire and destroy everything, ethics come into play. Ethics officers help make sure that the moral consequences of technology aren't detrimental or even tragic. Ethical principles make sure that as technology develops, humanity isn't left behind.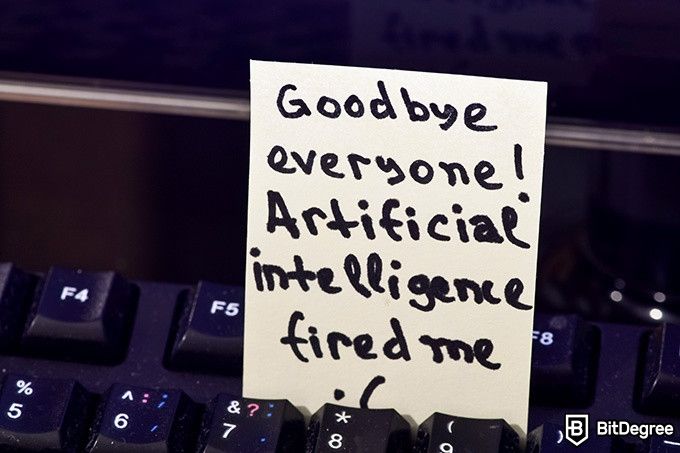 Online ethics courses about AI and its development are becoming increasingly popular. And if you have a growing interest in artificial intelligence, its possibilities and risks, you should sign up for the Ethics in the Age of AI Specialization on Coursera.
This four-month specialization dives into the synergy between philosophy and technology. You'll learn about algorithms, how they influence human behavior and what functions they perform in our everyday lives. Algorithms can't always keep our data safe, so you'll see how some vulnerabilities can be exploited to breach privacy.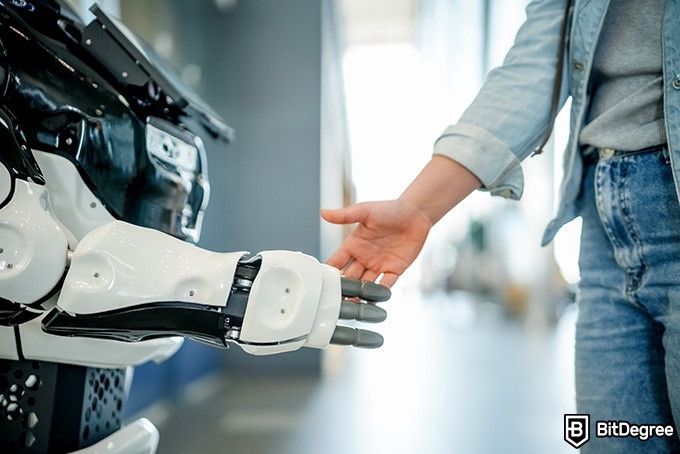 To obtain this specialization, you need to complete four online ethics courses:
Throughout these ethics classes, you'll be working on three projects. They'll help you ground your knowledge in the emerging field of AI ethics. By the end of this specialization, you will know more about the limitations of algorithms, the issues of bias in machine learning, and the concepts of security in AI development.

All AI ethics courses in this specialization are taught by Brent Summers. He has worked with no-code startup projects and is interested in the intersection between technology and humanity. So, you'll be learning from someone who has firsthand experience working with AI development.
You can enroll today and audit the entire specialization without paying a dime! However, if you prefer a more hands-on approach and are intrigued by the prospect of peer-reviewed assignments and your very own certificate, you should sign up for Coursera Plus today!
Interested in keeping our future killer robot-free? Then enroll in the Ethics in the Age of AI Specialization on Coursera today and discover ways that you can contribute to creating a future where technology and humans coexist in peace.
Conclusions
You might've thought that online ethics courses are near impossible to find. Well, I hope I've proven you wrong. Not only can you successfully study philosophy online, but you can even find your own niche!
Whether you're a leader looking to boost the team morale, an engineer working on the next step of technological evolution, or simply a thrill-seeker who wants to live a happy, fulfilling life – there's something for everyone.
From international business ethics courses to artificial intelligence algorithm guides; from personal development to the history of ethics classes – with courses from Udemy, edX, and Coursera, you can start carving the right path of your life today.
So, don't hesitate – enroll in one of the best online ethics courses today and understand the way the world works tomorrow!
Scientific References
1. Ivan Jordović 'Aristotle on Extreme Tyranny and Extreme Democracy'
2. Shirong Luo 'Happiness and the Good Life: A Classical Confucian Perspective'
Leave your honest feedback
Leave your genuine opinion & help thousands of people to choose the best online learning platform. All feedback, either positive or negative, are accepted as long as they're honest. We do not publish biased feedback or spam. So if you want to share your experience, opinion or give advice - the scene is yours!