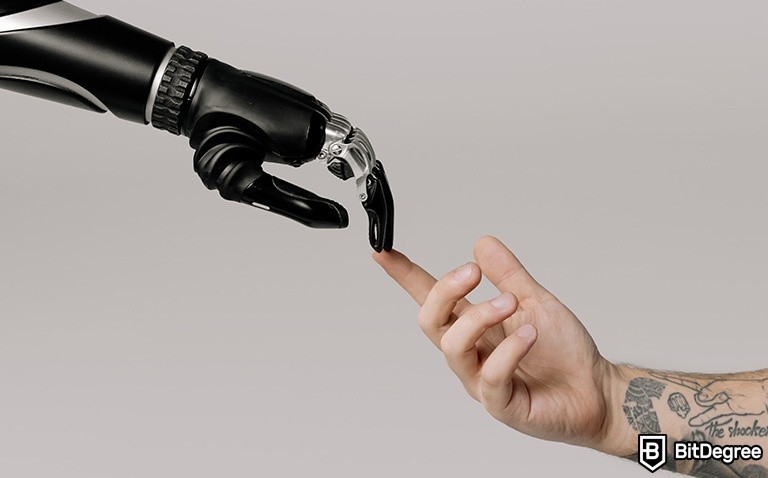 The floor-cleaning robot whirring in the corner, a brand new Tesla, and your Spotify recommendations - one thing these examples have in common is artificial intelligence. Surrounding us every day, AI has become an integral part of our daily lives. That's why I decided to compile this list of the best online artificial intelligence courses.
The classes mentioned in this article were all chosen based on their content quality and student reviews, to assure the highest-quality selection possible. From the basics to more advanced programs offering artificial intelligence certificates online, you will be able to choose from the best AI courses on the market.
In addition, the MOOC platforms offering these programs are currently leading the online learning market, so you know you will be in good hands. But a bit more on that in a moment.
But before we get into the best AI courses out there, let's take a look at why you should take these online artificial intelligence courses.
Why Take Online Artificial Intelligence Courses?
As I've already mentioned, artificial intelligence is all around us. And with every day, new ways of utilizing smart machines fields are being developed in various.
Latest Udacity Coupon Found:
SAVE 75%
Udacity Black Friday Offer
The best time to save on Udacity courses is now - follow this coupon to access 75% Udacity Black Friday discount on all courses & enjoy top-quality learning for less!
Expiration date : 12/12/2022
3,176 People Used
Only 97 Left
From new phone models with smart assistants to innovations in the medical field that help organise medical files and even assist in complex surgeries, artificial intelligence has more uses than many could imagine.
This means that the demand for AI specialists is constantly increasing. According to LinkedIn, artificial intelligence jobs are projected to be worth almost $31 billion by 2024[1]. That's an annual growth rate of more than 40% over a six-year period between 2017 and 2024.
And with so many open job positions, starting a promising career in the dynamic field of AI and machine learning has never been easier. That said, this field requires a specific skill set that can be hard to develop on your own without proper guidance, whether you are learning about artificial intelligence online on in real life.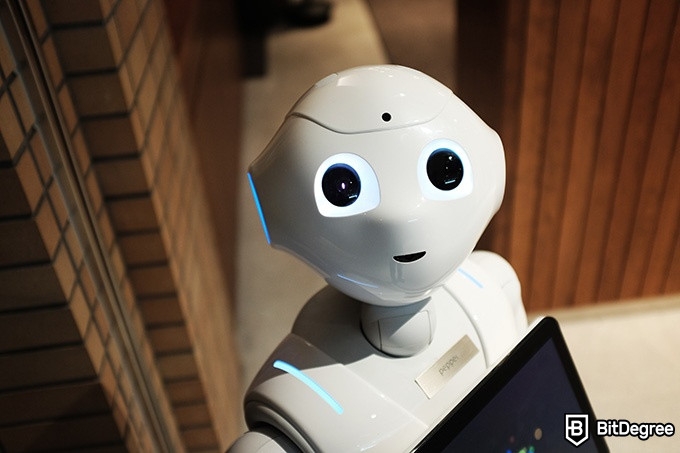 That's where these online artificial intelligence courses come in. Specifically selected to cover various topics and difficulty levels, these programs can help you get a headstart while applying to many positions.
And if you are currently studying to get a degree in data science, AI, or machine learning, these classes can make those exams that much easier.
The high quality of these programs are not surprising at all, as they are offered by some of the best online learning platforms on the market. Udemy, Coursera, and edX offer accredited top-notch courses on various topics, AI being among the most popular options.
In addition, Coursera and edX often partner with world-renowned universities, making good education much more accessible to everyone around the world.
As you can see, these are some of the best AI courses out there, so why not take a chance and kickstart your new career by enrolling in one (or several) of them?
And now, without further ado, let's jump right into these online artificial intelligence courses.

Platform: Udemy
Duration: 16 hours 36 minutes
Price: €119.99
Certificate: YES
Level: All levels
Apply HERE
Building an Ai is no easy feat. There are countless small nuances that can affect the success of your entire project. That's why it's crucial to have a strong and broad foundation of knowledge that will help you avoid any major issues while working on the project.
I highly recommend the online artificial intelligence course Artificial Intelligence A-Z™: Learn How To Build An AI by Udemy, as it's a great starting point that can help you kickstart your journey.
This is great if you are looking for a way to study AI online while avoiding unnecessary pieces of information. The online artificial intelligence course wastes no time and immediately jumps straight into explaining the most important fundamentals of the subject.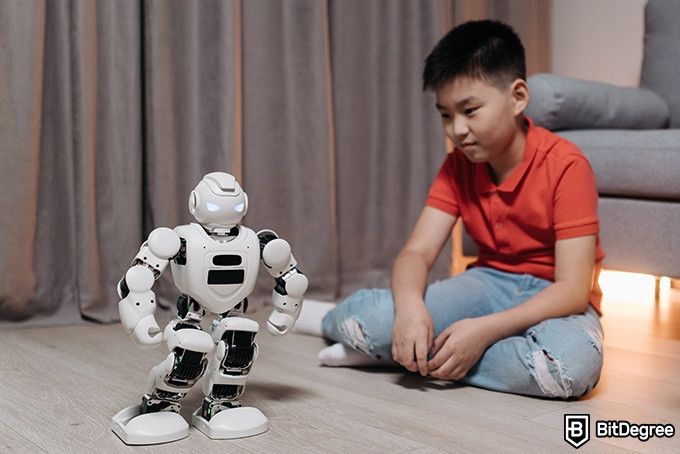 In this program you will find detailed, yet straight-to-the-point overviews of the main forms of AI, as well as code templates, intuition tutorials, real-world solutions, and much more.
The syllabus avoids dense avalanches of theory that can overwhelm anyone and offers a great balance of theoretical and practical tasks, as well as in-course support.
This is all thanks to the instructor and author of the program - Hadelin de Ponteves. An AI entrepreneur, Hadelin has plenty of experience with building and developing new AI programs. After all, he co-founded an AI company, so you know he's good!
This online artificial intelligence course is one of the longest individual programs mentioned in this article, with 16 hours and 36 minutes of content. The learning material is well structured into 19 sections that break down everything you should keep in mind while entering the dynamic field of AI.
According to student reviews, the program is set up in a way that enables you to learn more as you gain more knowledge, which allows for a smooth and enjoyable learning process. In addition, many reviews mentioned that the material was simple to understand even for the absolute beginners.
While this is an A-Z bootcamp, it's to be expected that the pricing would reflect the amount of information included in the syllabus. The program is priced at €119.99, which can be steep to some. That being said, the amount of information included and the experience you will get makes it an investment worth your attention.
Those enrolled in the course will learn:
How to merge AI with OpenAI Gym to learn as effectively as possible;
How to optimize your AI to reach its maximum potential in the real world;
How to start building AI with no previous coding experience using Python.
With all that said, do keep in mind that you can always look through the available coupons here and see if something catches your eye, as you can come across a chance to drop those prices quite low.
Start the course NOW.

Platform: Udemy
Duration: 15 hours 5 minutes
Price: €119.99
Certificate: YES
Level: Beginner
Apply HERE
There are countless applications of artificial intelligence in many different fields. Business is no exception.
If you can't seem to pick between working with AI and going into business, then the program Artificial Intelligence for Business by Udemy can help you join your two passions and set you off on one unique career path.
This online artificial intelligence course instantly stood out to me because of its content. Oftentimes, while looking through the structure of a class, you might see some additional reading material available to you. While many programs opt to include documents that don't exceed a few pages, this course includes a whole book for you to study.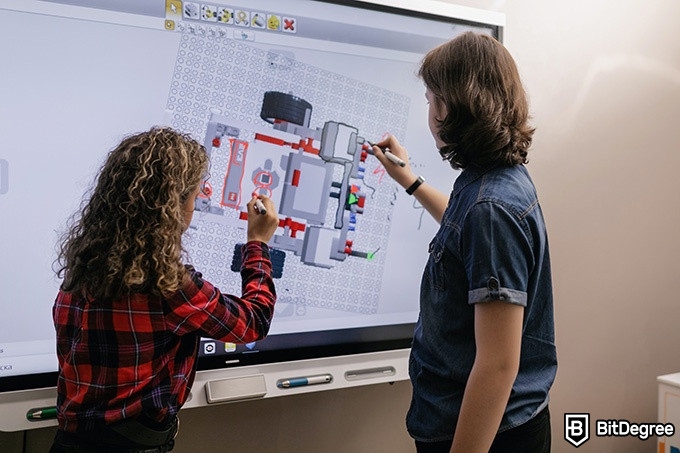 This doesn't mean that you will be quizzed from a 500 page tome that has nothing but walls of text, of course. You will get a 100 page book that you will be able to use as a handbook of everything you need to know about AI for business, all in one place.
This is great to keep on hand while studying and working, as it makes it much easier to find what you need.
This is one of 29 online courses created by Hadelin de Ponteves, who has not only taught, but worked with AI and Business in many different scenarios. Hadelin's courses are some of the highest ratings out there and, with almost 1.5 million satisfied students all over the world, you can rest assured that you're in good hands.

The course is divided into 3 main chapters, making it quite simple to focus on each case study without getting distracted or overwhelmed by other topics. And with 15 hours and 5 whole minutes of content to learn from, you can be sure that no piece of information is left out.
While looking through reviews left by students, one statement kept popping up over and over again. This online artificial intelligence course is exceptionally simple to follow. Many users mentioned being pleasantly surprised, as they expected such a complex subject to take much longer to comprehend, and even more mentioned they would gladly recommend this program to others.
Priced at €119.99, the class is on the more expensive side. That being said, the price tag does reflect the quality of the content perfectly.
Those enrolled in this course will learn:
The potential uses of AI in business;
What challenges you might face while working in this field;
How to analyse various situations and find the most optimal solutions.
If you are worried that the price of this course is too steep for you, no worries - check out the available coupons and deals here as you can shave off quite a bit off the current price.
Start the course NOW.

Platform: Udemy
Duration: 10 hours 33 minutes
Price: €29.99
Certificate: YES
Level: Expert
Apply HERE
Do you already have several online artificial intelligence courses under your belt and are eager for a new challenge? Or are you looking to continue learning about artificial intelligence online and sharpen your already existing professional skills in order to continue working on your career? In any case, you have come to the right place.
Advanced AI: Deep Reinforcement Learning in Python is an expert-level Udemy program focusing on Deep Learning and Neural Networks and providing the deepest understanding of the subject.
This class was chosen because of its advanced difficulty, as continuing to build your knowledge is just as important as having a strong foundation under your feet.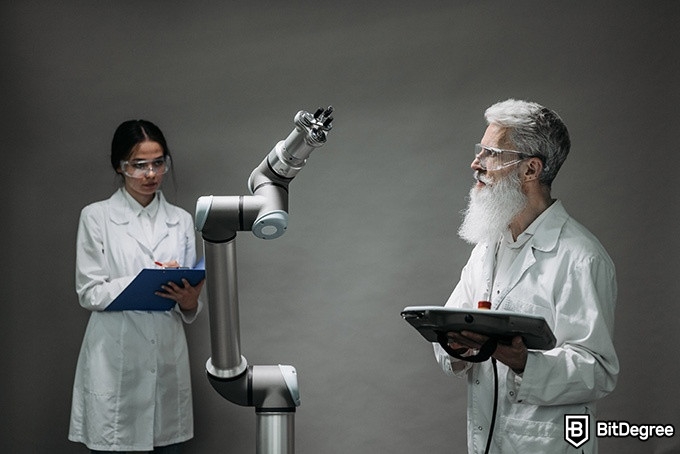 The syllabus of the program focuses on giving you the knowledge and experience needed to build your own unique algorithms and learning agents, as well as apply your skills to any problem you might come across. The learning material is designed to give you enough experience to independently and confidently take the situation by the horns and make sure that everything works the way it should.
Naturally, advanced courses such as this one should be taught by someone who knows exactly what they're doing. Luckily, this program is brought to you by Lazy Programmer - an AI and machine learning engineer that has almost a decade of experience working in the field.
From online advertising to building data processing pipelines, the instructor has done it all. So I am pretty sure that you will find this course exceptionally useful and insightful.
Because the program focuses on advanced concepts and skips the basics, the program is not as long as many others. Though 10 hours and 33 minutes can still seem like a long course to some, for an expert-level course it's quite concise.

This is definitely well-reflected in the reviews left by students. Many praise the course for being simple to understand, while still including all the key points and properly explaining even the most complex concepts and examples.
This is a very important feature for an advanced course to have, making it much easier to reach higher results.
After all, what's the use of an artificial intelligence online course if it doesn't make the subject any easier to understand?
What I did not expect at all was how affordable this course is. Coming in at just €29.99, this is the perfect choice for those that don't want to spend a lot, especially if they've already purchased other online courses previously.
Those enrolled in this course will learn:
The basics of reinforced learning and how it can be applied in real life;
The more advanced uses of AI in various fields and how to approach different scenarios;
How to make sure that AI develops in a beneficial way, rather than a harmful one.
And while the price of this online artificial intelligence course already is delightfully affordable, a discount can make any deal sweeter, so check out the available promo offers here and see if something catches your eye!
Start the course NOW.

Platform: Coursera
Duration: approx. 12 hours
Price: Free
Certificate: YES
Level: Beginner
Apply HERE
Oftentimes more complex subjects can feel quite intimidating and maybe even make you think "maybe this just isn't for me". And while sometimes those subjects simply don't turn out to be something you want to pursue further, that doesn't mean you shouldn't at least try!
That's the beauty of online artificial intelligence courses - anyone can at least try it out and potentially discover their calling or at least a way to apply AI in their daily lives.
That's exactly why I chose the appropriately titled Coursera program AI For Everyone, as it focuses on what artificial intelligence can do on a smaller scale.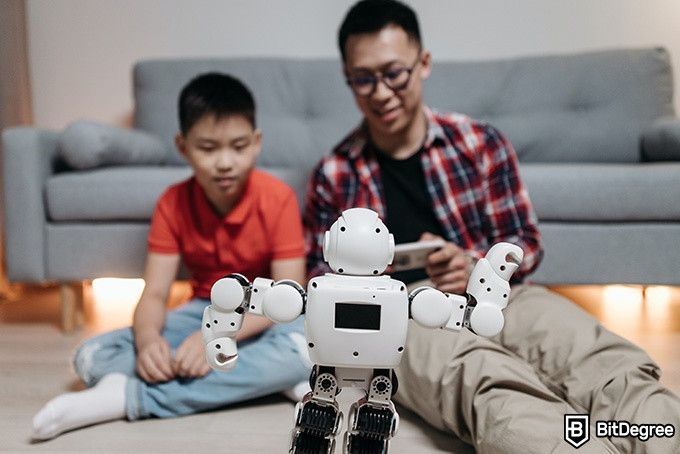 While picking programs to include in this article I noticed that many focus on AI from an industrial standpoint, offering a more technical approach to the subject. And while these classes are understandably useful and well-needed, smaller or one-person businesses can't always find them as useful, especially if the content is heavily technical.
This class includes a lot of fundamental concepts that are necessary to properly grasp the possibilities of AI, however, the main focus is on what AI can do on a smaller scale and how often complex methods can be used for simpler projects.
In addition, the syllabus avoids overly technical lectures, such as sophisticated code and instructions on building the AI yourself. Instead, students will build a foundation of knowledge that will allow them to accurately plan out their following steps to utilize artificial intelligence for their own needs.
This program is created and taught by one of Coursera's highest-rated instructors - Andrew Ng. With an impressive resume, including being an adjunct professor at Stanford University (yes, he's that cool) and authoring or co-authoring over 100 research papers in machine learning, robotics, and related fields, Andrew is one teacher I'd love to learn from.
Because this program doesn't go too in depth into the nitty gritty of AI, it's quite understandable that the structure will reflect that. With 12 hours of content divided into 4 sections, learning about artificial intelligence has never been so simple.

Funnily enough, that's exactly what many students said about this course. Many reviews thanked Andrew for presenting an often difficult subject in an easily-understandable and socially-relevant manner, which had many users flying through the videos and eager to learn more once it's over.
What I personally like about Coursera are the payment options they offer students. This course can either be purchased for $49, or audited and taken for free.
The key difference is that the paid version will get you an artificial intelligence certification once you complete the program, while auditing the course will only allow you to take the class without getting any certificate at the end.
Those enrolled in the course will learn:
The meaning behind common AI terminology, including neural networks, machine learning, deep learning, and data science;
How to spot opportunities to apply AI to problems in your own organization and real life;
How to work with an AI team and build a successful AI strategy.
Of course, don't forget to click here and check out what discounts and coupons are available for you to enjoy. You never know what kind of bargain you can come across.
Start the course NOW.

Platform: Coursera
Duration: approx. 61 hours
Price: Free
Certificate: YES
Level: All levels
Apply HERE
Artificial intelligence is an often unexpectedly broad term, covering many concepts. one of them being machine learning - the science of teaching computers to learn.
If you are looking to learn more about this part of AI, then the Coursera program Machine Learning (unexpected title, I know). That being said, you can still learn something you didn't expect while taking this course.
This course provides an in-depth look into the theory behind machine learning. From the most basic concepts (like linear regressions) to large-scale machine learning examples and their studies, so you know you will be getting a complete rundown of everything you should know on the matter.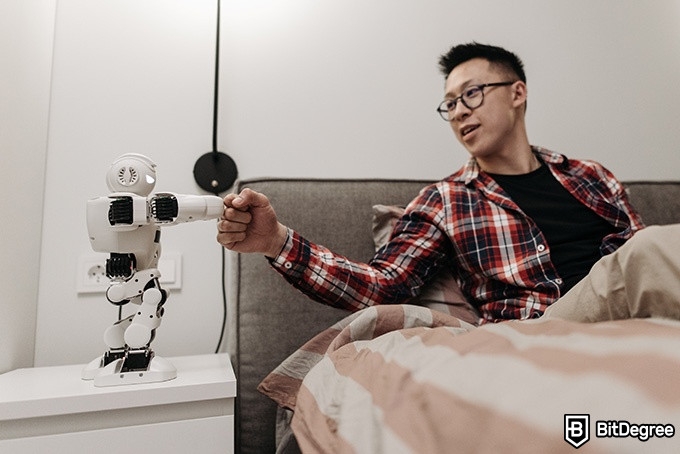 In addition to explaining everything behind the theory of machine learning, the syllabus also includes real-life case studies that can help you grasp the concepts even better.
As you can see, this program leaves no stone unturned. And no wonder - it is created and taught by the one and only Andrew Ng. Founder of DeepLearning.AI, general partner at AI Fund, and not to mention chairman and co-founder of Coursera itself, Andrew now focuses on making AI education more accessible to everyone - this course being no exception.
Naturally, designed by professionals, this course is perfectly divided into 18 sections to make the learning process as smooth as possible. This is definitely an important feature, as the 61 hours of learning material require a well-organized syllabus in order to keep from getting lost in the lectures.

Student reviews of this online artificial intelligence course are exceptionally positive. Simple to understand, well planned out, interesting to listen to - this program definitely hit every mark and reviews understandably reflect that.
With the quality and size of the class in mind, it's no wonder that this program is on the pricier side. If you are looking for an artificial intelligence certificate online, one focusing on machine learning can be yours for a single payment of $79. That being said, if you are just looking to build new skills and don't need a certification of completion, you can always audit the course and still enjoy access to the entire syllabus for free.
Those enrolled in the course will learn:
The differences between supervised and unsupervised learning and where each can be applied;
What the best practices for machine learning are;
How to practically apply what you've learned and develop your own machine learning projects.
And as always, if you want to have your cake and still eat it too, you can always click here and look through the available coupons to help you get you more for less.
Start the course NOW.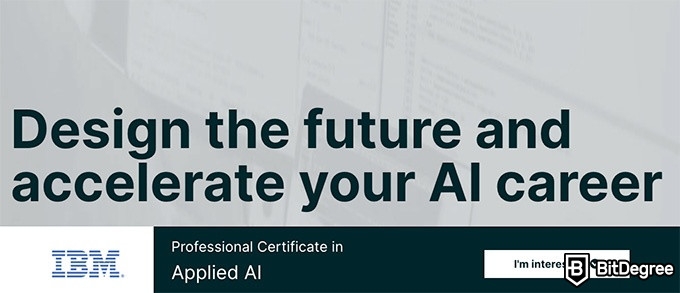 While artificial intelligence is undeniably cool and an interesting subject to learn about, its main purpose is to make our lives easier. That's why it's so important to not only understand AI and how it's built, but where and how it can be applied as well.
As you've probably already gathered, this next program is about Applied AI. However, it's not just a single class. It's a collection of the best AI courses, provided by edX, that can get you a professional artificial intelligence certificate online.
The program consists of 6 edX courses, all tackling a different aspect of applied AI. From the absolute basics to AI applications with Watson (an IBM AI for business), the syllabus offers you a university-level education that you can get from the comfort of your own home (or your favourite cafe, of course).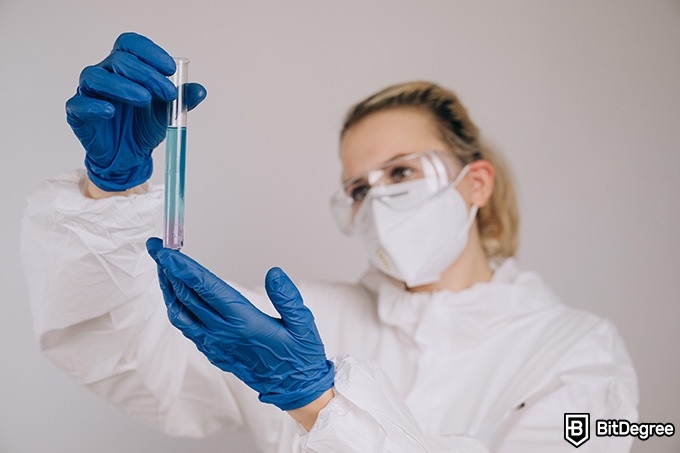 Because you will be going through several courses, you will get to know many different instructors. That being said, you can rest assured that their expertise is top-notch. The program is provided by IBM, so the selected instructors are more than qualified to teach even the more complex subjects.
I know what you must be thinking. 6 courses must take forever to complete! Well, if learning at the recommended pace of 3-6 hours every week, you should have your professional certificate in around 5 months. However, you can always work according to your own pace and finish the program much quicker.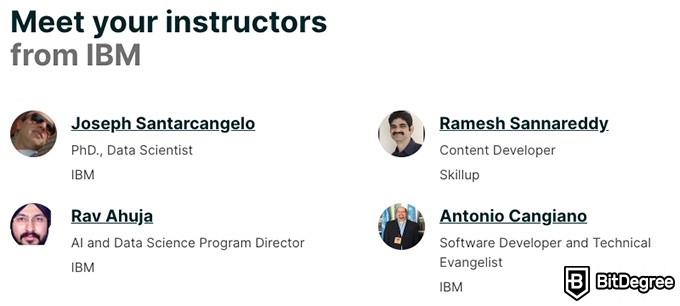 Because you will be purchasing 6 courses at once, it's understandable to pay a little bit more than for your standart AI program. At the moment the certificate is priced at €468.
Understandably, this might seem quite expensive, however, keep in mind that you will not only be getting university-level education, but professional artificial intelligence certification as well, which, in my eyes, makes this program well worth the price.
Those enrolled in the program will learn:
Understand AI basics, its applications and use cases, and how its transforming our lives;
Explore concepts like machine learning, deep learning and neural networks, and how far they can go;
How to build various applications that can be applied in real-life situations.
Because this is on the more expensive side, it's understandable to want to drop the price a little lower. Good thing those numbers aren't set in stone, as you can click here and potentially find the perfect discount code to make the program more affordable.
Start the course NOW.

While some are looking for full professional certificate AI bootcamps, others opt to focus on the basics first. This can prove to be a smart career move, and with less effort you can get just as good of a position as those with more knowledge behind their belts.
If you are looking for an online artificial intelligence course that will give you a strong and credible foundation of knowledge to kick start your career, then I highly recommend the professional certificate in Foundations of AI by edX.
edX's professional certificates are more than just online courses. By enrolling in one, you automatically get access to several classes at once that will help you get the most of online learning.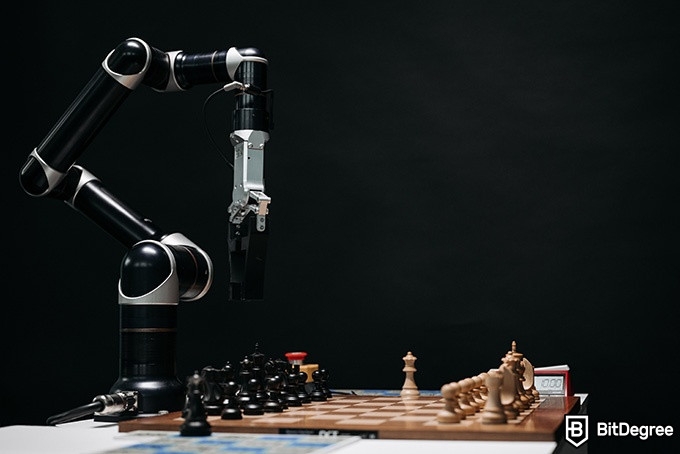 This program focuses on, as the title suggests, building a foundation of basic AI knowledge that can be applied in many fields, as well as make further education much easier.
And, of course, after completing the syllabus you will receive artificial intelligence certification that will make landing your dream job a breeze.
The program is offered by IBM, and not just as a sponsor. Students will be taught by experts specifically chosen by IBM that are capable of teaching such a complex subject as AI in an easily understandable manner.
Which plays a key role in making good education and jobs more accessible.

The three courses included in the program are estimated to take around 4 months to complete, if taken for 3-6 hours every week. This estimate is recommended to those who have their days mostly occupied by either work or studies, but, because the program is self-paced, you can learn at whatever speed you prefer.
Priced at €265, the program is on the expensive side. That being said, it saves you a lot of trouble finding appropriate courses to take. In addition, you will receive one professional certification instead of several certificates of completion, which can make your resume stand out much more.
Those enrolled will learn:
Build a strong foundation of AI knowledge that can be applied in various cases;
Identify various Watson AI services from IBM and what they can be used for;
Build and deploy an AI enabled chatbot on a website without any coding.
And just a quick note, if you would like to get this artificial intelligence certificate online for an even lower price, you have a great chance of finding a coupon code that will make this program much more affordable.
Start the course NOW.
Conclusions
As you can see, there are many high-quality online artificial intelligence courses provided by the top MOOC platforms for you to choose from.
From introductory programs, focusing on the basics of AI, to more advanced classes, offering a deep-dive into the many nuances of the matter and its applications - there's something for everyone.
While choosing the best course to take, it's important to keep in mind how broad the subject of AI actually is. That's why I recommend opting for more in-depth courses provided by Udemy and Coursera or even the professional certificates that edX offers, as you will be able to get a better understanding of the subject, focusing on the most important points, highlighted by professionals.
I hope this list of the top online artificial intelligence courses was helpful and you found the best AI course to take. I wish you good luck in your future endeavours and may the robots you create never rise up against you!
Scientific References
1. LinkedIn. "2020 Emerging Jobs Report"
Leave your honest feedback
Leave your genuine opinion & help thousands of people to choose the best online learning platform. All feedback, either positive or negative, are accepted as long as they're honest. We do not publish biased feedback or spam. So if you want to share your experience, opinion or give advice - the scene is yours!