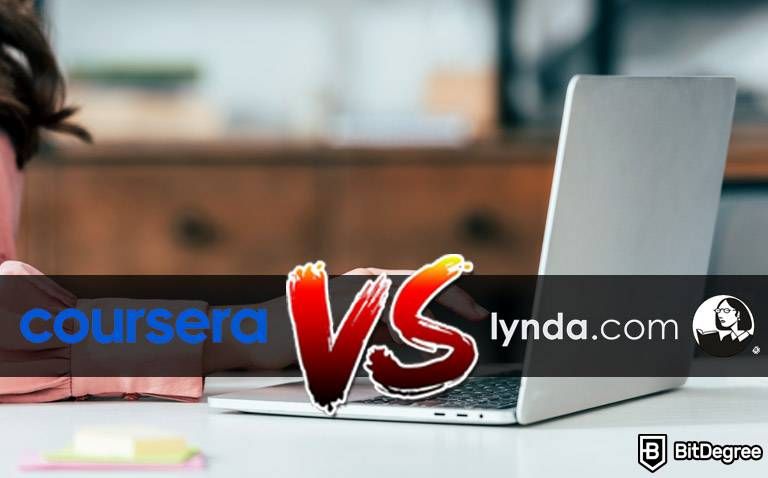 You're on the cusp of your career development journey – on track to become the ace, but still looking for ways to improve your skills and increase your knowledge. Whether you're a student looking to enhance your classes or a professional in search of a convenient solution, online learning platforms can help you immensely. And in terms of career-focused development, Lynda VS Coursera looks to be a tough competition.
Today, we'll compare two of the best-known online learning platforms for professional development. With thousands of courses combined and massive international learner communities, they've certainly left their mark in the digital learning space – but how do they match up against each other?
While you might be familiar with sites like Lynda or Coursera, let's learn some basic facts about our platforms in question. Lynda is one of the oldest online learning platforms, as it was initially launched back in 1997. In 2015, it was acquired by LinkedIn and is now known as LinkedIn Learning. So, if you see both Lynda and LinkedIn Learning mentioned throughout the text, it's the same thing. Coursera is one of the most popular accredited online learning platforms. It was launched in 2012 and offers courses that are taught by renowned academics and industry professionals.
So, let's start our Coursera VS Lynda comparison by learning how this process is going to work.
Lynda VS Coursera: Comparison Criteria
Something to keep in mind as we're starting our Lynda VS Coursera face-off is that the platforms offer extensive catalogs of courses – this is something that will be more relevant once we discuss the course range itself. However, this also means that evaluating both platforms fairly requires an unbiased, facts-based approach.
Latest DataCamp Coupon Found:
CLAIM 50% OFF
DataCamp Cyber Monday Deal
DataCamp Cyber Monday special is here! Enjoy a massive 50% off on DataCamp plans. Subscribe now and redefine your data and Al skill set for the better!
Expiration date : 03/12/2023
5,324 People Used
Only 36 Left
We do not compare online learning platforms – the various Coursera and Lynda.com competitors – based on the content on the micro level. This basically means that for this comparison, we won't be looking at specific courses but rather the overall range and customer feedback.
Without further ado, here are our Lynda VS Coursera evaluation criteria:
Course Quality and Variety. We've started the introduction by introducing the content that the two platforms offer, and that's where we'll pick up the comparison itself. While quantity does not always equal quality, versatile online learning platforms often provide a range of subjects, covering everything from arts to biosciences. We'll see if the two platforms accommodate different learner levels and what sort of content you can expect to come across.
Certificates. Rewards are pretty much inseparable from the course quality conversation. Typically, sites like Coursera and LinkedIn Learning offer their users certificates of completion to prove the newly acquired skills. Some platforms even offer accredited certifications, meaning they have some academic backing to their value. We'll explore what reward systems Lynda and Coursera offer, and whether it's possible for you to get an accredited certification.
Ease of Use. Next, we'll discuss the user interface and convenience. Don't worry, it won't get technical. Our goal here is to see whether a complete newcomer who's never used Coursera or Lynda.com competitors would have an easy time figuring out where to start learning. Additionally, we can't overlook mobile learners. Having an app can make the learning process a lot easier if you're short on time. So, we'll see whether the two platforms support the smaller screens.
Languages. Learning should be convenient to the learner first and foremost. This might sound obvious, but it can often be overlooked when it comes to foreign language support. The vast majority of digital courses might only be available in English. While many people can read them without much trouble, studying in a language that's foreign to you can make things more difficult. In this category, we'll see how well Lynda VS Coursera are doing in terms of offering content in multiple languages.
Pricing. Finally, we're going to discuss the different payment plans for individual and institutional users that the two platforms offer. Pricing can often be the determining factor in choosing an online learning course. In addition to the paid plans, we'll also see what perks users can access without paying – whether that's free trials, special courses, or anything else. I'll also show you where you can find discounts to make your wallet even happier.
While I'm going to provide you with the essential facts, it's up to you to make the final decision. So, think about what you like or want to see as a learner, read through what Coursera VS Lynda have to offer you, and making the call will be easier at the end of the day.
And now, let's begin the comparison.
Lynda VS Coursera: The Comparison
All five categories will be discussed in the order established above.
Course Quality & Variety
When it comes to picking a platform, whether it's direct Coursera and Lynda.com competitors or more niche, field-specific learning sites, quality is one of the core aspects to pay attention to. After all, in many cases, you'll be paying to learn (and the price is something that we'll get to in a bit), and you don't want to leave with empty pockets and a brain that's not learned much new.
So, two things are at play here – the quality of the content and how varied it is. By "variety," we mean the overall range. What subjects can you learn? Which learner levels are supported? Is there anything unique that one platform offers to enhance the experience?
And when we're talking about Lynda VS Coursera, variety is something that can't be overlooked. To make things simple, let's talk numbers. Coursera's catalog offers over 7,000 courses, certificates, online degrees, and other educational content. Impressive, right? Well, wait until you hear about LinkedIn Learning's selection. Here, you'll find over 20,000 courses! That's kind of astonishing. In total, you'd be able to pick from around 30,000 different subjects.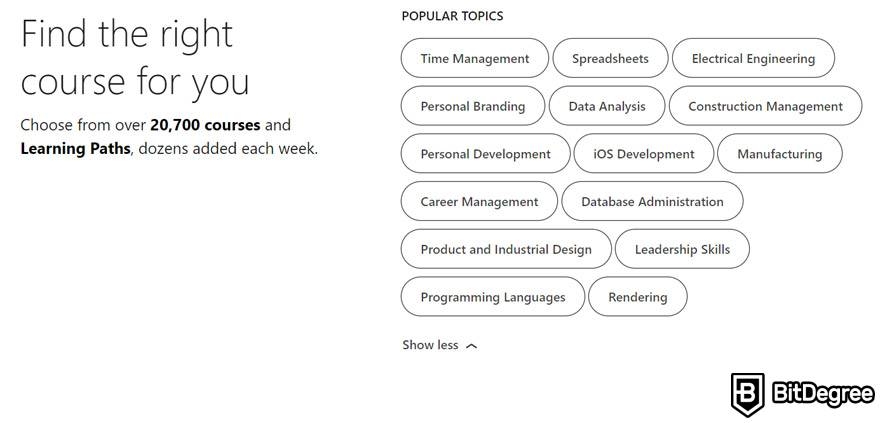 Having a huge amount of content doesn't guarantee their quality, though. With so many courses available, it's possible you might come across some duds. So, how do you know that sites like Coursera and Lynda are reliable? Well, one good place to look is customer feedback. In this regard, both platforms have been renowned for their high-quality, professional content that can help boost career opportunities. And it's worth mentioning that on our Best Online Learning Platforms list, both Coursera and LinkedIn Learning have made it to the top seven.
In fact, let's take a closer look at the structure of the two platforms' course catalogs, starting with Coursera. This platform is quite interesting, as you'll come across several different learning types. Aside from the standard courses, you can take:
Online degrees – university-affiliated degrees. They're conducted on a set schedule, at the same time as the degree would normally occur at the university hosting it. So, you're basically getting a true college experience from the comfort of your own home;
Certificates – the most common learning tool on Coursera. Certificates are programs that consist of two or more courses and can last up to several months. They're often affiliated with big-name companies like Google or IBM and offer industry-certified qualifications;
MasterTrack – similar to online degrees, MasterTrack learning is academically affiliated. By completing MasterTrack certificates, you can earn your way into university, as you can convert them to real college credit.
Coursera's associates include Ivy League universities, the University of Oxford, and Nanyang Technological University, to name a few. Many of the course instructors are lecturers who teach this material annually. So, the quality stamp is in the name.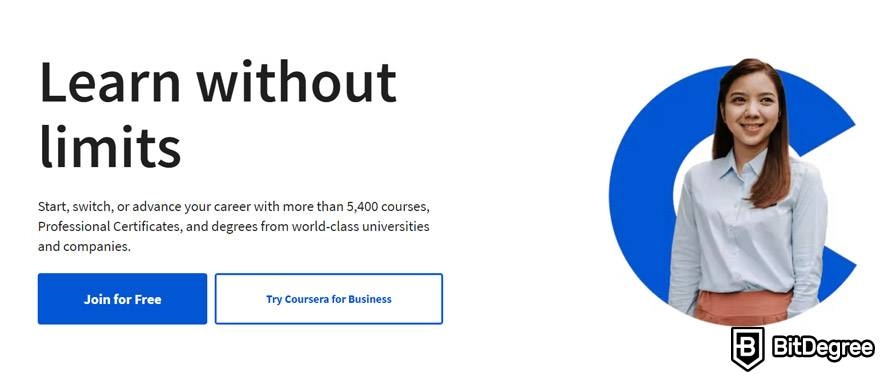 Now, let's turn toward Lynda. Scrolling through a catalog of over 20,000 courses can get overwhelming before long. So, to make the process of elimination easier, all courses are grouped into three categories:
Business
Technology
Creative
From there, you just have to determine which area of expertise you want to work on the most. Chances are, you'll find your niche before long.
You also need to consider the longevity of LinkedIn Learning here. Not many Lynda.com competitors can boast a lifespan of nearly three decades. Naturally, over the years, the platform's catalog has expanded – and gained recognition. After all, if the quality didn't speak for itself, it's unlikely that it would've lasted as long as it has.
So, in terms of course quality, Coursera VS Lynda are pretty evenly matched. However, once you get into the details more, your personal preferences can play a significant role in the final decision. LinkedIn Learning has more than twice as many courses available, but Coursera has academic affiliates that might look lucrative in your portfolio.
Certificates
If you were to ask a person on the street what they knew about online learning platforms, I bet a lot of the answers would have to do with certificates. In recent years, following the COVID-19 pandemic, sites like Lynda and Coursera saw a massive spike in users, many of which were hoping to earn qualifications to prepare for their return to the outside world.
Certificates are really one of the most lucrative aspects when it comes to the experience of studying online. Completing a course is like having a mini graduation – and as we'll see with Coursera, it can be part of the graduation ceremony in the real world, too.

However, when it comes to the value of online learning certificates, one question is crucial – are they accredited? In case you're unfamiliar, there are two types of certificates – accredited and non-accredited. Accredited certificates have backing from an academic institution and can sometimes be converted to college credit. Non-accredited certificates, on the other hand, are... Well, not that.
So, Lynda VS Coursera. Would you like to guess which of the two offers accredited certifications? If you guessed Coursera, you're absolutely right. By completing a course, you receive a reward issued by the association of that university on Coursera. So, if you finish a UPenn course, your digital certificate will mention that. Of course, this is not on par with actual graduation. However, students that opt for online Bachelor's or Master's degrees may even be able to participate in the graduation ceremony in person.
Then, there are the specializations. In order to earn a specialization, you must complete every course that it contains. So, by the end of it, not only do you receive a special proof of completion, but you also have an individual certificate for each course that you complete along the way! It's basically two, five, or more for the price of one.

Lynda certificates, on the other hand, aren't accredited. That said, it doesn't mean they're worthless. As we've already established, LinkedIn Learning has had decades to establish its reputation as a reliable source of professional development skills. So, holding a certificate from this platform shouldn't be overlooked.
Let's also talk about the convenience that's in play when it comes to Lynda VS Coursera. Lynda is a LinkedIn-owned platform, meaning that your regular account is connected to your learning performance. If you complete a course, you can swiftly show it off alongside your other skills and achievements. It's a pretty useful thing, especially if you're on the hunt for a new job – recruiters will be able to see everything in one place, whether it's conventional academic or digital achievements.
Both Coursera and LinkedIn Learning are reputable. In fact, there aren't many sites like Lynda that have had so long to develop their reputation. Nevertheless, if your preference is to have accreditation, Coursera will be the natural choice for you.
Ease of Use
Do you know that feeling of opening a website for the first time and getting completely lost in its layout, unable to find the tools you need? Pretty frustrating, isn't it? Well, when your goal is to learn something new, you'd probably prefer the first unofficial lesson – navigation – on sites like Lynda or Coursera to take up as little of your time as possible.
So, whether you've used any other learning platforms before or are venturing into this digital space for the first time, the website should be intuitive and easy to follow. Let's see how Lynda VS Coursera compare here.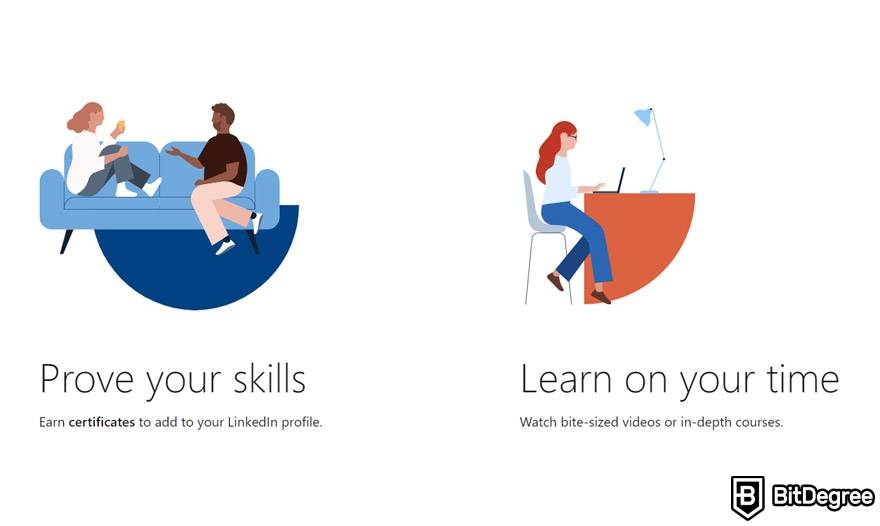 For starters, both platforms are great if you want to browse the catalogs before signing up. You can find the essential course information, such as the content, duration, and learner level. It's all useful in finding your starting point and can even help you create a whole learning track.
However, when it comes to the layout itself, Coursera VS Lynda offer very different environments. In Coursera's case, navigation can seem a lot more complicated. The content menu is split into two main categories – Goals and Subjects. From there, Goals are separated into multiple subcategories, including:
Take a Free Course
Earn a Degree
Advance Your Career
Essentially, these are based on what your studying purpose is. Each of these subcategories branches out even further into universities and companies.
Likewise, Subjects consist of numerous categories, such as:
Business
Computer Science
Personal Development
Health
As you can see, the range of subjects covers everything, from skills that you can apply to your workplace to new hobbies and interests for you to pick up. Each subject is then sub-categorized by what's offered – degrees, certificates, and popular skills. There's a lot to take in at first.
However, don't let the complicated menu push you away from Coursera. The search function is right there to help you out – simply type in what interests you, whether that's a specific topic or a university, and you'll find what you're looking for in an instant. At the end of the day, it balances out.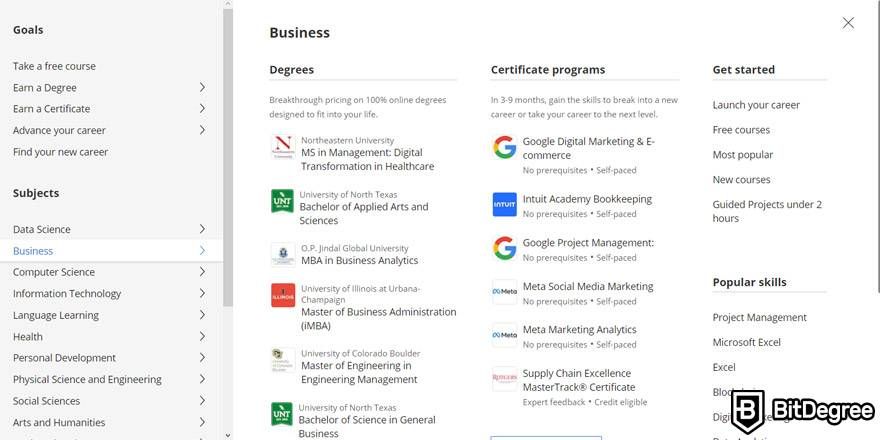 That said, navigation on Lynda is simpler. For starters, you don't need to have a LinkedIn account to preview the courses. As you might know, most features outside the profile previews are hidden from non-registered users. So, the fact that you don't need an account to take a peek is great while you're making a decision.
Additionally, if you have an established LinkedIn account – whether it's regular or Premium – you'll get course recommendations based on your portfolio skills. For example, if you have social media like Instagram or Twitter added to your profile, you'll receive recommended courses on creating platform-specific content.
Community is also a big aspect here. In addition to skills-based personalized recommendations, some of the courses you'll see are based on popularity within both your personal network and the broader LinkedIn user base. As I've mentioned, all courses fall under one of the three categories – Business, Technology, and Creative – and can be filtered by difficulty, so it's a great way to work on your existing skills as well as develop new ones.

Another thing we need to discuss is mobile compatibility. You don't always have time to sit down and take notes at your desk. Sometimes, you need a solution that's convenient if you're on the go. The perfect example of this is mobile apps for online learning platforms. They allow you to learn at your own convenience, wherever you are – in some cases, you don't even need internet access!
Are Coursera VS Lynda learners able to find these platforms on their mobile app stores? Yes, to both! You can download the Coursera and LinkedIn Learning mobile apps, and everything will be synchronized automatically. That's about as convenient as it gets.
Despite its massive course range, Lynda is actually easier to navigate for a newcomer than Coursera. However, both platforms are easy enough to get the hang of – and this experience may even be easier once you download the apps and start learning on a smaller screen.
Languages
We've discussed the technical side of accessibility and usability. However, let's talk about something a bit more subjective. If statistics are anything to go by, chances are that you might speak another language alongside English. After all, while English is massive – particularly in the digital space – it's not quite the most widely spoken language in the world yet.
And while we might be used to scrolling down social media and seeing memes in English, it's a bit different to study in a foreign language. Maybe an instructor has an accent that's unusual for a non-native speaker to hear. Perhaps you don't get all the terms, making it harder to understand what you're learning about. Maybe you simply find it easier to understand the content in your mother tongue.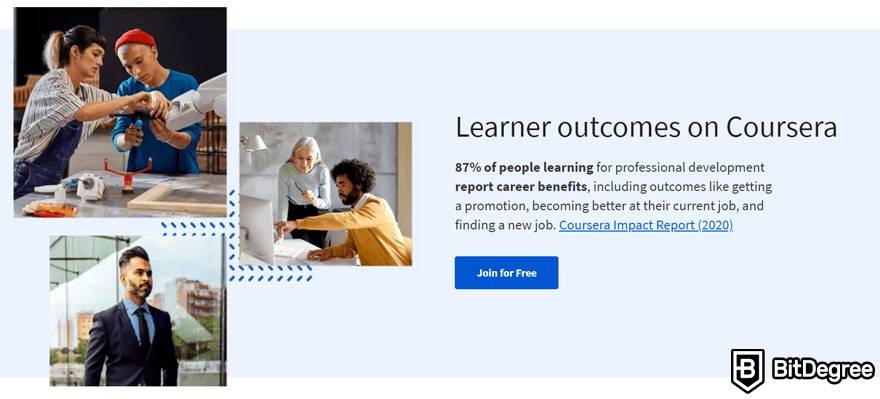 So, to make the learning experience easier, many online learning platforms have started localization processes – translating the learning materials and the platform interface into various languages to make the courses more accessible to non-English speakers.
In terms of the Lynda VS Coursera comparison, both platforms are doing well in this category, providing learners with extensive support.
Let's start with Lynda. As you might know, LinkedIn is available in several languages – you can even set up several CVs for each language you speak! Naturally, this functionality has also become part of the LinkedIn Learning platform. Overall, the platform offers over 25 languages for the interface.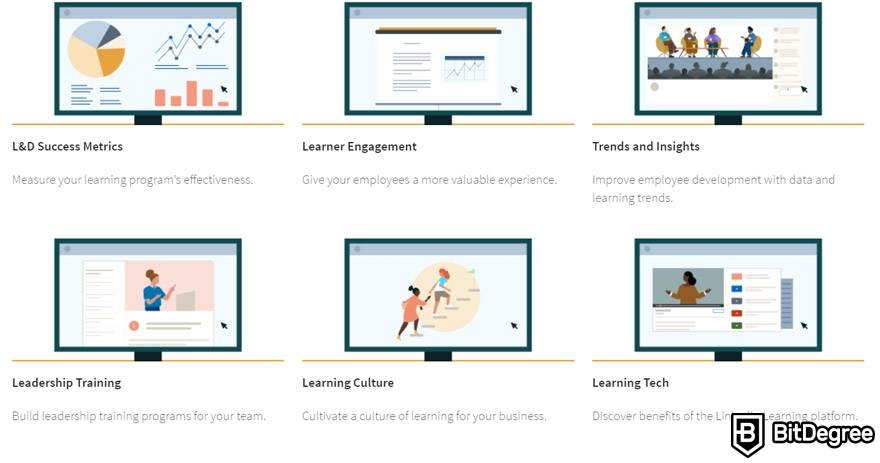 The numbers are a bit smaller when it comes to the courses themselves. Due to the sheer amount of volume, it's not possible to adapt everything at once. So, at the time of writing, Lynda offers 11 different subtitle languages for the video classes, while further content has been localized in seven languages.
The situation is somewhat similar on Coursera. With a catalog of over 7,000 courses, and new ones popping up frequently, covering everything at once is just not humanly possible. Nevertheless, as a platform that boasts a user base in more than 95 countries, Coursera has adapted and offers website and course localization. Some of the courses have been fully translated and subtitled to assist students that are looking for other language options.
All in all, many of the Coursera and Lynca.com competitors still lack quite badly in terms of localization. So, the example set by both platforms is really respectable. To make sure that the language selection has what you need, you should check the websites of both platforms.

Pros
Easy to use with a learn-by-doing approach
Offers quality content
Gamified in-browser coding experience
Main Features
Free certificates of completion
Focused on data science skills
Flexible learning timetable

Pros
High-quality courses
Nanodegree programs
Student Career services
Main Features
Nanodegree programs
Suitable for enterprises
Paid certificates of completion

Pros
A huge variety of courses
Easy-to-navigate interface
Over 600 free courses
Main Features
A huge variety of courses
30-day refund policy
Free certificates of completion
Pricing
When it comes to choosing an online learning service provider, whether we're talking about Coursera and Lynda.com competitors or the two platforms themselves, everything often depends on one crucial aspect – the costs. You can find the most suitable platform for you and have all the boxes checked off, but if the price is not within your range, you might have to start your search anew.
However, there can be options even if you're on a tight budget. Some platforms even offer free perks to make things easier for users who want to save or simply prefer a free trial before committing for good. First, let's see what you can get on Lynda VS Coursera at little to no cost.
Coursera offers some great opportunities here. The catalog includes a range of courses that you can take entirely for free – they're available to all registered users. Additionally, you can audit most paid courses. This means that you can watch the video guides and access the additional resources.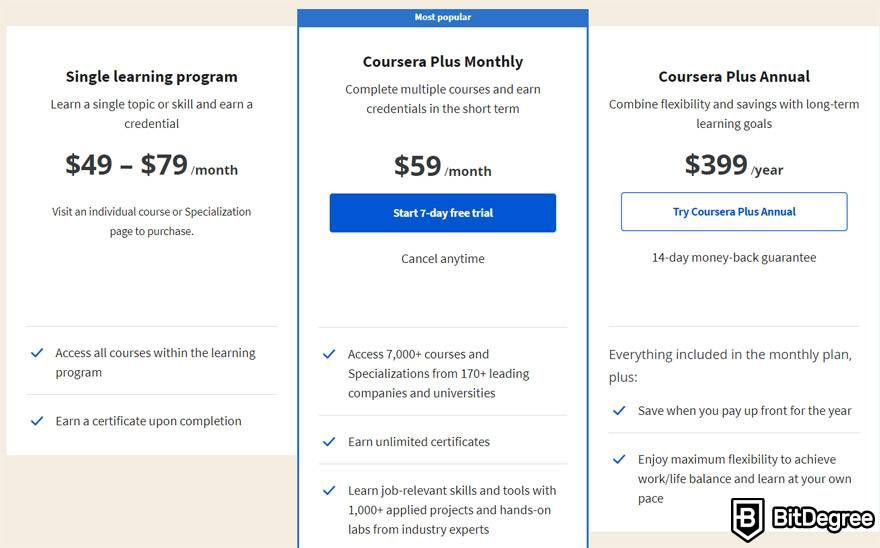 The only thing you won't be able to do is take the quizzes and participate in peer-reviewed tasks. As such, you won't get a certificate once you're done. Nevertheless, it's a good opportunity to learn new things and save money.
LinkedIn Learning offers fewer perks. You have to sign up for the paid plan to access the entire catalog. However, the platform grants you a 10-day free trial, so you can decide if you want to stick around first.
Now, let's take a look at the Coursera VS Lynda payment plans.
Coursera Plus is the subscription plan for users interested in all certified courses and degrees. You can choose from one of the following three plans:
The Single Learning Program is an option for those who are interested in only one specific course. However, it's likely that once you start with one, you'll want to keep learning. So, you can choose the Monthly or Annual plans. All things considered, the price tags are quite high. However, keep in mind that these courses are all accredited. Besides, we can help you out – you can find special offers and discounts for Coursera here.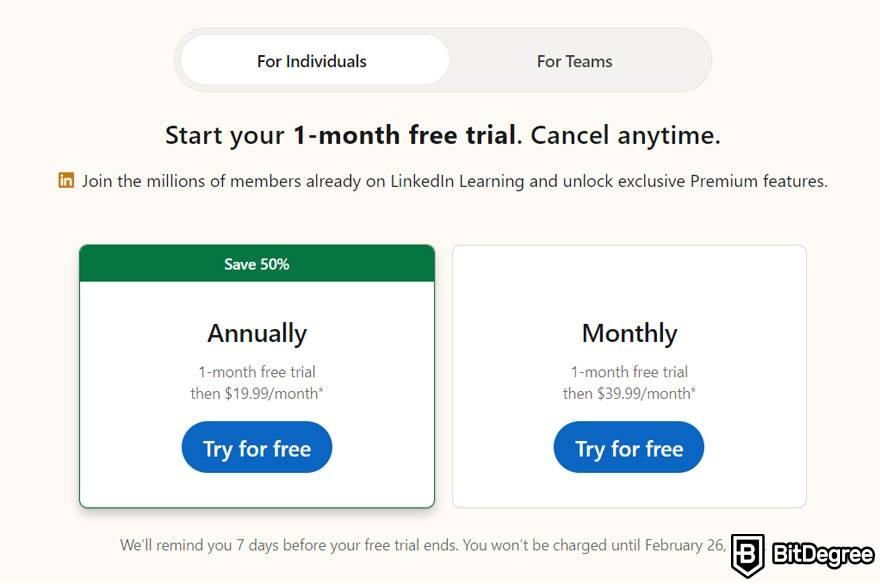 Lynda also uses a subscription model for individual learners and teams. You can choose between a monthly or an annual plan:
As you can see, the Annual plan is much more cost-efficient – and you can improve that further by redeeming one of the Lynda special discount codes you can find here. The Teams plans are based on how many people are going to be using the plan. For groups of up to 20 learners, the plan costs $379.99 per license. However, if you plan to get a bigger team to join, you'll have to request a custom quote.
Compared to Coursera and Lynda.com competitors, the two platforms come out on the pricier end. However, keep in mind that you'll be paying for high-quality and, in the case of Coursera, accredited courses. At the end of the day, the investment in your professional and personal skills is worthwhile.
Conclusions
With that, we've completed the Lynda VS Coursera comparison. As you can see, both platforms have a good reputation within the online learning platforms space, and the years of gathering high-quality resources, as well as organizing renowned collaborations, act as a stamp of approval.
Overall, the two platforms stand on a pretty even footing in terms of quality and performance. While you'll find a far broader course range on LinkedIn Learning, Coursera will offer you an opportunity to earn accredited certificates – and that can be a real game-changer when it comes to polishing your CV.
So, have you made the decision yet? Feel free to do your own analysis using our Comparison Tool. And once you've settled for your preferred platform, remember to share your learning experience with us in the comments below.
There's no time like the present to work on your career development. And whether it's Lynda VS Coursera, you'll be in good hands. So, best of luck!
Leave your honest feedback
Leave your genuine opinion & help thousands of people to choose the best online learning platform. All feedback, either positive or negative, are accepted as long as they're honest. We do not publish biased feedback or spam. So if you want to share your experience, opinion or give advice - the scene is yours!