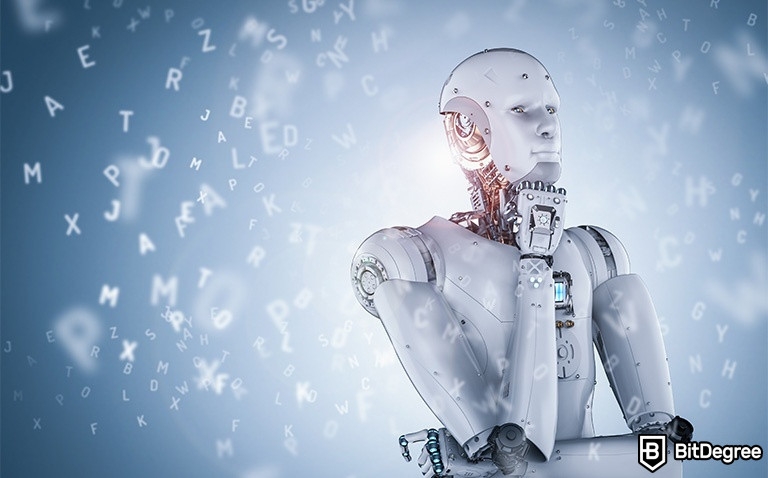 Machine learning is a part of data science we've all encountered in our lives without even noticing. Autocorrect, Spotify recommendations, and traffic predictions - all of these are examples of machine learning. With the field's growing popularity the number of online learning platforms offering programs on the topic has been increasing as well - edX machine learning courses are part of them.
In this article we will be reviewing the best edX machine learning programs the platform has to offer, starting with introductory lessons to machine learning and ending with courses on developing AI for various fields.
You might be surprised - how many fields are there that use machine learning? The answer - more than you might think! At the moment, machine learning and AI are used in finance, transportation, and healthcare, among other fields.
With the popularity of experts on this field being sky high, we handpicked seven of the best edX machine learning and AI courses for anyone interested in trying them out:
Before jumping into why we chose these courses, let's find out more about what makes edX great.
Why Should You Start Learning Online about AI with edX?
Even though online learning cannot give you the same experiences a traditional on-campus university can, like heated live debates with your professors, rushing to classes in different buildings, and meeting many new people, it has the same educational value as traditional institutions.
Latest DataCamp Coupon Found:
EXCLUSIVE 50% OFF
On DataCamp Subscriptions
Follow the Datacamp promo code link & get an exclusive 50% OFF Datacamp subscriptions. Act now while the offer is still available!
Expiration date : 07/06/2023
2,765 People Used
Only 35 Left
Even though the COVID-19 pandemic definitely played a role in the skyrocketing of online learning popularity, it is safe to say that a world without global lockdown would have seen the same trends.
Because of its convenient scheduling possibilities, accessibility, and the ability to choose from hundreds of thousands of different courses, among other benefits, online learning has become part of most of our daily lives.
In addition, the AI market is thriving more than ever before thanks to new developments in transportation, social media, and healthcare, among other fields. Because of this, machine learning engineer is one of the most in-demand careers, according to Indeed.
But with so many online learning platforms to take machine learning courses on, why should you choose edX?
The answer is simple.
After being founded in 2012 by a few scientists from Harvard and the Massachusetts Institute of Technology - yes, they're that cool - edX has already established itself as one of the leaders of online learning providers. With a wide repertoire of courses powered by world-famous universities, edX already has over 34 million users around the globe.
Out of over 3500 programs, 169 are dedicated to teaching you everything there is to know about machine learning. And with the platform working with more than 100 top universities, you can be guaranteed that the courses listed in this article are the best of the best.
So, without further ado, let's get into the best edX machine learning courses.

Machine learning, like many other similar fields, can seem like dark, never-ending woods that you can get lost in a matter of seconds. Well, you can consider this course to be a map that will guide you through the many twisting paths of AI.
The Learning From Data (Introductory Machine Learning) course is created with the basics of machine learning in mind, covering the three main blocks of information - theory, algorithms, and application. According to the platform themselves, the program is focused on real understanding, not just "knowing".
To make sure that students are well acquainted with the subject of machine learning, the course balances theory and practice, creating a strong foundation to further build expertise on.
Provided by Caltech, this edX machine learning course is made to follow a story-like structure, with each lecture being based on the previous one, making the material easy to follow and understand.
The program covers 4 key questions that are answered during the lectures:
What is learning?
Can a machine learn?
How to do it?
How to do it well?
Because, as mentioned before, understanding is more important than just knowing, each question is followed by take-home lessons, so everyone can have enough time to fully get the hang of the learning material.
The syllabus contains 18 lectures in total and is estimated to take 5 weeks to complete. It's important to keep in mind that this edX machine learning course follows an instructor-led schedule. But, with each lecture only taking 60 minutes, anyone can fit the course into their day.
Understandably, as wonderful as the course is, pricing is one of the most important aspects while choosing any program. When it comes to their programs, including those on machine learning, edX aims to make programs as available as possible.
This is the exact reason why most edX machine learning courses mentioned in this article can be taken for FREE. That being said, if you are interested in receiving a certificate from Caltech in machine learning, edX offers a diploma after finishing the course for $49.
A university certificate has never been so affordable!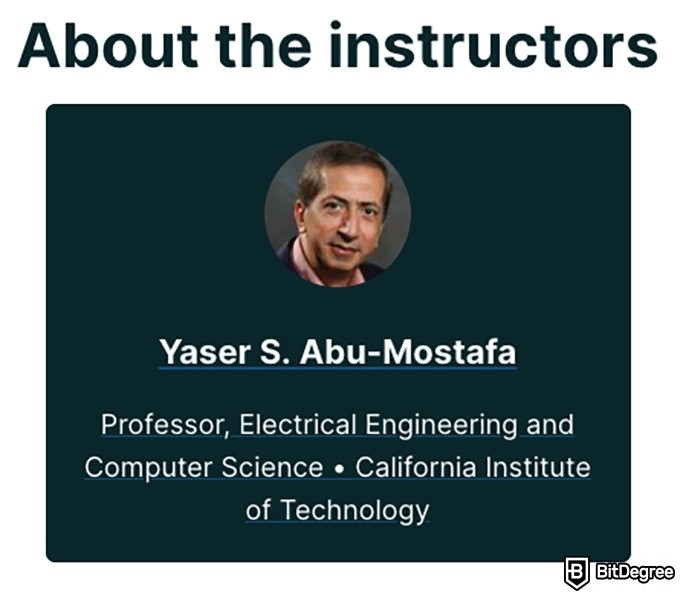 For those who decide to take this introductory course on machine learning, edX offers an opportunity to learn to:
Identify the basics of machine learning, such as theoretical principles, algorithms, and applications;
Understand, elaborate on, and navigate connections between theory and practice in machine learning;
Apply mathematical and heuristic aspects of machine learning to real-life situations.
If you are interested in venturing into the world of learning machines, you've come to the right place.

As mentioned previously, machine learning has many different applications that we use without even realizing it. Among those are movie recommendation algorithms - at least a few of us have definitely enjoyed the show Netflix recommended to us because it was "exactly what we like".
If you ever wanted to be the person behind those recommendations, you're in luck!
Data Science: Machine Learning is an edX machine learning program focused on one of the most popular machine learning applications there are - movie recommendation systems. Powered by Harvard, it is one of the most popular courses covering machine learning edX has to offer.
Being part of the Professional Certificate Program in Data Science, the program is aimed at providing the best learning material that could be used in building a career in data science.
With the goal of the online course being teaching the students how to build their own movie recommendation systems, the material covers all the foundation building blocks of machine learning, including training algorithms, cross-validation, and many more. By the end of the program, students will have learned all of the fundamentals of machine learning.
This edX machine learning course is estimated to take around 8 weeks to complete. That being said, you should not worry about not having time for anything else for a couple of months. With 2-4 hours of material scheduled for each week, the self-paced program can be taken by even the busiest bees.
Just like most edX courses, the Data Science: Machine Learning program is absolutely FREE to take, which makes the deal greater than great. And if you are interested in a verified HarvardX certificate, you can have that and more for a one-time payment of $98.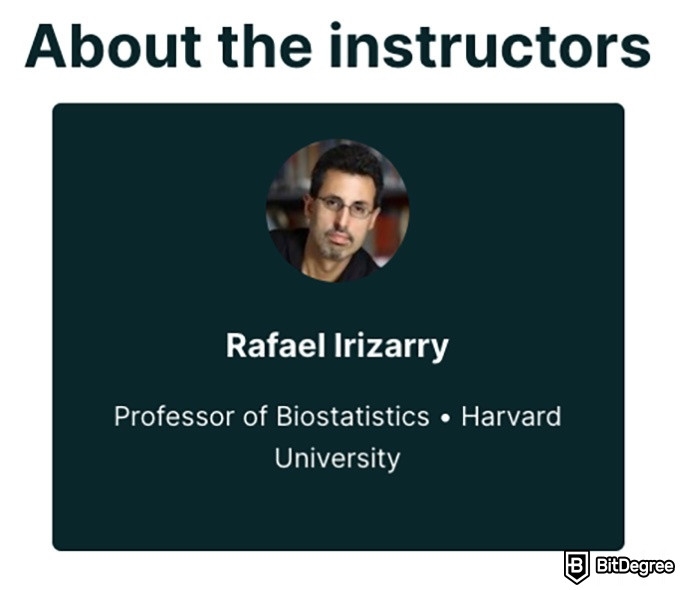 The course covers the main points of machine learning that can be used in many more data science fields, not just while developing media recommendation systems. Students will learn:
The basics of machine learning that can be applied in any real-life situation;
The most popular machine learning algorithms;
Everything about regularization and its uses;
Performing cross-validation and why overtraining should be avoided.
If you've always wanted to recommend movies to thousands of people, look no further - your dream can come true with this edX machine learning program!

After taking several introductory lectures on machine learning you might want to continue developing your knowledge and skills in the field. If you are looking for an in-depth program on the roles AI plays in more complex systems, your search ends with this edX machine learning course.
Machine Learning Fundamentals is an advanced edX machine learning program, focused on building descriptive and predictive models and analyzing many different types of data. By covering both real-life case studies and theories, the course is created to prepare students for a successful career in machine learning.
As mentioned previously, this course is targeted at students with some experience with machine learning already behind their belts and comes with a few prerequisites. As the course is part of the MicroMasters Program in Data Science, students are recommended to be familiar with the material covered in previous parts of the program and understand Python coding language to make sure the course can be taken comfortably.
Being acquainted with the basics of machine learning and Python are standard prerequisites for all advanced edX machine learning programs.
Provided by UC San Diego, the program focuses on the fundamentals of machine learning - computers recognizing different types of data and working with them based on category. Because of that, the learning material details every aspect related to the subject - classifying images, identifying topics in documents, recognizing the semantic structure of words, and so on.
As you can see, the course really goes into a lot of detail on how to help machines learn. That's exactly why it is a little bit more intense than other edX machine learning programs mentioned in this article.
With an approximate duration of 10 weeks with 8-10 hours of work estimated for each one, the course might take a bit more time out of your day. That being said, the schedule is still self-paced, making finding time to work with the program a lot more manageable.
As with other machine learning edX courses, the price you pay depends on your choice. The entire course is FREE to take, but if you would like to have unlimited access to the learning material and receive a verified certificate you would need to pay $348. This is steeper than some other options discussed in the article, but for an advanced level course on a complex subject as machine learning fundamentals, it's a great investment.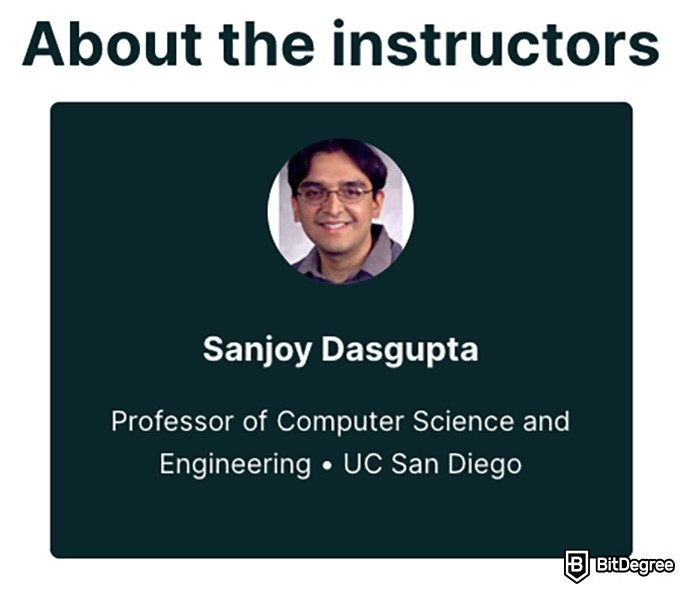 Those attending the course will be diving deep into the core of machine learning to learn:
Classifying data and estimating conditional probability;
Working with linear and non-linear models;
Different ensemble methods, such as boosting, bagging, and random forests;
Everything that makes up representation learning, including clustering, dimensionality reduction, and deep nets.
If you want to know exactly how machines learn, consider taking this in-depth program!

One of the greatest benefits of machine learning that is used in many aspects of our daily lives is that computers can be taught to predict possible events.
Yes, believe it or not, AI can tell you the future.
With this feature being used in so many fields, experts on the matter are needed everywhere. If you are interested in building a psychic robot, then this edX machine learning program is where you need to be.
Predictive Analytics using Machine Learning is a University of Edinburgh powered course dedicated to teaching you how to build predictive models using machine learning and focuses on the best analytical tools and techniques used today.
This program is one of the shorter ones that edX has to offer, estimated to take 6 weeks to complete. Each week covers 8-10 hours of material on different topics, such as Decision trees, Random forests, Support vector machines, Neural networks, Neural network estimation, and Model comparison.
In addition to that, this edX machine learning course also contains two case studies of the most common applications of predictive machine learning - forecasting customer behavior after a marketing campaign, and flight delay and cancellation predictions. Because of this, the program covers theory and the ways it is used in the field, allowing for an in-depth understanding of machine learning.
The pricing system of this program is the same as any other individual edX machine learning course covered in this article. Anyone can take the course for FREE, with an additional one-time payment if you are interested in unlimited access to the learning material and certificate. This option is on the pricier side, like other advanced courses, costing $297 for the full course package.
That being said, like any other edX machine learning program, the course is a great investment in your future career.

Those taking the course will be learning all of the ins and outs of predictive machine learning, including:
Understand how machine learning compares to other statistical models;
Working with theoretic models and machine learning-based software packages in Python;
Building tree-based models, neural networks, and support vector machines;
Applying machine learning models to business situations.
So, if you are someone who wants to know the future before the rest of the world, consider this predictive machine learning edX program!

The importance of healthcare is at an all-time high. Due to the pandemic, the field is in desperate need of various specialists, from frontline workers to software engineers that can help make these trying times a little easier.
Healthcare is a field that uses machine learning in many different ways, from creating medical devices that can save lives to allowing patients to monitor and manage their own healthcare. If you are interested in helping save lives using AI, this edX machine learning program is a perfect choice.
Machine Learning For Healthcare is one of the more structured courses on machine learning edX has to offer. Divided into 6 units that are 2-3 weeks in length each, the syllabus covers everything related to applying machine learning in healthcare - Overview of Clinical Care & Data, ML for Risk Stratification & Diagnosis, ML with clinical text, imaging, and physiological data, Understanding disease and its progression, Human Factors, and Causal Inference & Reinforcement Learning.
In addition to that, students are assigned homework to assure their understanding of the study material.
As you can expect from an MIT course where machine learning meets healthcare, the content is extremely detailed. Because of that, the program includes guest lectures led by clinicians emphasizing the subtle nuances of working with medical data.
To add to that, students will have the opportunity to work on programming projects with actual clinical data, allowing them to find out the magnitude of the field, firsthand.
At this point, this edX machine learning program might sound like it might take over your entire life. Rest assured, this is not the case. The course is estimated to take 15 weeks of around 12 hours of work to complete. Additionally, the course is Instructor-paced, providing for a stable learning structure that will help understand the material.
We have to admit, most online learning programs related to healthcare can scare off many eager learners with just one glance at the price tag. Well, that's where edX comes in to save the day. This course, as others mentioned in this article, is absolutely FREE to take. And if you decide to purchase the verified certificate, instead of it costing you an arm and a leg you will only have to pay $48.
Now THAT is a deal worth taking!
Future machine learning for healthcare engineers taking this course will learn:
How machine learning can be applied to complex screening and diagnostic procedures;
Understanding the subtleties that you might face while teaching computers to read medical data and images;
How to implement and analyze models of supervised prediction.
Those who want to help save lives with machine learning are welcome to enroll at any time.

There are many edX machine learning programs available for anyone to choose from. Whether you are just starting out your journey into the world of machine learning and AI or are eager to hone in on a certain field, there is something for everyone.
"But what if I want more than a few-week long course?" you may ask.
Well, the experts at edX have thought of everyone. If you are interested in an in-depth program containing several courses, you might want to consider the Professional Certificates edX has to offer.
Tiny Machine Learning (or TinyML for short) is a three-course edX machine learning program that covers everything from fundamentals of the subject to developing your own projects.
The syllabus is made up of 3 main blocks of information covering tiny machine learning - fundamentals, applications, and deploying your own model. This is a perfect example of an online learning program balancing both theoretical and practical knowledge of a field.
This edX machine learning program puts a lot of emphasis on hands-on experience. To assure that all students have equal learning opportunities, each person has access to a TinyML Program Kit that allows them to implement their own tiny machine learning application.
Even though the program consists of three tiny machine learning edX courses, it is estimated to take around 4 months to complete. Each course is around 5 weeks long with 12 hours of work scheduled for every week, making the self-paced program compatible with many different lifestyles.
This is one of the shorter Professional Certificate courses edX has to offer, however, that does not make it any less legit than the others.
It is important to note that the Professional Certificate programs edX offers cannot be taken for free as the full set of courses. TinyML is one of the more affordable options on the platform, coming in at $533 for the full experience, including unlimited access to all learning material and a verified certificate upon completion.
That being said, if you aren't interested in the certificate and would like to take the program for personal knowledge development, you can take the courses individually for free.

Those enrolled in this edX machine learning program will be learning:
Effectively gathering data for machine learning;
Training, deploying, and developing tiny machine learning models;
Optimizing the applications for devices with constricted resources;
Building your own tiny machine learning model.
Those interested in taking a big course on tiny machine learning have found the perfect program for them.

Finance is a field where machine learning is used on a massive scale. At the moment it is one of the most critical tools in decision making, as it can cover everything from streamlining operations to assessing risks and many other applications.
Machine Learning and Finance is a two-course edX machine learning Professional Certificate that focuses on developing a machine learning model that will aid in decision making.
The courses included in the program are centered around the different categories of machine learning and how they can be applied to financial engineering. This includes Classical machine learning, Deep learning, and Neural Networks.
This edX machine learning professional certificate program does not focus solely on the theoretical and practical skills needed to construct machine learning programs and models. The syllabus also aims to build problem-solving and data analysis skills that are going to increase your value as a machine learning specialist.
The program is estimated to take approximately 4 months to complete, with each week assigned around 4-6 hours of work. Even though the syllabus is considered of an advanced level, this structure and a self-paced schedule make the learning material easy to understand and take on board, even if you don't have a lot of time in your day to dedicate to cramming.
One important thing to note before enrolling in this professional certificate is its price. This edX machine learning program is on the more expensive side, priced at $1429 for the entire package. That being said, you always have an option of taking the included courses individually for free, as is standard for edX.

Those taking the program will learn:
The different ways machine learning can be applied in finance;
How to better understand supervised and unsupervised learning models and the appropriate applications for both;
How to construct machine learning models to solve practical problems in finance.
If you want to know everything about what happens when machine learning meets finance, this edX machine learning professional certificate is what you need to kick off your learning process.
Conclusions
And just like that, you reached the end of our list!
After finishing our article on the best edX machine learning programs we hand-picked, you can definitely see that the platform has an incredibly wide range of courses and professional certificate programs you can choose from.
Now, to answer the most important question - are edX machine learning courses worth it?
Short answer - absolutely!
Whether you're interested in individual edX machine courses or edX professional certificates, you are guaranteed to get the best quality available on the market.
However, the prices are something worth noting before you make up your mind. edX classes, especially the professional certificates, are on the more expensive side. Some individual programs can be taken for free, but the audited versions do not have certification available, which can be a little disappointing to those looking to raise their qualifications.
With all that being said, chances are that you didn't find a machine learning course to take on edX. No worries, as there are many other great online learning platforms for you to choose from!
In general, edX online learning programs are some of the best on the market and can help many machine learning engineers kick start their careers that might just change the world.
Leave your honest feedback
Leave your genuine opinion & help thousands of people to choose the best online learning platform. All feedback, either positive or negative, are accepted as long as they're honest. We do not publish biased feedback or spam. So if you want to share your experience, opinion or give advice - the scene is yours!