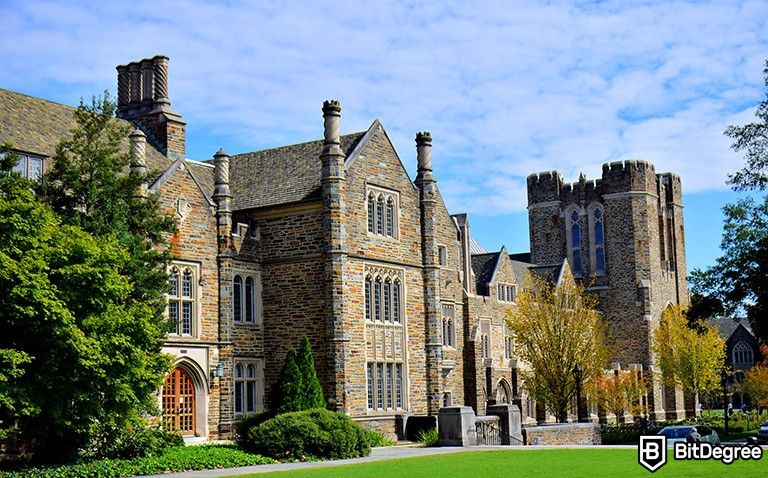 Online education is considered to be "the way of the future" - more and more people turn to online courses and course-providing platforms every single day. Why shouldn't they - you can actually study university courses online these days! In this article, we'll take a look at some of the best Duke university online courses offered by Coursera.
One thing that you're bound to notice rather quickly is the fact that most of the Duke online courses are hosted by (located on) Coursera - one of the more popular and well-known MOOCs. Coursera works with multiple universities to provide its users with some top-tier courses and specialization options.
If you're interested in studying a university course online, or perhaps are actually already looking for the best way to go about it, great - this article should provide you with the information that you need! Let's take it from the top, though, and talk about the actual benefits of studying Duke university online courses.
Duke University Online Courses: Why go Online?
While it is true that an increasing number of people are choosing the online route instead of their traditional, university educations, it might still seem confusing to some - why is that the case, really?
Latest Udacity Coupon Found:
SAVE 75%
Udacity Black Friday Offer
The best time to save on Udacity courses is now - follow this coupon to access 75% Udacity Black Friday discount on all courses & enjoy top-quality learning for less!
Expiration date : 03/02/2023
3,176 People Used
Only 97 Left
Well, studying Duke university online courses has a lot of advantages over the traditional way of going about it - namely, the one that involves auditoriums, campuses, groups of people, and so on.
First of all, the term "convenience" should pop up when discussing online learning. Quite frankly, it's a much more conveniant way to learn something that you would otherwise study in a university. When it comes to Duke university online courses, you'll be able to avoid going to the university campus, having to sit in a classroom, and so on.
You'll basically be able to learn at your own pace, too. No more set deadlines, strict attendance schedules - none of that!
Then there's the topic of pricing and university costs. When you attend an actual university or college - such as the Duke university -, the price tags associated with education can get pretty… Hefty. Student loans are a huge problem, and can set you back for a long time to come.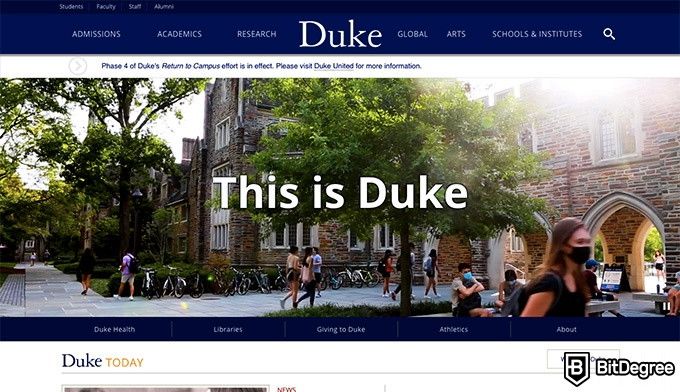 With some Duke university free online courses, though, this is not going to be an issue. Yes, you read that right - FREE courses. Sure, there are other pricing factors involved, but we'll get to them in due time.
Even with paid learning, it will be much more affordable to study a single course or even specialization, than to go to a university and have some general, mandatory subjects amp up the price.
Finally, it's worth mentioning that Duke university online courses are going to be exceptionally beneficial during the COVID-19 pandemic. While each university deals with the subject in different ways, if you care about social distancing and keeping yourself and others safe and healthy, online learning can be the way to go.
Now, without further ado, let's take a look at 7 of the more-popular Duke university online courses and specializations!
Business analysis is a very important aspect of any business that wants to be successful, whether it be a small home-based company, or a large corporate enterprise. With a proper business analyst, you'll be able to direct your company in the right direction, and figure out what works and what doesn't.
In order to become a proper business analyst, however, you're going to need a reliable way to educate yourself on the topic. With the Business Metrics for Data-Driven Companies course, you can do just that!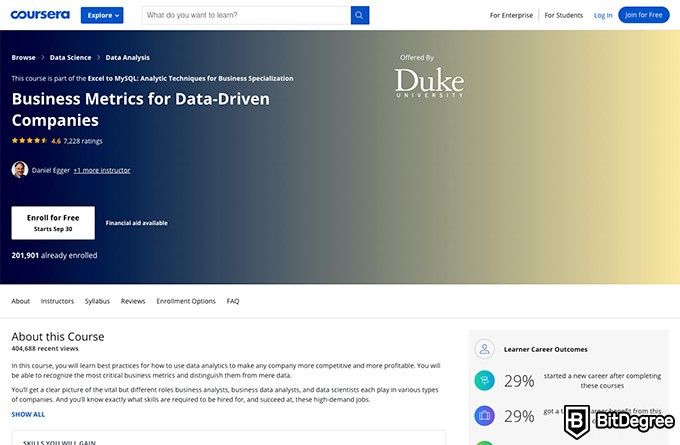 In this course, you'll be able to learn how to analyze business-related data, how data analysis works, in general, and how you can apply all of that information in a real-world scenario.
If you're a business-savvy person, and are interested in data analysis, this is one of those Duke university online courses that you should really pay attention to. Check it out, and if it suits your expectations - start learning today!
Without a doubt, Excel is one of the most popular pieces of software in the field of business development and analytics. It's an essential tool in any sort of a company.
That being said, though, it's also actually a very complex program, when you really start getting to the bottom of it. That is why there will always be a need for Excel experts - people who would be able to work not only with Excel, but also MySQL, and could correlate these two with each other.
If you're looking to get into the field of business management, then the Excel to MySQL: Analytic Techniques for Business Specialization course could be your gateway.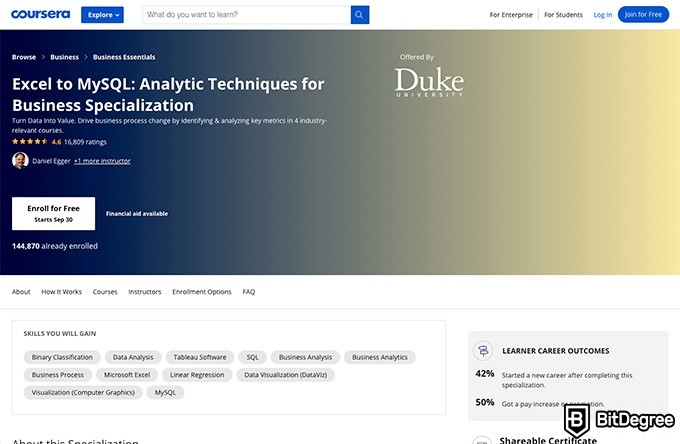 This is actually one of the Duke university online courses that is also a specialization. It takes around 7 months to complete, and once you're done, you should have a pretty solid foundation of knowledge in the fields of business analysis and working with large amounts of data.
Even looking at the course statistics reveals that this is something that can be very valuable for anyone who's planning a career in the field. Half of the students who finished the course claim that they received a pay increase or even a promotion - that's quite significant!
Programming is, without a single doubt, one of the most lucrative and in-need career paths out there. A good programmer should never struggle to find a job - there's always going to be a company that needs high-tier programming skills and coding professionals.
Admittedly, as you can imagine, there are multiple different programming courses out there - there are also quite a few Duke online courses concerning the topic, too. However, if you're interested in Java programming, then the Java Programming and Software Engineering Fundamentals Specialization is going to be one of the better options to pick from.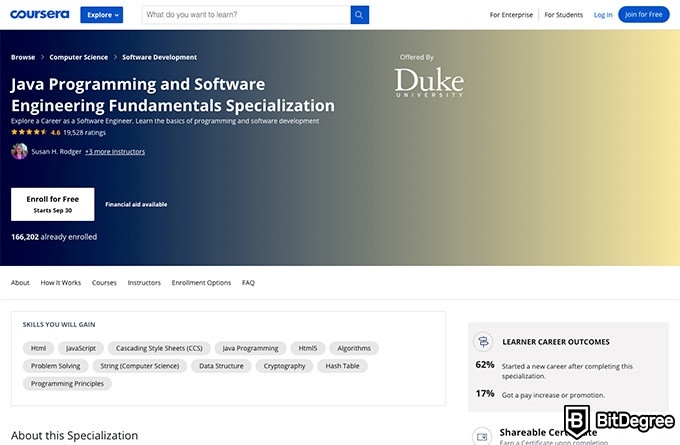 As the name suggests, this is a specialization - with 4 hours per week, the entire course will take you around 5 months to complete. After doing so, however, you will have a good understanding of HTML, HTML5, CSS, and JavaScript, and also any other intricacies that have to do with software engineering.
If programming is your passion, and you want to take it to the next level, then this is one of the better Duke university online courses for you. Don't miss out, and enroll today!
Now, this is a rather unique course - it's one of the rarer Duke university online courses that are available on Coursera and that have nothing to do with programming or software development.
As the course introduction states, the oil and gas industry is an essential part of our everyday lives. If you're someone who wants to understand this particular market in a deeper sense, the short Oil & Gas Industry Operations and Markets course will help you in this regard.
Throughout the runtime of the course, you'll be able to get a grip on the topic of oil and gas energies, understand things like directional drilling and enhanced oil recovery, and delve into some aspects of geology.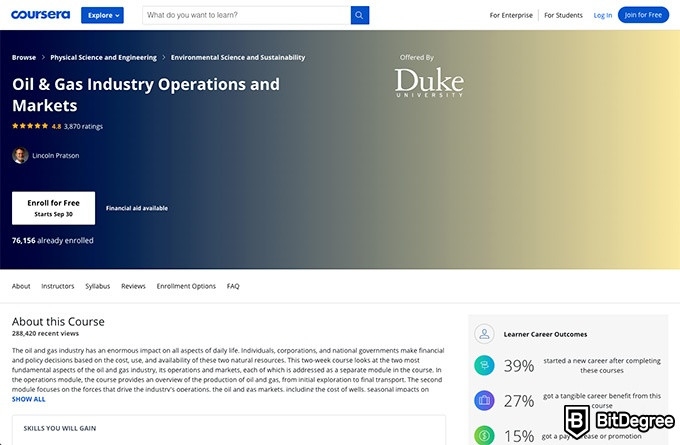 Admittedly, you're probably not going to become an expert in the mere 8 hours of the course's runtime. Still, it should lay a pretty solid foundation, and you should then be able to work your way from there onwards.
Definitely one of the more interesting Duke university online courses! Make sure to check it out, and if it does float your boat, enroll while there's still a chance to do so.
C programming is the most difficult form of programming out there. Well, namely, if you aim to program with C++ - it's considered to be the most difficult programming language in the world.
So… Why should you learn C, when there are much easier and more in-demand programming languages out there (i.e. Python)?
Simple - C programming is still very much in-demand, and a programmer who knows C and C++ (and C#) will be able to do things that a Python programmer could not.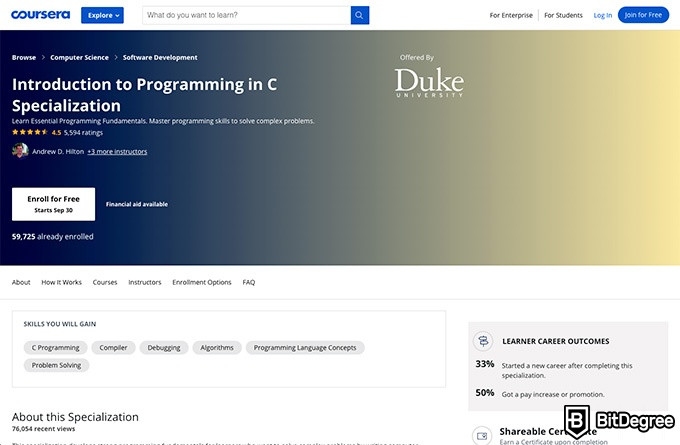 Spanning a length of approximately 5 months, the specialization will teach you all of the fundamentals that you need to know in order to be at least somewhat proficient in the C programming language. Whether it be problem-solving or programming language concepts, you will be able to figure all of these things out throughout the span of the course.
It's an amazing opportunity to set yourself on a very lucrative and promising career path. Given that it's one of the Duke university free online courses, too, it's surely worth looking into!
Note, however, that the "free" part here references the enrollment - yet again, the actual pricing for all of the courses mentioned in this article will be discussed shortly.
Are you interested in biology? Do the scientific areas of genetics and evolution tickle your fancy? If so, then one of the Duke university online courses - Introduction to Genetics and Evolution - is where you should set your sights on!
Same as all of the other Duke online courses mentioned on this list, this particular class is located on Coursera. Also, same as with any other course, if you choose to learn this topic on the platform in question, the enrollment is going to be free.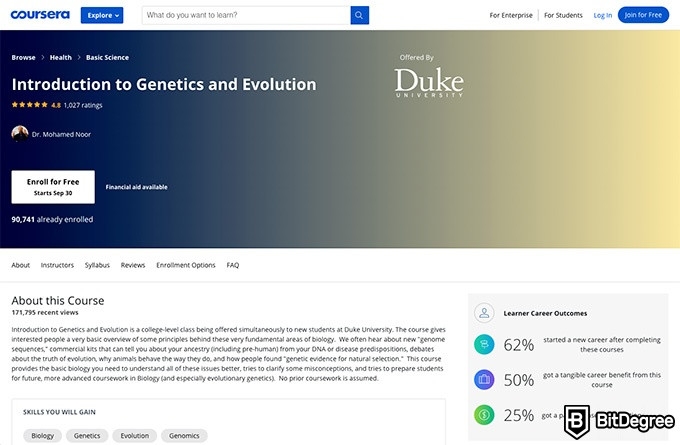 But what about the actual course, though?
The course serves as an introduction to the fields of genetics and evolution - hence the name. It's a beginner-level course, which means that you don't really need to have any prior knowledge in these topics, although it would surely be helpful.

Pros
Simplistic design (no unnecessary information)
High-quality courses (even the free ones)
Variety of features
Main Features
Nanodegree programs
Suitable for enterprises
Paid certificates of completion

Pros
Huge variety of courses
Easy to navigate
No technical issues
Main Features
Huge variety of courses
30-day refund policy
Free certificates of completion

Pros
Easy to use with a learn-by-doing approach
Offers quality content
Gamified in-browser coding experience
Main Features
Free certificates of completion
Focused on data science skills
Flexible learning timetable
If you're not really big on the field of IT, and are leaning more towards topics such as physiology, then the Introductory Human Physiology course should fit your wants and needs.
As it's one of the beginner-level Duke university online courses, you do not need any prior knowledge in the field to start learning. While you won't really become an expert in physiology, the course will allow you to learn a lot of valuable, fundamental information surrounding the topic.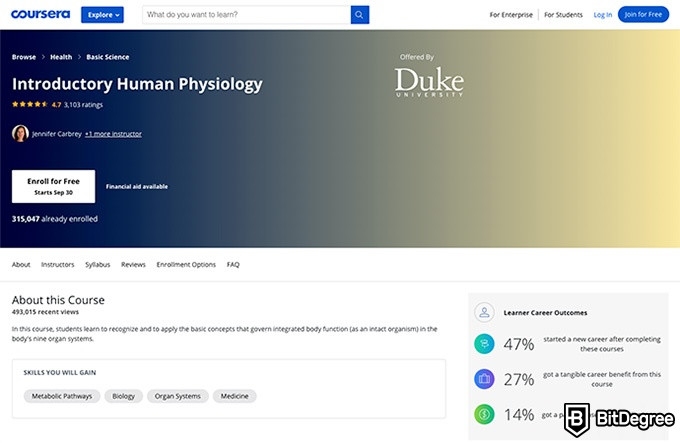 Moreover, 47% of the students who have finished the course claim that they were able to find and start a new career path after doing so. That's an impressive number!
Price
Finally, with some of the best Duke university online courses discussed and out of the way, let's have a quick chat about the pricing options that you'll encounter with each one of them.
As you might have noticed, I kept on referencing the courses as being "Duke university FREE online courses". It is true - you can enroll in the course, completely free of charge.
Having said that, though, some courses are going to either have a monthly subscription, or a paid certificate at the end of them.
Now, this is not a "golden rule" with all of them - it depends. The prices are going to range heavily, too - some courses will be very affordable, while others (namely - specializations) could be quite costly.
Still, even so, you should always keep in mind the fact that studying Duke university online courses on Coursera is always going to be much more affordable than doing so on the university campus.
Conclusions
So - those were some of the best Duke university online courses that are available to be studied and learned on Coursera!
Coursera, in general, is a great online learning platform - no matter what it is that you want to learn, you should have no difficulties finding the subject on the platform. Make sure to check it out, if you're interested!
Also, remember - proper education is very important! That being said, you do not need to "follow the traditional route" in order to acquire it - it can surely be done with online courses, as well.
All of that being said, I thank you for reading the article, and hope that it was useful to you. Good luck, and remember to check the Duke university online courses out for yourself!
Leave your honest feedback
Leave your genuine opinion & help thousands of people to choose the best online learning platform. All feedback, either positive or negative, are accepted as long as they're honest. We do not publish biased feedback or spam. So if you want to share your experience, opinion or give advice - the scene is yours!