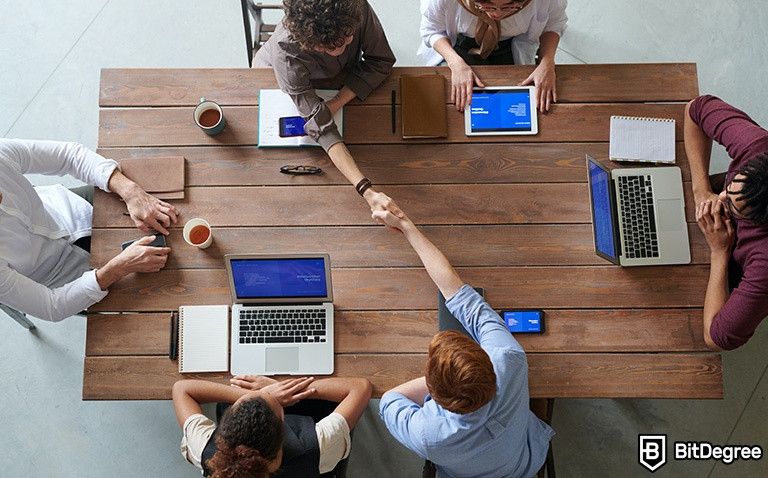 Did you know that the average attention span of consumers is just 8 seconds? This and many other nuances are crucial for digital marketing specialists to know and use to their advantage. If you found this fun fact as interesting as I did, then why not take a closer look into digital marketing Udemy courses?
In this article you will find my findings on the top 7 digital marketing Udemy courses currently available:
With digital marketing being one of the fastest-growing career options, there are hundreds of thousands of digital marketing courses currently available online, offered by various MOOC platforms.
And with that in mind, let's take a moment to discuss why you should be choosing Udemy digital marketing courses over any other online learning platform.
Why Should You Take Digital Marketing Udemy Courses?
Udemy has definitely popped up on your radar if you've ever considered trying out online education - the words are pretty much synonymous at this point!
Latest DataCamp Coupon Found:
EXCLUSIVE 67% OFF
On DataCamp Subscription
Follow the Datacamp promo code link & get an exclusive 67% OFF Datacamp subscription. Act now while the offer is still available!
Expiration date : 27/03/2023
2,765 People Used
Only 35 Left
Out of the several hundred online learning platforms you can choose from, Udemy has been dominating the market pretty much ever since it was founded back in 2009.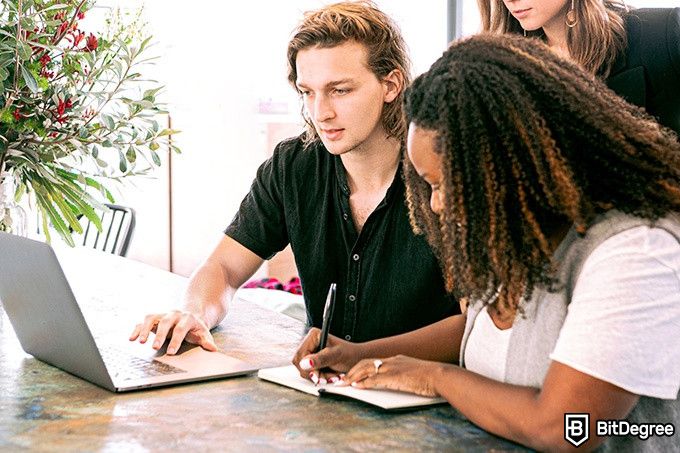 As of right now, there are over 44 million students all over the world who have had a great experience with the platform. And it's to be expected - Udemy has a wide network of experienced instructors and even partnerships with other education providers that are determined to give you the best online learning experience of your life.
And with more than 183 thousand courses on pretty much any topic imaginable, I knew that the digital marketing courses Udemy had to offer would be top-notch!
The courses mentioned in this article were all selected based on their content, quality, and, of course, student reviews, so you can rest assured that you are choosing from the cream of the crop.
So, without any further ado, let's get into these digital marketing Udemy courses!

Some people like taking their time on any topic they decide to learn, while others prefer boot camp-type courses that touch on every aspect of a subject. If you identify more with the latter type, then I have great news for you.
The Complete Digital Marketing Course - 12 Courses in 1 is a digital marketing course Udemy has to offer that can be useful to anyone who is interested in the field but isn't sure where to start. So why not try out everything digital marketing has to offer and see which direction suits you the most?
When they said that this digital marketing Udemy course is the equivalent of 12 classes in 1, they weren't kidding. Included in the syllabus you will find sections on everything from marketing research and analytics to site-specific ads, such as Google and Facebook.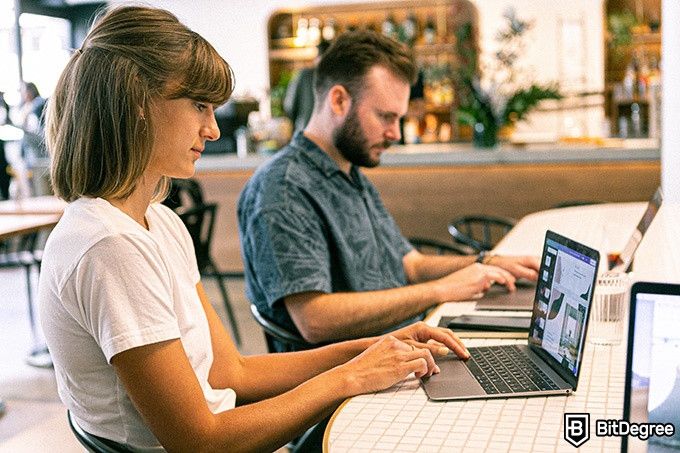 The topics covered in the syllabus can be considered the main pillars of digital marketing that everyone in the field will encounter, which makes this course perfect for someone just starting off in digital marketing.
One thing for sure - the instructor behind the course is definitely one experienced professional. Rob Percival has a Mathematics degree from Cambridge University and this definitely shows in his courses. The straight-to-the-point, informative programs have been taken by more than 2 million students, which is a sign of one high-caliber instructor!
The structure and duration of this digital marketing Udemy course are exactly what I would expect from a 12-in-1 program. The 22 hours and 42 minutes of content are divided into 246 lectures, all grouped according to the 12 topics mentioned previously, which makes for an easy-to-follow course, even though on the longer side, that doesn't confuse you at all.

As I've expected, the students were notably positive regarding Rob's experience and skills as a teacher. In addition, the course was deemed to be simple to understand and well-balanced between all the different topics included in the syllabus.
The pricing of this course makes perfect sense. At €89.99 the program is definitely priced according to the amount of content and quality present. In addition, the cost matches up with the average price of similar Udemy marketing courses.
Those enrolled in the course will learn:
What the main building blocks of digital marketing are;
What goes into creating an online marketing campaign and how to make it successful;
Which field of digital marketing is the right one for you.
Because digital marketing is so broad, it's only natural to include a course that accurately shows its multifaceted nature.
Start the course NOW.

Could you imagine your life without Google? Probably not, as the search engine gets more than 63,000 searches every second. And with so much traffic, there's no surprise that Google Ads has become one of the main tools of a digital marketing specialist.
Getting down to the nitty-gritty of Google Ads, the digital marketing Udemy course Ultimate Google Ads Training 2020: Profit with Pay Per Click is going to equip you with all the knowledge you might need to feel like you've mastered this tool.
Now, don't think this is just a simple tutorial on the technicalities of setting up a Google Ad. The course goes in-depth into what it takes to create a successful ad campaign to have your project skyrocket. From visual cues to using keywords, the syllabus includes everything.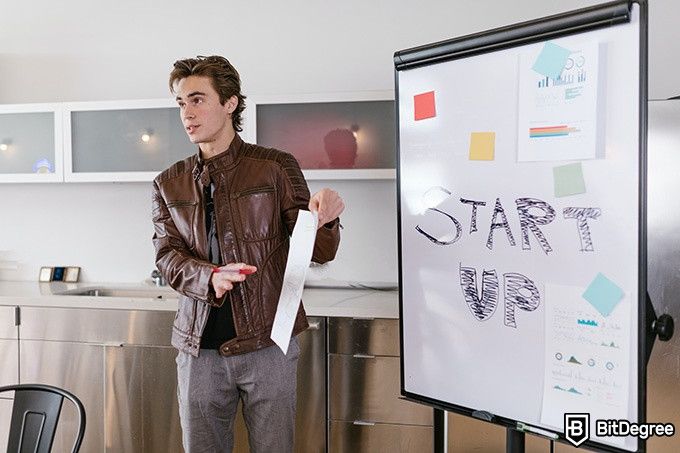 In my opinion, practical experience is just as valuable as theoretical knowledge. That's why the instructor of this digital marketing Udemy course is perfect to learn about Google Ads from. Isaac Rudansky is both a certified Google AdWords pro and a founder of a media advertising agency.
Because of this, he is uniquely certified to teach about the ins and outs of Google Ads - he has been working in this field for years!
I really enjoyed the structure of this program, as it slowly goes from an introduction to the subject to more advanced and intricate nuances of Google Ads. In addition, the curse is very simple to navigate - the 24 hours and 41 minutes are organized into 17 sections, which makes even the longest course on this list a breeze to work with.

In addition to enjoying working with the learning material, students also noted the amount of useful information included in this Udemy digital marketing program that they didn't find anywhere else - especially when it comes to the strategy behind using Google Ads. In fact, some reviews even credit Isaac and this class for kickstarting successful and profitable campaigns.
Believe it or not, but the longest digital marketing Udemy course on this list is not the most expensive. Following the common pricing trend on the platform, unlimited access to the program can be yours for €89.99, which is quite affordable for a class of this size.
Those enrolled in the course will learn:
How to drive consistent, round-the-clock traffic to your website or landing page;
Ways to boost attention and increase sales to your website;
Best methods to remarket to your previous website visitors to get them coming back to your site.
Google Ads are an excellent tool to take your digital marketing to the next level, and Udemy is here to give you all the knowledge you need to make use of them.
Start the course NOW.

SEO, or Search Engine Optimization, is something everyone comes in contact with whenever an online search is made. Keywords, links, and any form of text on the internet are related to SEO, and thus to digital marketing.
Because SEO has recently become one of the biggest and most important digital marketing tools out there, it's only natural for online courses on the subject to be popping up everywhere. With that said, one of the best digital marketing courses Udemy has to offer just so happens to be SEO 2023: Complete SEO Training + SEO for WordPress Websites, so of course it had to be included in this list.
One thing that I think is a sign of a great course is a syllabus that balances both theoretical lectures and practical assignments, making it much easier to get the hang of even more complicated subjects, such as SEO.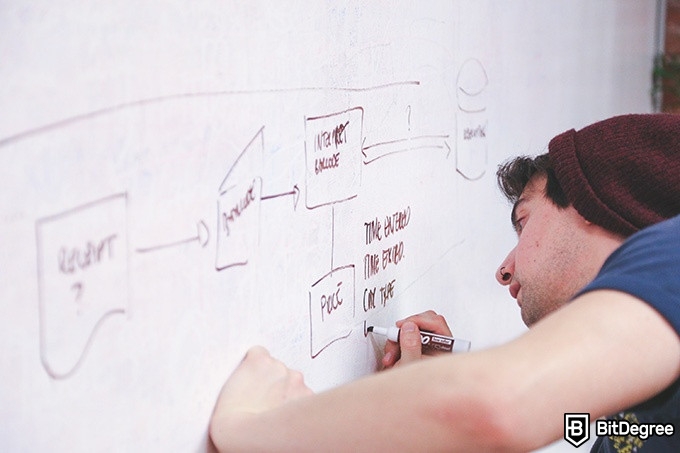 From an introduction to SEO as a concept to nuances on how to avoid negative SEO, you will be learning the real A-Z of SEO.
The author and instructor of the course is one of the most uniquely experienced and qualified ones I've ever come across on Udemy. Arun Nagarathanam is an electronics engineer, accountant, blogger, and SEO expert, making him a perfect instructor to be teaching you about SEO.
If you don't like extremely long courses that seemingly go on forever, then you will definitely enjoy this program. The broad subject of SEO is concisely presented in just 10 hours and 2 minutes of content. While some might think this means leaving out important information, that's not the case with this digital marketing Udemy program.
In fact, fitting such a broad subject into a class on the shorter side is often beneficial, as you avoid getting lost in endless hours of content.

And those who have taken this course agree - many mentioned that the program was simple to follow along and rich in information they couldn't find in many other courses. In addition, this class has been deemed wonderful for beginners thanks to its structure and syllabus that includes all the fundamentals of SEO.
One thing to note regarding this digital marketing Udemy course is its price. The program comes with a price tag of €109.99, which makes this the most expensive course on this list. That being said, SEO class prices tend to run even higher on average, which makes this, though still on the steeper side, a great investment into your job market value.
Those enrolled in this course will learn:
What SEO is and what makes it a crucial part of digital marketing;
What to keep in mind while working with keywords, links, and content to rank as high as possible;
How to make sure people click on your content and stay there.
SEO is pretty much inseparable from digital marketing, so why not instantly improve your game with one simple course?
Start the course NOW.

If we would try to understand just how much written content exists on the internet, the number would be so huge it would be incomprehensible to the human brain. Just Twitter sees over 500 million new posts every single day. Let that sink in.
But when it comes to digital marketing, Udemy is there to teach us how to use written texts as a powerful profiting tool. Copywriting is a rapidly growing form of marketing, and you can learn the art too with The Complete Copywriting Course: Write to Sell Like a Pro.
What I particularly enjoyed about this course was the fact that the content is divided into two main sections. The first one focuses on specific writing tips, such as tone, wording, call to action, and headings, which are all essential to know to be a successful copywriter.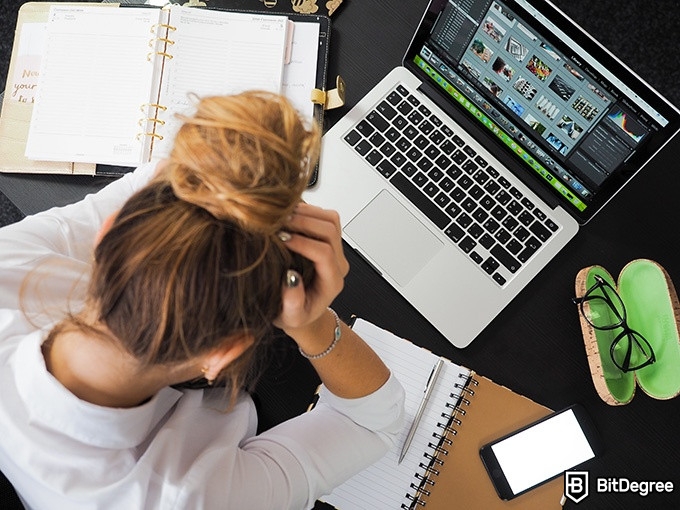 The second section is called The Pocket Guide and is a collection of practical tips that will help beginners get into the groove of writing for press releases, emails, web copies, and more. This is especially helpful to those just starting out with copywriting, as it allows one to develop a sense of what kind of writing suits what situation the best.
This digital marketing Udemy program is provided by CodeStar - a team of professionals that focus on everything digital, from coding all the way to copywriting. Their courses are well structured and notably interactive, which resulted in almost 2 million happy students.
If you are looking to quickly and effectively learn the fundamentals of copywriting, then I'm glad to inform you that this course will only take you 3 hours to complete. In addition, the 39 straight-to-the-point lectures are incredibly easy to navigate, so you will have no trouble referencing the learning material in the future.

What can definitely be noticed in the reviews of this course is that it is especially favored by beginners, as many students thanked the instructors for giving them all the tools they needed to kickstart their copywriting journey.
One thing to note regarding this course is its price. While copywriting is a very subtle field and has a lot of nuances and exceptions to rules, this class's pricing is a little on the steep side. At €89.99, it might seem too expensive to some, however, I do think that the price does make sense for the quality of the program.
Those enrolled in the course will learn:
How to write texts that people will want to continue reading;
Tips and tricks to help you avoid a blocked mind;
Sales psychology tips to gently stoke people to act now.
Copywriting can open you to tons of new career opportunities, and this course can be your first step into your new future.
Start the course NOW.

While many might see digital marketing as just flashy ads all over a webpage, there's a lot more happening behind the scenes than you might expect. Just like many other marketing fields, digital marketing requires a lot of marketing analytics to assure a successful strategy.
Marketing Analytics: Stand Out by Becoming an Analytics Pro! is a Udemy digital marketing course that is going to equip you with everything you need to have a successful marketing career.
Because there is so much that goes into digital marketing analytics - from traffic sources to click-through-rate and cost-per-click -, the syllabus wastes no time and immediately jumps into a case study to start off with a practical example.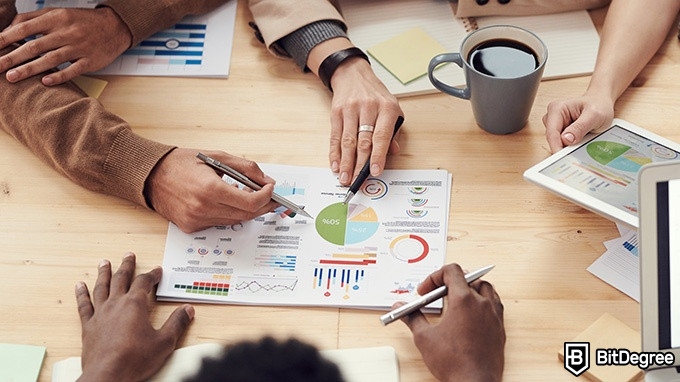 In fact, the entire course perfectly balances between theoretical and practical lectures. In addition to case studies, the program includes applying the theories you've learned and even modeling a new marketing initiative.
This is one well-rounded course, that's for sure!
And it makes perfect sense, as the instructor has been described as a wonderful teacher. Nate Coughran has experience with a wide array of fields from coding to finance, making him more than qualified to teach digital marketing analytics.
In addition, the company he has co-founded, Wisdify, has seen thousands of students develop crucial hard and soft skills that made them land their dream jobs in various fields.
You can definitely tell that the program was made by experienced instructors. Everything is concisely explained in just 4 hours and 56 minutes, which makes a more complex subject much more understandable. That being said, don't worry about important details not being included - the course really includes everything you need and more!

Which can definitely be noticed in the reviews left by students. Many of those who have taken this class mention that it is perfectly planned out which made learning that much more enjoyable as well as simple to understand.
If you're wondering how much this Udemy marketing analytics course costs, then I'm sure you will be pleased to find out that this program is only €44.99, making it the most affordable class on this list.
What a deal!
Those enrolled in this course will learn:
The most important marketing metrics and how to apply them to your data;
How to analyze a company's PPC marketing campaign using key metrics;
To build a marketing initiative forecast model from the ground up.
Behind every great digital marketing campaign is a lot of data that needs to be analyzed, and this Udemy marketing course is the perfect place to start preparing for such an important role.
Start the course NOW.

Social media marketing is something that is rapidly taking over the digital marketing scene, and the opportunities to make it big and build a great career in no time. However, due to quite intense competition, you really need to put your best foot forward to stand out. And I know the perfect Udemy social media marketing course to do that.
Instagram Marketing 2023: Complete Guide To Instagram Growth is a program focusing specifically on the fastest-growing platform at the moment, so naturally I just had to include it in this article.
When I say that this Udemy social media marketing course has everything you might need to build a powerhouse of an Instagram account, I mean this without any exaggeration. The syllabus begins with an introduction to the basics of how Instagram marketing works and how to start building your page, then slowly moves on to more subtleties, such as the entire process of creating your content.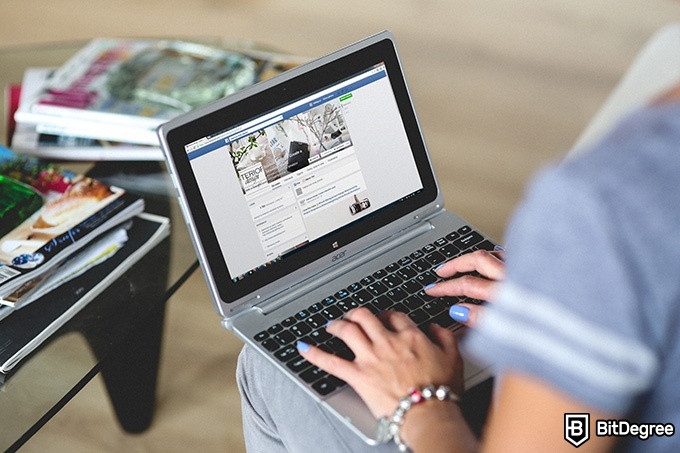 This is an incredibly detailed class, so if you're looking for a step-by-step digital marketing course, Udemy definitely has you covered.
Well, I suppose I should be saying that the instructor of this program has you covered. Benjamin Wilson has experience with building marketing strategies for various platforms, such as Youtube, Amazon, and, of course, Instagram.
And with his main goal being to provide students with valuable information at an affordable price, which definitely reflects in his courses and students' reviews, you know you're in good hands.
Naturally, the course is well structured by topic, focusing on one step of social media marketing at a time, allowing you to fully grasp the topic at hand before moving on to the next subject. In addition, the program is not on the long side, and with just 7 hours and 40 minutes of content, it is notably easy to navigate while mastering the art of social media marketing.

Reading the reviews left by students really showed the quality level of this course. Most praises revolved around the way the material was taught, thanking Benjamin for putting together an interactive, engaging, and challenging program that was found exceptionally useful by many beginners to social media marketing.
While checking the course out I was expecting it to be much more expensive than it actually is, which means you will be getting a wonderful course for a wonderful price of €89.99.
Those enrolled in the course will learn:
How to set up your Instagram account - whether it's personal or for your business - for success right from the get-go;
How to build your followers' loyalty and turn them into long-term customers;
What you need to do to attract real followers to your accounts and maintain their attention to your content.
So why not jump into this Udemy social media marketing course and get a head-start in one of the most dynamic digital marketing fields out there?
Start the course NOW.

Digital marketing, or any other form of marketing for that matter, is much more than flashy banners and catchy slogans plastered on the sides of various websites. A lot of thought and strategy goes into creating a successful campaign, one of the main components being marketing psychology.
Without knowing marketing psychology tricks your campaigns being successful are quite unlikely, which can significantly slow down the growth of your business and career. For that reason, to assure you excel in your digital marketing adventures, I simply had to include the Marketing Psychology: How To Become A Master Of Influence course.
The main goal of marketing psychology is influencing people to act without them noticing it, which involves a lot of nuances and subtle signals that can be used to portray your specific messages. And all of these subtleties are included in the syllabus - from how to price your products to the secrets of great customer service, not a stone is left unturned!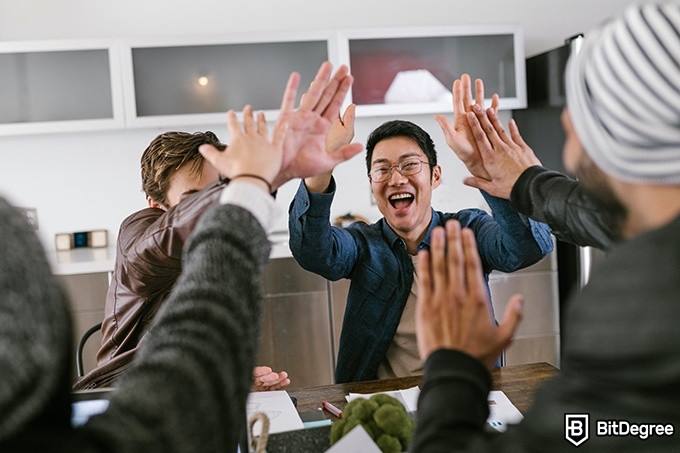 All of this is thanks to one man - Vladimir Raykov. A product manager and a Case Western Reserve University-certified instructor, Vladimir has seen over 88 thousand students take his courses and love every moment of them.
So you can be sure to have a great learning experience.
If you're worried that this Udemy marketing psychology course will be similar to a university program in length, then I'm very happy to say that you're wrong. While most psychology classes can have a few weeks' worth of content, this one can be completed in just 10 hours and 36 minutes.
It's undeniable that psychology can get quite confusing, especially while being presented in a crash course-style program. Well, according to those who have taken this class for digital marketing, Udemy did not disappoint. Simple, straight-to-the-point explanations made even the most complex concepts a piece of cake to understand, leaving many students more than satisfied with the course.

While the program is on the pricier side, I must admit, it does make sense for the duration and topic's intricacies included. So, for €104.99 you will definitely be gaining some valuable skills that will give you a head start while looking for your dream marketing job.
Those enrolled in the course will learn:
How to easily attract customers and make sure they stay;
How to understand the difference between emotional and rational appeal;
How to build a network of loyal customers based on trust.
So, why not learn to unlock the secret codes of the psychology behind marketing with this Udemy course?
Start the course NOW.
Conclusions
And on that note, we have reached the end of this list of the best digital marketing Udemy courses!
If you would like to refresh your memory, you can check the programs out one more time here:
As you can see, digital marketing consists of many various nuances and that are all equally important. From social media to the psychology behind every campaign, digital marketing is a field with something for everyone.
One thing to note while choosing the perfect program for you is that the pricing is often very different. From less than €50 to over €100, you might encounter pretty much every number. That being said, the pricing does not mean that one program is higher-quality than the other, as many affordable options are some of the best ones out there!
I hope you found this article on the top digital marketing Udemy courses helpful and interesting, and I wish you the best of luck in your future marketing adventures!
Leave your honest feedback
Leave your genuine opinion & help thousands of people to choose the best online learning platform. All feedback, either positive or negative, are accepted as long as they're honest. We do not publish biased feedback or spam. So if you want to share your experience, opinion or give advice - the scene is yours!