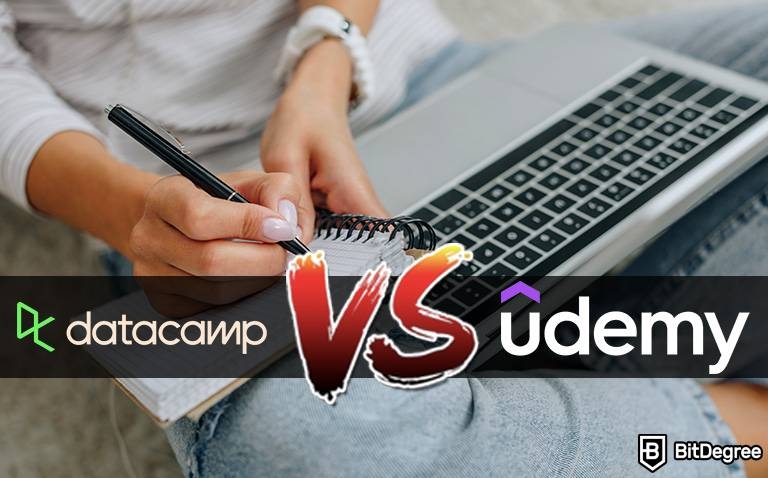 So, you've decided that it's time for you to level up professionally and add data science to your skillset. But with so many online learning platforms to choose from, you might experience a mild case of analysis paralysis. To help make this decision easier, our DataCamp vs Udemy comparison will narrow down the list to two of the best-rated platforms out there for studying data science.
In case you're not familiar with either DataCamp or Udemy, let's have a quick introduction. DataCamp is a gamified online learning service provider. Founded in 2013, it offers courses on data science, analysis, and management tools, as well as programming languages. Its opponent today is Udemy, one of the longest-running players in the oline learning platform field. Founded in 2010, it offers courses on a broad range of subjects, from programming and web development to personal growth and lifestyle.
However, before we start, I must note that this analysis will focus on comparing the DataCamp vs Udemy data science services. Udemy offers hundreds of thousands of courses in different fields, so it would be unfair to take the full catalog into consideration. Instead, to keep things equal, we will be talking about the data science category in particular.
Without further ado, let's take a look at the Udemy vs DataCamp comparison criteria and see what we'll be taking into consideration.
DataCamp vs Udemy: Comparison Criteria
First off, let's talk about why we chose DataCamp vs Udemy specifically for this data science learning platforms comparison. For starters, they are among the best-rated online learning platforms out there. Given their reputation and content selection, it only makes sense to see how they face up against each other.
Latest DataCamp Coupon Found:
CLAIM 50% OFF
DataCamp Cyber Monday Deal
DataCamp Cyber Monday special is here! Enjoy a massive 50% off on DataCamp plans. Subscribe now and redefine your data and Al skill set for the better!
Expiration date : 03/12/2023
5,324 People Used
Only 36 Left
That said, there are some significant differences in the way the two platforms work and what services they offer. To account for these differences and keep our Udemy vs DataCamp comparison fair, we have developed a list of criteria to analyze the platforms. There is no order of importance to the criteria. At the end of the day, you will be the one making the decision and determining what features and perks are the most important to you.
Language Support. This aspect is more relevant than it may appear at first glance. While a lot of programming is typically written using English terms, learning them can be a completely different experience, and it may be easier to understand what is what and how software works in your mother tongue. In this category, we'll see whether DataCamp or Udemy has better tools to aid the learning experience for foreign language speakers who may need alternatives to English.
Ease of Use. Understanding the content is one side of the learning process. However, it's just as important to get the hang of the tools you're using. In this section, we'll take a look at how the two platforms work and how well they support learning on different devices like desktop or mobile. We'll also compare the DataCamp vs Udemy layout and see which of the two websites may be easier to navigate for newcomers who might have no prior experience with online learning.
Content Quality & Variety. Quantity can be as important as the quality, and that's the focus of this criteria. As I mentioned earlier, we'll be taking a look solely at the DataCamp vs Udemy data science courses rather than the entire Udemy catalog of over 200,000 projects and lessons. We'll see what options there are for different learner levels, how the instructors may vary, and ways to determine the quality of your selected subject.
Certifications. Once the courses are done, you're usually eligible to receive a reward in the form of a digital certificate. Here, we'll take a look at what rewards await Udemy vs DataCamp users. We will compare the different rewards programs and how impactful they might be for your career development. We'll also define what accredited certifications are, and see if you can find such rewards on either of the two platforms.
Pricing. Last but not least, we'll take a look at the cost of the platforms. This can be a crucial factor in deciding whether the learning experience and the content are worth it. For starters, we're interested in free trials or courses that would allow you to get a first taste of what the learning is like. Then, we'll compare the regular plans, whether they're one-off payments or subscriptions. Finally, I'll share some discount codes and special offers that may help sway your decision.
Once all the DataCamp vs Udemy comparison criteria are covered, you'll be ready to act and make your own decision about your preferred platform. So, read carefully, make a pros and cons list of your own, and see what suits your needs best when it comes to studying data science.
Finally, it's time for us to jump straight into the comparison.
DataCamp vs Udemy: The Comparison
We'll be covering each criteria one by one, in the same order as they were described above.
Language Support
Have you ever been interested in a subject and started an intense research process, only to realize that the concepts are still way above your level? Sometimes, this is what studying can feel like if you're not completely comfortable with the language. And while English is used broadly in the programming spaces, you might find it more comfortable to have some guidance in a native language.
So, let's say you're interested in learning whether DataCamp vs Udemy Python courses have better foreign language support. What's the outcome going to be?
Well, put simply, Udemy takes this round. Once you open the home page, you're greeted with more than 15 language options to choose from, including German, Korean, and Turkish. And this is just the interface. According to the platform, the courses themselves are available in more than 70 languages.
The scope of language availability on Udemy can make it convenient for learners. However, whether a course is available in your mother tongue depends not on Udemy itself, but on the course instructors.
For example, the Udemy data science category offers over 1,900 courses in English, more than 100 in Japanese, and over 50 in German. And not all of these courses may cover the same subjects at the same level, so you might have to do some hands-on searching.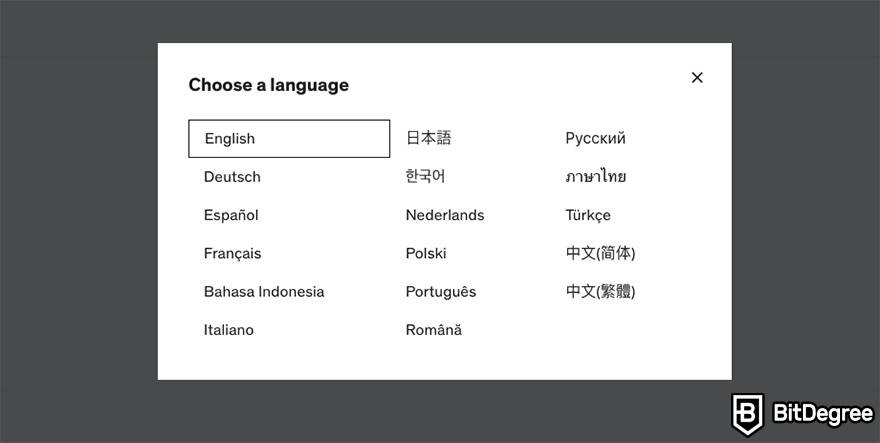 Things are simultaneously less and more convenient on DataCamp. Allow me to explain.
Although the DataCamp interface is only available in English, foreign language students can nevertheless find support. For starters, all video content comes equipped with more than 15 different subtitle languages. Here, you'll find options like Spanish, Chinese, and Italian, among others.
Then, there's the community support. Don't overlook the amount of additional resources you can get alongside the courses and downloadable cheat sheets – DataCamp has a tight-knit userbase, and once you take a look, you'll find courses developed in various languages to support learners looking for information in more than just English.
So, the DataCamp vs Udemy data science face-off in terms of language variety might seem one-sided at first, but it's actually a bit closer in terms of delivery. While you have better chances of finding learning materials in your mother tongue on Udemy, the DataCamp community might lend you a hand, and more features could be on the horizon.
Ease of Use
Now that you know what your language options are, let's see how our tools at hand actually work. Is DataCamp or Udemy more beginner-friendly? How easily can you navigate around? Let's take a closer look.
However, let me ask you first – where are you planning to study? It might seem a bit strange. After all, this is online learning we're talking about. You can set up your studying space just about anywhere. Possibly even on your phone.
You probably spend a good chunk of your time throughout the day on your phone. Whether it's scrolling through social media or holding important calls, these devices rarely leave our side. Naturally, online learning platforms have adjusted to the rise of smartphones, and many have started offering not just mobile-friendly websites, but native apps, too.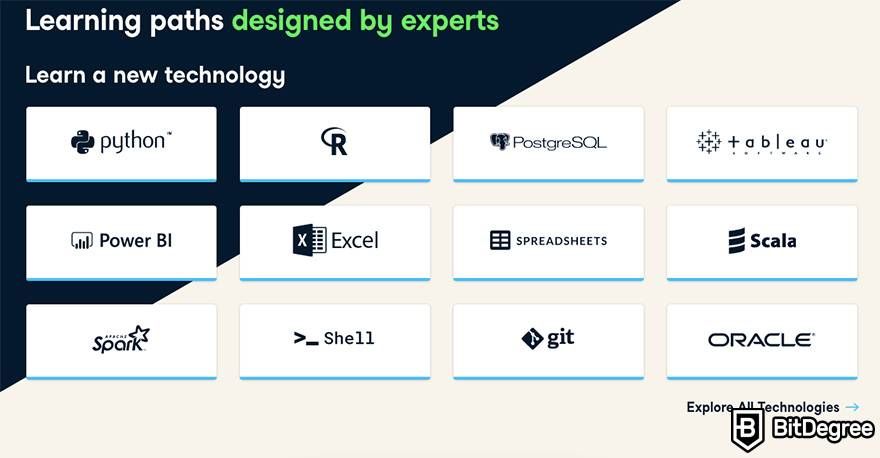 Both DataCamp and Udemy fall under these platforms. So, if you prefer to learn in small chunks and on the gone, you'll be able to access the mobile apps. And whenever you feel like switching back to desktop for a more conventional programming experience, all progress is going to be synced up. On DataCamp, you'll even find exclusive, mobile-only learning content.
Let's jump back to the platforms. What's it like to visit Udemy vs DataCamp for the first time?
Well, on Udemy, you have a lot to choose from, so it can be a bit overwhelming at first. However, once you've found your subject of choice – data science, in our case – the navigation gets easier.
For starters, the top of the page recommends popular beginner-friendly courses, so you don't have to go searching far and wide to find the right level for you. Additionally, you can refine your search based on your preferred learning level, topic, and features. By features, I mean extra perks that enhance your learning experience, like practice tests and quizzes.
Then, there are the course descriptions themselves. The finer details will vary from course to course, since the instructors set them up themselves. However, you'll get useful preview information, like the entire subject plan, showing you what you'll be covering from lesson to lesson, as well as a list of requirements so you know whether you need any third party software or additional tools.

DataCamp has been developed with skill and career tracks as one of its core feature. So, all courses are presented to you ranging from beginner to expert to make sure you progress gradually.
If you're brand new to the platform, your first course of action after signing up will be to take the welcome quiz. Once you've finished it, DataCamp will suggest which course best suits your interests and current skill level. And if you're looking for more of a challenge, the recommendations will include a list of career tracks that might interest you.
All courses on DataCamp are compactly available within the Jupyter Notebook, the internal learning space. Throughout each chapter – the name that DataCamp uses for lessons – you'll encounter a broad range of content, including videos, interactive tests, and more. You'll also have access to downloadable data that you can use to work on projects, as well as cheat sheets and other useful assets.
So, in terms of being beginner-friendly, the Udemy vs DataCamp match-up is quite equal. The question of Udemy instructors might come into play in making the decision whether a specific course is accessible enough to you – but that's something we'll delve deeper into in our next category.
Content Quality & Variety
The quality of your education is something that should never be undervalued. Whether it's a university-level program or an industry-ready guide, you want to make sure that the skills are accurate, useful, and, most importantly, worth your time. So, when it comes to DataCamp vs Udemy Python, R, SQL, or other data science skills, why should you choose either of the two?
Let's start with DataCamp. This platform is among the industry leaders when it comes to career-driven data science learning platforms. For good reason – the courses are curated by the project team, developed and taught by reputable industry experts, and, in many cases, use real world data to explain examples and complete projects.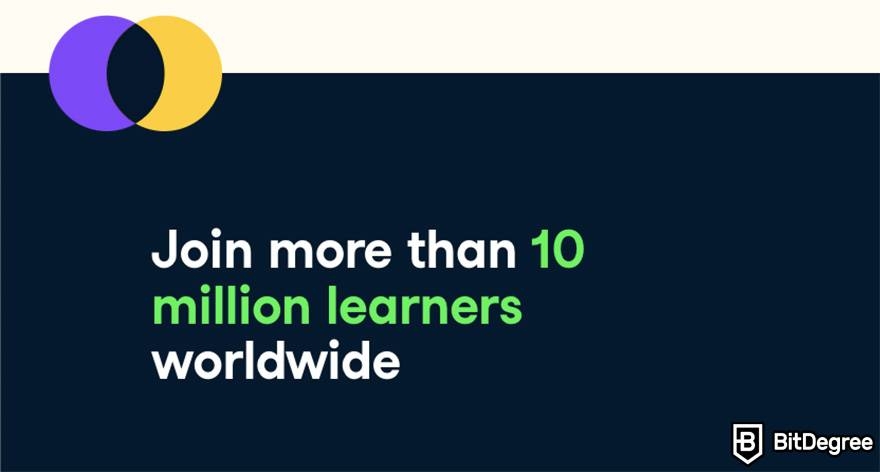 Overall, the DataCamp course catalog includes more than 390 options. This number might seem small compared to Udemy, but here is where the question of quantity vs quality pops up. Many of the DataCamp courses are arranged in the skill and career tracks that I mentioned earlier. This means that you can go from a beginner to a pro in a skill like Python programming or data management by following a guided and recommended path.
As for variety? It's as plentiful as data science can get. From various popular programming languages to professional software, from business intelligence to data manipulation – there's just about everything you need to be ready to step into the professional field. This is without getting into the Projects – a feature that allows you to complete creative tasks that rely on relevant data and real-world samples.
With Udemy, things can be a bit hit-and-miss sometimes. Of course, there are plenty of high-quality, informative courses to choose from. However, other than confirming your identity, you don't need any approval to become an instructor. As long as you have the minimum content requirement – at least 30 minutes of video lectures and five lessons in your course plan – you're good to go.
Unfortunately, this means that sometimes you might find some duds among the gold. The Udemy catalog contains more than 213,000 courses in total, and data science only makes up a fraction of them – around 3,000, to be more exact. So, the filtering process may be a bit more complicated.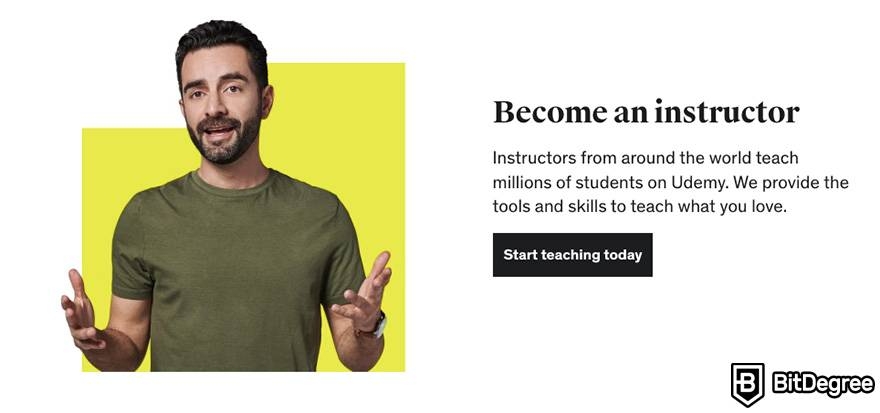 Furthermore, some instructors may only have courses at a single level available, so progressing might not be as linear. However, if you find a really good instructor, chances are that their profile will cover all learner levels to ensure steady progression. Additionally, you'll be able to see when the course was last updated and how active the instructor is. So, you can always check that the course of your choice is up-to-date and relevant in the current field.
There's also the matter of community and assistance. I mentioned earlier that DataCamp has dedicated quite a few resources into maintaining an active community. These include Open Courses – unofficial learning content created and published by other learners. Additionally, you'll find various video guides and webinars from the DataCamp team sharing up-to-date industry knowledge.
On Udemy, you might be able to join smaller learner groups. Some instructors might open a Facebook group or a Discord server to stay in touch with the learners, check on their progress regularly, and answer additionally questions that might arise.
Speaking of learning groups, let's see what options larger companies have for workshops and team training sessions. DataCamp users will be able to access DataCamp for Business – a service that supports teams of all sizes and provides custom-tailored solutions. The courses available for B2B users are based on the active learning model – you can participate in interactive tasks that use real world data.
Table: Services provided by DataCamp VS Udemy
Udemy Business is a dedicated catalog of over 19,000 courses that offers a personalized learning experience for teams. The courses focus on several topics relevant to working at an enterprise, such as business development, leadership, tech, and even lifestyle. It uses the immersive learning model and can be sandboxed based on the company demands.
Nevertheless, both platforms are going to offer courses at all learner levels – although it some cases, you may need to do a little digging first. The quantity of Udemy courses may play to its disadvantage sometimes. However, whether you're more interested in DataCamp or Udemy, you're certain to find something worth your time and efforts.
Certifications
If you've ever taken a course or attended an event online, you should already be familiar with the concept of digital certifications. If not, it's very easy to explain. Digital certificates (or certifications) are rewards that prove you've acquired a new skill and passed the necessary assessments. You can usually attach the file on your LinkedIn account, but if you're really proud of yourself, you can easily print it out – no one's going to judge.
Typically, there are two types of digital certificates – accredited and non-accredited. The former tend to be more lucrative. If you have an accredited certificate, it means that the course you took is in some way affiliated to an academic institution or an enterprise. So, in general, they hold more weight than non-accredited rewards.
With that said, in terms of DataCamp vs Udemy, what rewards should you expect?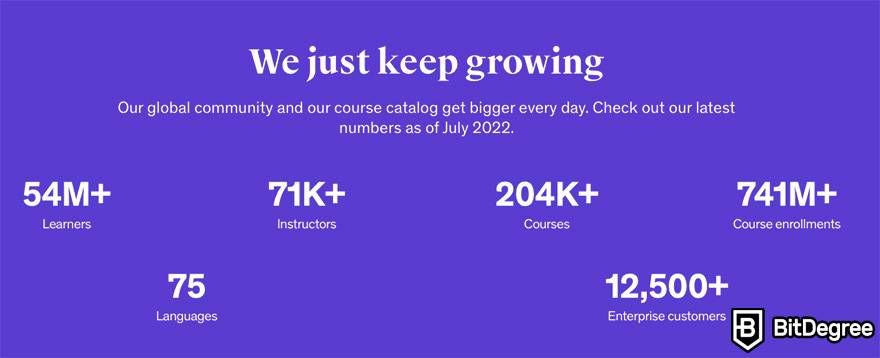 Well, certificates are certainly among them – if you are a paying user. We'll get into this more once we cover the pricing. However, while free courses are a notable similarity in this DataCamp vs Udemy data science comparison, their lack of rewards is just as alike. Regardless of the platform, taking the free courses on the catalogs will not award you a certificate.
Another thing to keep in mind is that whether you're on DataCamp or Udemy, your certificate will not be accredited. Of course, whether a certificate is accredited or not bears little weight on the knowledge and skills you acquire. But it's worth keeping in mind if you're looking for something that may be used as additional college credit – only accredited certificates work for that.
That said, DataCamp certifications are not the same as DataCamp certificates. And this difference changes the value of what we're talking about.
Certificates are what we have in mind when we talk about regular course rewards. These are the same on both Udemy and DataCamp. Once you've completed the final assessment, you can find the proof of your achievements on your profile. These don't have an expiration date.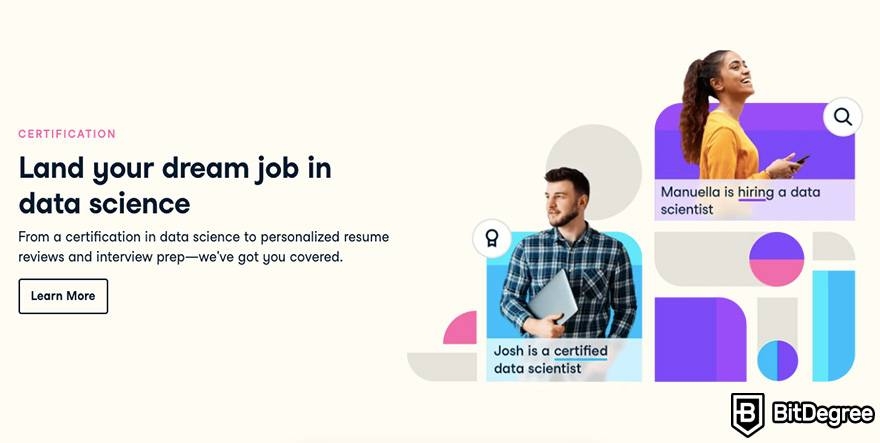 DataCamp Certifications, though, are a separate project. In a sense, it's the next step after career tracks. At the time of writing, you can only find two certifications – for data science and for data analysis. These programs are designed to last several months and cover the ins and outs of the subjects.
The goal of DataCamp Certifications is to prepare industry-ready professionals who understand the subject and can work with the necessary data science and analysis tools. To ensure that this reward, which has an equal value to an industry-level exam, is relevant and that your skills are up-to-date, you must renew it every two years. And they've got reputable status – Forbes selected the DataCamp certification as it's #1 for data analytics.
In terms of value and quality, DataCamp vs Udemy certificates stand on even footing. Both will make your professional background look more polished – and they can be a fun ice breaker in a job interview. However, DataCamp Certifications are a secret weapon that not all platforms can boast about – and that might be what wins the employer over at the end of the day.

Pros
Easy to use with a learn-by-doing approach
Offers quality content
Gamified in-browser coding experience
Main Features
Free certificates of completion
Focused on data science skills
Flexible learning timetable

Pros
High-quality courses
Nanodegree programs
Student Career services
Main Features
Nanodegree programs
Suitable for enterprises
Paid certificates of completion

Pros
A huge variety of courses
Easy-to-navigate interface
Over 600 free courses
Main Features
A huge variety of courses
30-day refund policy
Free certificates of completion
Pricing
We've come to the final point of our DataCamp vs Udemy comparison – pricing. While there's technically no order of importance to our analysis, this can probably be unofficially considered the most important aspect. After all, you don't want your time or money to go to waste. You need to make sure you're getting exactly what you're paying for.
But first, what options are there if your budget doesn't allow for much room? Luckily, both platforms offer free features. And since you don't need to enter your bank information while creating a new account, you can be sure that you won't deal with any pesky unexpected charges.
DataCamp offers its free users six full introductory courses, as well as the ability to preview the first chapter on the rest of the catalog. You can see if you like something first and decide if you want to commit later. Udemy instructors can also choose to teach for free. If you're picking between DataCamp vs Udemy Python courses for beginners and are cautious to commit, you'll be very happy about this feature.

Another thing that should make you excited is the ability to apply discounts. We'll be getting to the actual prices shortly, but who doesn't love hearing about a special offer in advance. You can find discount codes for both DataCamp and Udemy, and be ready to save in advance.
Now, let's finally take a look at the plans.
With Udemy, there are two ways to pay. One – the one you'll encounter the most frequently – is paying on a course-to-course basis. Each course has a price tag set. It might vary anywhere from $15 to $100, depending on the duration, materials, and other aspects. This can build up over time, especially if you're interested in taking more than just one course.
To alleviate this, the platform has introduced Udemy Personal. This subscription-based service allows you to access more than 6,000 courses for a monthly fee of $16.58. However, this service is not yet available worldwide, so you might want to check its applicability in your region.
You've also probably noticed the difference in the number of available courses. While there are more than 200,000 overall, the ones available with Udemy Personal only make up a fraction of the catalog. So, double-check whether your chosen course is part of the plan.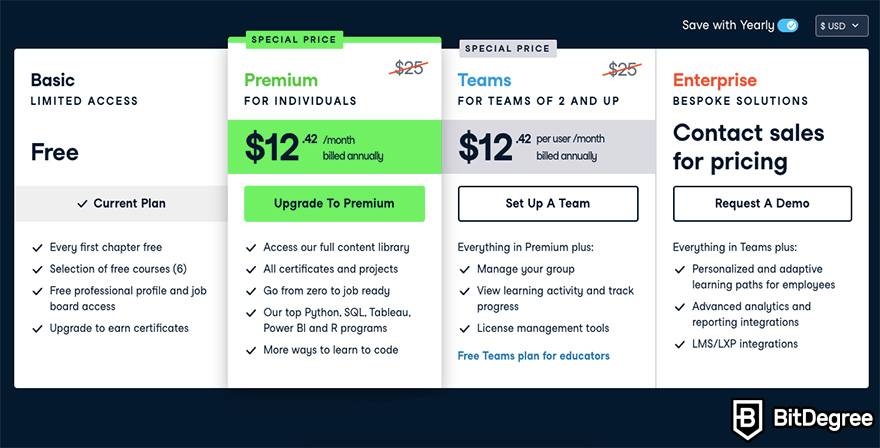 As for DataCamp, you'll have three payment plans to choose from – setting aside the free Basic plan. The Premium plan is the recommended option for all users and costs $25 a month. It opens up the full catalog of more than 390 courses, all projects, and additional community support tools. You'll also have full access to the career help services.
The Teams plan is a version of Premium for groups of at least two learners. It grants you all the perks of the paid plan. In addition to these, you'll also gain group management tools which will let you monitor the overall progress and set up common tasks for everyone involved. The plan costs $25/month per user.
Enterprise is a plan for those interested in setting up workshops for large-scale companies. It includes all the perks of Premium, as well as additional advanced management settings. To join this plan, you should contact the DataCamp team for more details on the custom quotes.
So, take a good look at which DataCamp vs Udemy data science courses interest you more, and take your savings options into consideration. Perhaps the more cost-efficient path will also have the preferable content?
Conclusions
All five criteria have been covered, bringing out DataCamp vs Udemy comparison to an end. Let's quickly see what we've learned today.
Both DataCamp and Udemy are among the top-rated online learning platforms in the market, offering thousands of courses to choose from combined. While Udemy's catalog can be a bit more inconsistent quality-wise, it still offers a broad range of data science courses for all learner levels.
DataCamp offers over 390 courses in the data science field. As a career-focused platform, it also provides additional tools to make your entry into the market smoother. You can access both platforms on desktop and mobile devices, and, in the case of Udemy, even select foreign language support if English is not your preference.
With all the facts we've gone through today, finding if Udemy vs DataCamp courses are the better option for you should be a breeze. And don't forget to share your experience with us in the comments below.
Good luck on your first steps into the data science field!
Leave your honest feedback
Leave your genuine opinion & help thousands of people to choose the best online learning platform. All feedback, either positive or negative, are accepted as long as they're honest. We do not publish biased feedback or spam. So if you want to share your experience, opinion or give advice - the scene is yours!