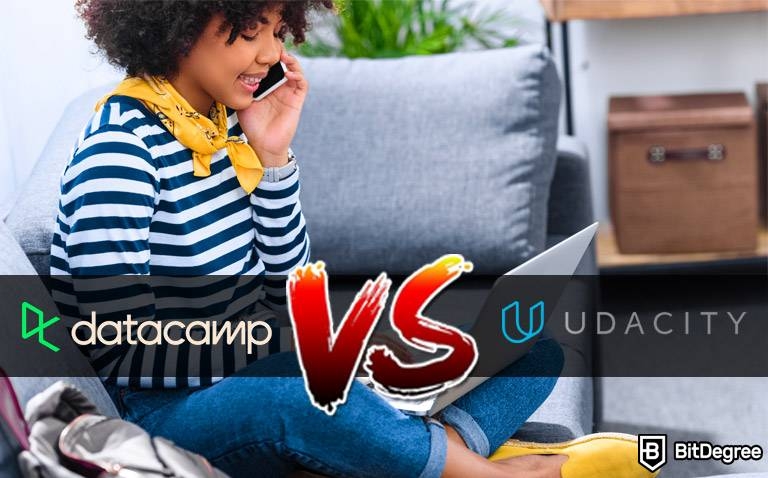 At first glance, data science can seem intimidating, especially if you have no prior experience in the tech field. However, your journey can be made easier thanks to online learning platforms that offer courses ranging from complete beginner steps to more advanced guides. Today's DataCamp VS Udacity comparison will introduce you to what may be considered the two best data science and analysis platforms you can come across.
Deciding on your starting point is a process of elimination, and this guide will help you settle on what works best. As always, we'll be analyzing both platforms and comparing them in terms of performance, course variety, and pricing, among other criteria. Additionally, you can find even more information by taking a look at our DataCamp and Udacity reviews, as well as exploring our Comparison Tool for online learning platforms.
But before we start, here's a short introduction to both platforms. DataCamp is an online learning platform that was launched in 2013. It's known for its gamified mechanics and content that focuses on data science and analysis. Udacity is a career-focused platform that offers courses in various data science fields. It was created in 2011.
So, let's kick off our Udacity VS DataCamp face-off by looking at the comparison criteria.
DataCamp VS Udacity: Comparison Criteria
If you've been keeping up to date, you may already be familiar with the system that we'll be using for our DataCamp VS Udacity comparison. Nevertheless, let's discuss how it works and, more importantly, why we need it to keep our scores fair and square.
Latest DataCamp Coupon Found:
CLAIM 50% OFF
DataCamp Cyber Monday Deal
DataCamp Cyber Monday special is here! Enjoy a massive 50% off on DataCamp plans. Subscribe now and redefine your data and Al skill set for the better!
Expiration date : 06/12/2023
5,324 People Used
Only 36 Left
For starters, the way online learning platforms function can vary significantly. From the layouts to the catalogs – just because you're familiar with one doesn't mean you'll have an easy time figuring out the other. Besides, the websites may offer a very different range of services. Some, like our Udacity VS DataCamp subjects, are focusing on one field – in this case, data science. Others can be more generic and offer a broader range of subjects.
So, to ensure that every platform is evaluated on equal terms, a system has to be set in place. It takes into consideration what the platforms may be lacking and compares them based on only the most essential aspects, such as course quality and pricing. The end goal is to make it easy for you – the prospective learner – to decide what suits your needs best.
The criteria that we use in particular consist of five sections:
Course Quality and Variety. We'll start by talking about one of the core structural parts of any online learning platform – the courses. Some learners are complete beginners to the field, while others want to improve their skills and grow their experience level (sometimes literally). So, in this category, we'll be taking a look at how many courses both platforms offer and what learner levels and types – be that individuals or teams – they support. It's important to maintain the balance between quality and quantity, so we'll take user feedback into consideration, too.
Ease of Use. Figuring out your learning space should be as easy as ABC. It's really not the best sign if you take ages trying to find what's where, and might lead to you giving up altogether. So, ensuring a good and smooth user experience is essential for all learning platforms. We'll take a look at the navigation on Udacity VS DataCamp and determine how easy it is to get started. Additionally, we'll take smartphone users into consideration – mobile experience is as important as desktop, so it's good to know whether there's an app for it.
Foreign Language Support. If you were to create statistics of registered and active users on various online learning platforms, you'd notice that a significant number of them come from places where English isn't spoken as a native language. While many of them may not find it too difficult to learn in English, others might prefer having some support in their mother tongue. So, we'll take a look at what foreign language options DataCamp VS Udacity offer their users, and where you can find such settings.
Certificates. Earning a certificate of completion is like the cherry on top of the whole learning process. It's proof that you've learned a thing or two and something you can highlight on your CV or LinkedIn profile. In some cases, you can even acquire an accredited certificate which can be seen as an even more valuable reward. Once we've figured out what "accredited" means, we'll compare the rewards you gain for completing your learning courses on the two platforms in question.
Pricing. Finally, we'll wrap up the DataCamp VS Udacity comparison by taking a look at the expenses. While online learning courses are generally cheaper than a full university degree, they can still require a hefty investment. We're going to take a look at what pricing options you can find on the two platforms, and how they may differ based on whether you're an individual learner or part of a team. Additionally, we'll see what free perks are available and where you can find special offers to reduce the total price.
Once we've completed going through each category, you're going to get a good idea of how the two platforms compare and where each of them stands out more. Using this date should make it easier for you to decide what suits your learning plan better – perhaps you'll find that both can complement each other quite well. If you find yourself still struggling to make a final decision, the Comparison Tool for online learning platforms can help you learn more – as well as our reviews for Udacity and DataCamp.
So, now that you know how this system is going to work, let's get started with the DataCamp VS Udacity comparison.
DataCamp VS Udacity: The Comparison
We'll be going through each of the criteria following the order above, starting with course quality.
Course Quality and Variety
The course catalog is the core of every online learning platform. While there's no single most important aspect, this one comes pretty close. After all, without the content, there's no learning experience whatsoever. So, determining what you need as a learner and what works for you best lies in testing out the courses and seeing what they offer.
And when it comes to DataCamp VS Udacity, there's more than plenty to choose from. For starters, let's compare the catalogs – as a DataCamp user, you'll gain access to over 390 different courses covering everything there is to know about data science and analysis, from beginner programming skills to advanced business intelligence tools. Udacity, in the meantime, offers a catalog of more than 200 courses specializing in industry-level data science content. So, DataCamp holds a slight edge here.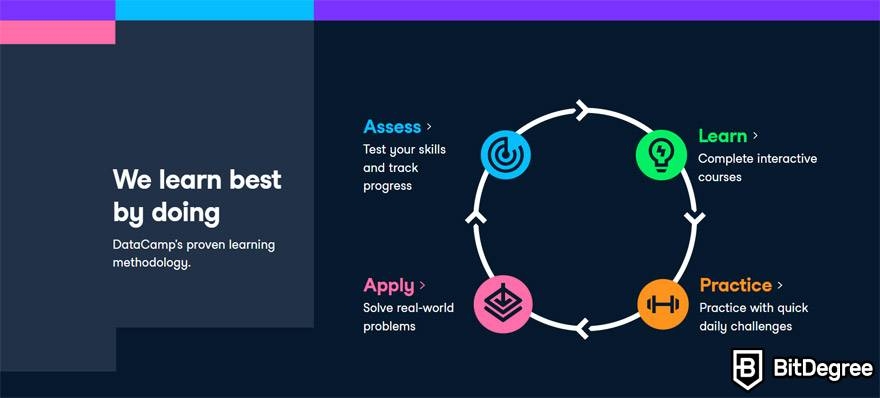 Let's take a look at the content itself. As a DataCamp learner, you can opt to take each course individually or complete a career or skill track. Career tracks are series of courses that focus on preparing you for the job market in roles like R programming, machine learning science, and SQL server development. Skill tracks are more focused on fostering specific talents, such as data literacy, market analytics, or business intelligence fundamentals.
Udacity offers a unique approach to its courses known as Nanodegrees. A Nanodegree is a long-term learning program on Udacity. It requires a minimum of 2 months to complete but usually lasts around 4-6 months. During a Nanodegree, learners master the core aspects of the subject, whether it's Cloud computing, robotics, or Python programming, complete a portfolio by taking up various projects, and have a chance to work with mentors that assist the overall process.
At first glance, DataCamp can be more beginner-friendly since many of the Nanodegrees require at least a fundamental understanding of programming languages. Fear not if you haven't got any Python or R skills under your belt, though – the Udacity catalog offers free introductory courses that will build a solid foundation for your data science essentials.
So, lots of great options for beginners and advanced learners alike. But what if you're not learning on your own? What if you want your work team or fellow coursemates at college to tag along?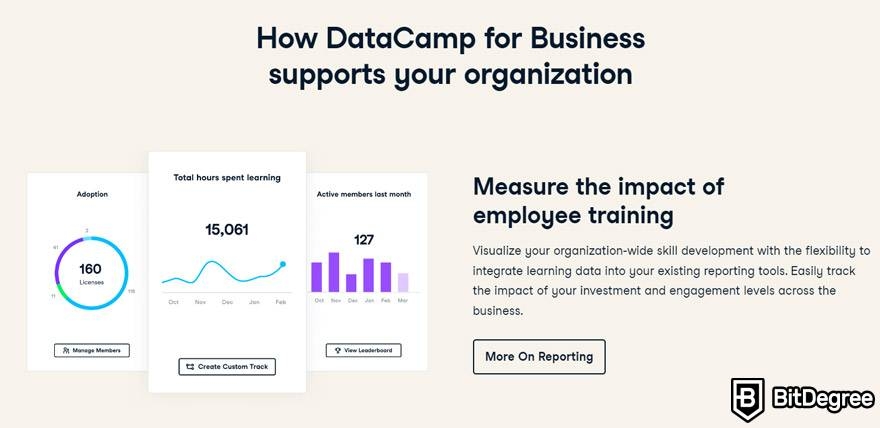 Well, whether it's Udacity VS DataCamp that's caught your eye, there are options to consider. As a DataCamp user, you can select one of the following plans:
The Individual plan is what we've been discussing so far and what the DataCamp VS Udacity comparison is focusing on overall. The majority of the userbase consist of individual learners. However, DataCamp also offers custom solutions for companies through its For Business plan. It's a B2B plan that supports teams ranging from fewer than ten to more than a few thousand members and offers them personalized interactive tasks.
Classrooms is a program for schools and universities that grants educators free access to the entire DataCamp catalog, including Projects. DataCamp is known for its innovative use of gamification – the process of learning by playing. You can earn experience for each course you complete, making it a fun learning model to use in a classroom setting.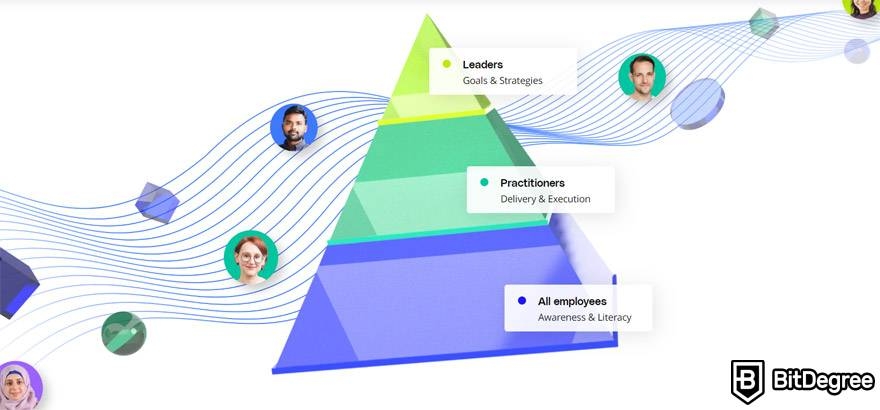 Similarly, Udacity also has more than one account type. In fact, you can come across three:
Individuals
Enterprise
Government
As we've discussed, Individuals learning is already the focus of the comparison and what you're learning about by default. Enterprise is a solution available for companies of various sizes. It enables team management features and a more personalized learning experience that's catered to your organization's needs.
Government is perhaps the most interesting type of learning offered by Udacity. Although this service is still quite small, it's already been implemented by various governments. Essentially, Udacity can work in affiliation with governmental labor institutions to help improve national digital literacy and data science readiness.
So, whether you're a solo learner or part of a team, whether you're a complete beginner or someone working to develop even further – the DataCamp VS Udacity stand-off is pretty close. Although DataCamp offers a broader range of courses, Udacity may be suitable for those already working with data science who want to broaden their career horizons even further.
Ease of Use
Our second thing on today's DataCamp VS Udacity agenda is the usability of both platforms. Typically, it's good to have a platform that's easy to follow and doesn't take ages to figure out what's where. Additionally, it's even nicer if beginners can have some guidance on where to start, especially if they've never studied data science before.
And if we take a look at our two platforms, the navigation is pretty intuitive and easy to follow. Let's start with DataCamp – as a new user, you have to opportunity to take a short quiz to determine what course you should start with. Taking your current skill level and data science interests into consideration, the platform recommends the top matching courses, as well as some career and skill tracks you might be interested in.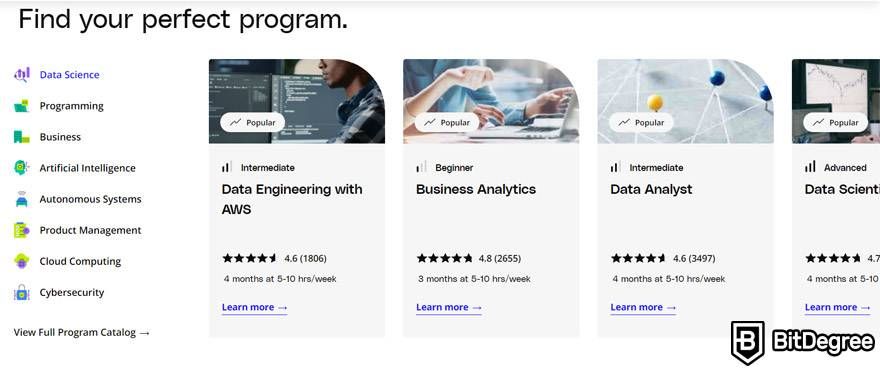 While Udacity does not come equipped with a sorting quiz, it offers a very detailed search function, and each course and Nanodegree is part of one of the many schools, which include:
Business
Career
Autonomous Systems
Cybersecurity
Once you've refined your search based on the school (or field), learning level, duration, and price, you'll have a pretty easy time finding exactly what you need.
So, that's your desktop experience on Udacity VS DataCamp sorted. Both platforms are easy to navigate and won't take you long to figure out where to start. However, there's the other side of the coin – where desktop access is a given, mobile is increasingly becoming a necessity. When it comes to learning data science on one of the two platforms, is there an app for it?
Yes – given that your choice is DataCamp. Not only does this platform have an interactive mobile app, you'll also be able to complete extra daily challenges that desktop users can't access, allowing you to level up even faster. The mobile app is fully synchronized with the desktop environment, so you'll never fall behind.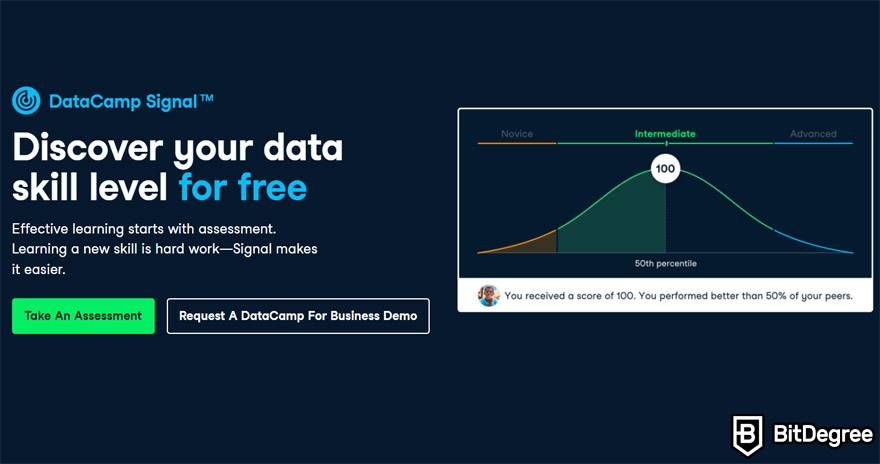 Udacity users are, sadly, not quite as lucky. At the time of writing, you can't find a mobile app for this platform. So, if you're ready to study for a Nanodegree, you better get your desktop set up.
As you can see, while both platforms are user-friendly in terms of the desktop experience, the Udacity VS DataCamp mobile comparison isn't as equal, making DataCamp the sure winner here.
Foreign Language Support
Next, let's talk about languages. Chances are that many of our readers – as well as learners on various online learning platforms – aren't native English speakers. This really comes down to statistics. With billions of internet users out there, the majority will speak at least one other language.
So, it's important for global platforms such as learning hubs to accommodate the needs of these learners. This is typically done two ways – either by translating (or localizing) the entire website or by providing subtitles and translations for some of the courses. The former is rarely the case. With hundreds or even thousands of courses available, the process of localizing everything is very time-consuming.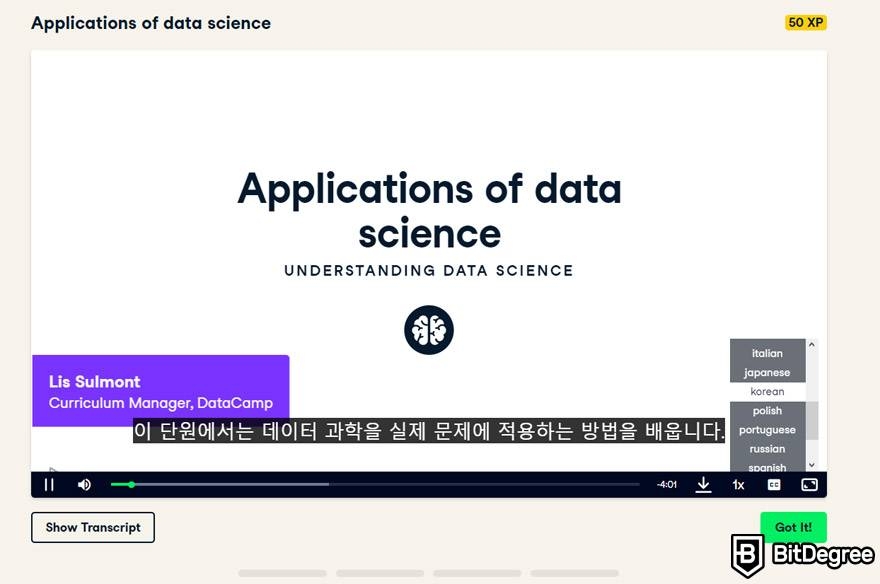 Instead, many platforms, such as our DataCamp VS Udacity subjects, opt to provide some parts of the content in multiple languages. In the case of DataCamp, we're talking about video subtitles. Whenever you launch a course, you'll come across various video guides to get you started and lead you through each chapter. Here, you get to select between 12 different languages, including Thai, Turkish, and Vietnamese. Additionally, you can find community-based resources that users provide to help their peers who may struggle with the English content.
Udacity is also working on making the content more accessible to foreign learners. At the time of writing, you can only find five available subtitle languages – Arabic, English, Spanish, French, and Korean. However, it's likely that this number will increase in the future, especially as the number of Udacity Government regions grows.
So, if you're looking for solid foreign language support, both platforms still have room to grow. However, DataCamp offers more for a range of languages, both in terms of official courses and community content.
Certificates
Let's be honest – more often than not, certificates are what sell online learning platforms to prospective users. It's a very real (and printable) proof that you've achieved something pretty significant – and no bit of knowledge is ever insignificant, as long as it goes towards your self-improvement. It's something you can keep on your desk or update your CV with. Overall, certificates are a pretty handy tool to level up your career opportunities.
In some parts of the internet, you'll come across the term "accredited certifications" which might have you curious. This term refers to rewards that certain online learning platforms offer for completing special courses. How special? Well, typically, these courses are based on the ones taught at certain universities, and their instructors are professors that normally teach this material in person. Essentially, accredited certifications are granted in affiliation with the college or university and can sometimes even be converted to credit that goes toward your graduation!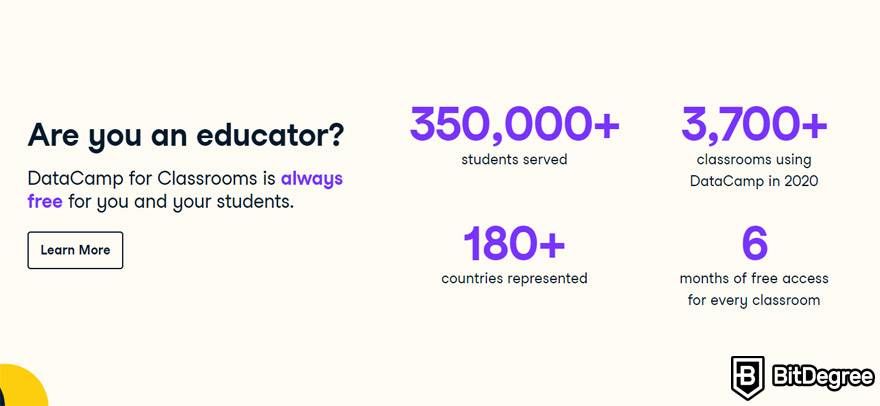 Since we're talking about accreditation, we have to answer the big question in terms of DataCamp VS Udacity – do these two platforms offer such rewards?
The short answer is it's complicated.
When we're talking about DataCamp certificates or the Udacity Nanodegrees, the answer is firmly no. While both these types of certificates are undoubtedly useful, they do not come with additional accreditation and, instead, are issued by the platform directly. Furthermore, if you want to enjoy the sight of a certificate on your profile, you have to pay for the course – this goes for both platforms in question.
Alongside the certificate, Nanodegree students will also come out with a professional portfolio. As you work your way through the several months of content, you will complete practical projects that use real-world data. So, while the certificate may not be accredited itself, the outcome of a successfully completed Nanodegree can be a strong boost to your career.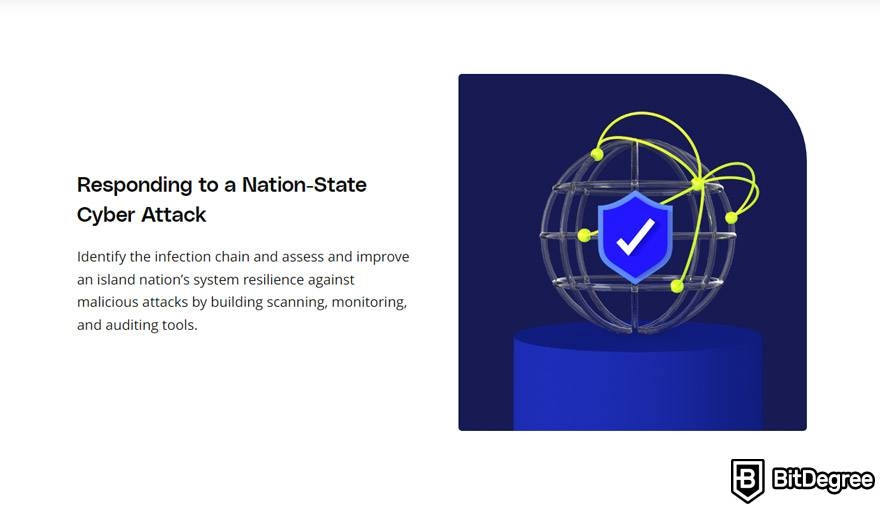 Let's drop the intrigue now. Why is it complicated, exactly? That would be because, in addition to regular certificates, DataCamp also offers Certifications. These work similarly to Nanodegrees – they're extensive learning programs for industry professionals to work on their professional skills even further. At the time of writing, you can choose between Data Scientist and Data Analyst as your track. And it's worth making this decision – Forbes ranked it as the #1 certification for data analytics.
So, if you're looking for university-level accreditation for your online learning, you won't find it on DataCamp VS Udacity. Nevertheless, you will end up with a very strong upgrade for your CV that can open up even more doors in the future.

Pros
Easy to use with a learn-by-doing approach
Offers quality content
Gamified in-browser coding experience
Main Features
Free certificates of completion
Focused on data science skills
Flexible learning timetable

Pros
High-quality courses
Nanodegree programs
Student Career services
Main Features
Nanodegree programs
Suitable for enterprises
Paid certificates of completion

Pros
A huge variety of courses
Easy-to-navigate interface
Over 600 free courses
Main Features
A huge variety of courses
30-day refund policy
Free certificates of completion
Pricing
One final thing left for us to cover in our DataCamp VS Udacity comparison is the pricing. For many learners, this is the determining factor in making the decision of which platform they end up sticking with. After all, this is really a long-term investment, regardless of how short the courses themselves are, and you want to make sure you get your money's worth for the knowledge you receive.
Sometimes, if you're lucky, you can even earn priceless knowledge at no cost. That may be special free plans, introductory courses, downloadable resources, newsletters, or other small perks. Often, these free courses can be a great way for you to figure out the platform itself and see if the teaching model is effective for you.
So, what free boons can you find on DataCamp VS Udacity?
Well, on DataCamp, you can choose to stay on the free Basic plan and have limited access to the platform. This includes six courses that you can complete entirely for free, including Introduction to Python and Understanding Data Science. You can also try out the first chapter or all other courses on the DataCamp catalog for free and see if you're interested in upgrading and keep studying. The biggest downside of this plan is the lack of certificates. However, it's still a good option to work on your foundational programming skills.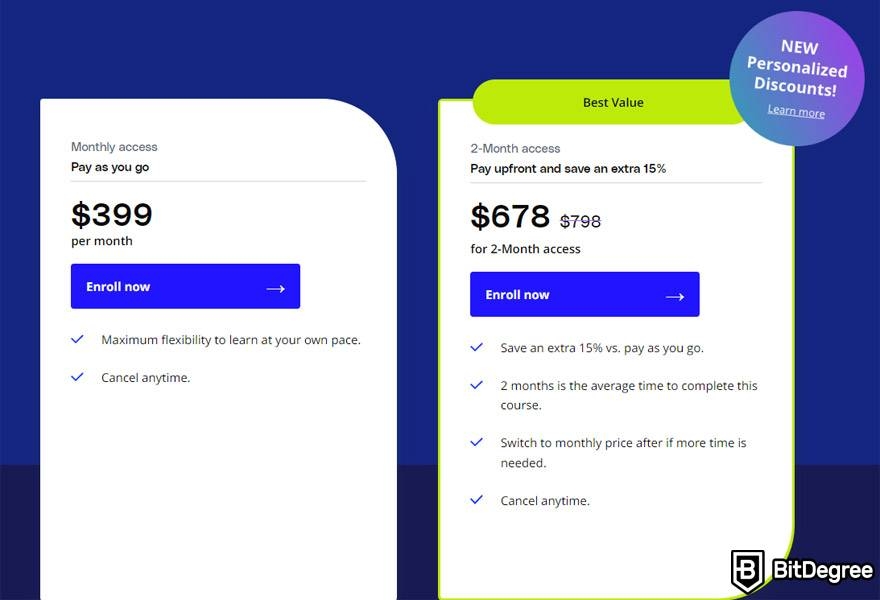 Udacity's free offerings are similar. The platform has free introductory courses for budding data science enthusiasts. While Nanodegrees are a much heftier commitment, introductory courses only take a few days to finish. Like the free content on DataCamp, these courses do not come equipped with a certificate of completion.
However, you're probably far more interested in the full, unrestricted learning experience. Let's get right to it.
The Udacity payment system can seem somewhat complicated at first. It combines a subscription model with a pay-per-course system. You see, as you sign up for a Nanodegree, you must pay separately for each one. The reason for this is that every Nanodegree has a varying duration. Some only take two months to complete, while others may need the better part of a year.
As you sign up for a Nanodegree, you're first charged the base rate for the first month of learning, which is $399. With each added month, a discount is applied to this rate, allowing you to save 15%. And if you're interested in further reductions, you can find some special discounts and coupons here.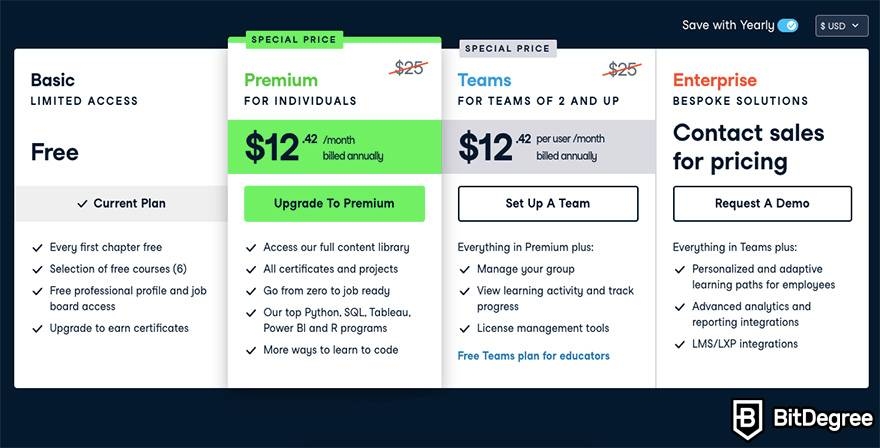 DataCamp users can sign up for the platform using one of the monthly subscription plans. You can choose one of the four plans:
We've already discussed what the Basic plan entails, so, let's take a look at the rest. The Premium plan unlocks the entire catalog of over 390 courses, including the ability to take the skill and career tracks. You'll also be able to participate in projects and access career help services to assist you with preparing for the big data science market. And if you want to bring the price down a notch, you can find some special offers here.
The Teams plan offers all the perks you can get with the Premium plan – and more. As the name suggests, it's a great option for small teams of at least two to work and study together. This plan introduces management and activity-tracking features that let you compare your progress along the way. The Enterprise plan is a custom-tailored solution for large-scale companies. It offers integrations with third-party team management tools, as well as personalized skill tracks to suit your organization's needs.
So, DataCamp is definitely the more budget-friendly option, especially as it allows you to access more content at once. However, if you want to become a master in your field, Udacity is a worthwhile investment to consider. After all, as the name implies, you'll essentially earn a fast-track, college-level degree.
Conclusions
That's a wrap on our DataCamp VS Udacity comparison. Both platforms rank among the top online learning platforms overall, so it's unsurprising that deciding between one or the other can be a difficult process. Nevertheless, I hope that this guide has helped you make up your mind and settle on which platform works best for you.
Still having second thoughts? Feel free to test out the Comparison Tool for online learning platforms. It'll provide you with even more data and statistics on both platforms, as well as a place to see what other options you may have. At the end of the day, you may decide that you don't want to choose and try out the free options that both DataCamp and Udacity have to offer.
And once you've made the final call, don't keep it all to yourself! Feel free to share your experience in the comments below. Having customer feedback can be great additional guidance for prospective users, and every contribution matters.
Now, off you go – it's time for you to level up your data science skills!
Leave your honest feedback
Leave your genuine opinion & help thousands of people to choose the best online learning platform. All feedback, either positive or negative, are accepted as long as they're honest. We do not publish biased feedback or spam. So if you want to share your experience, opinion or give advice - the scene is yours!