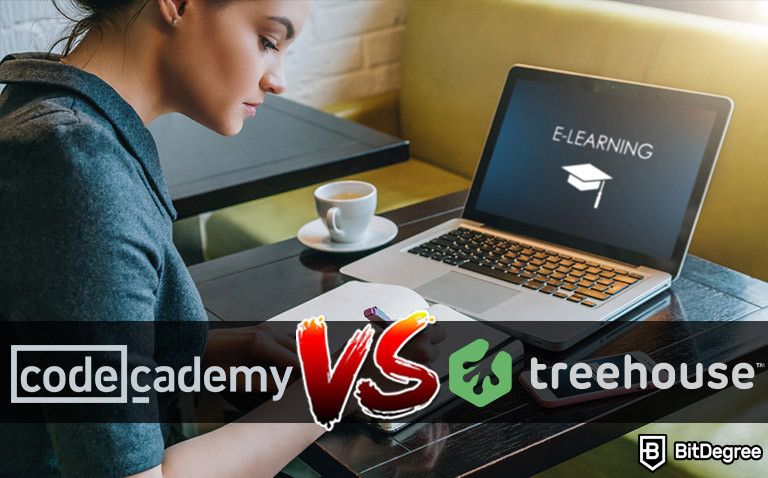 It's evident that more and more individuals choose online studies instead of traditional education. That's not only because online courses are less expensive but also due to the fact that, in most cases, you can learn at your own pace whenever you find the time.
Since you came to this CodeCademy VS Treehouse comparison, you're probably looking for the best online learning platform that would provide you with high-quality courses, fair prices as well as a variety of subjects to choose from. If that's the case, this article will help you to decide which of the two players is more suitable for your needs as well as provide you with Treehouse and CodeCademy alternatives.
Both CodeCademy and TeamTreehouse are well-known online learning platforms that were founded in 2011. While they're evaluated pretty well, I will focus on multiple aspects to answer the question "which one is better?".
Instead of jumping straight to CodeCademy VS Treehouse comparison, let's first take a look at the comparison criteria.
CodeCademy VS Treehouse: Comparison Criteria
While there are many MOOC providers online, not all of them are as good as they claim. That's why it's crucial to research each of them before making a final decision.
Latest Udacity Coupon Found:
SAVE 75%
Udacity Black Friday Offer
The best time to save on Udacity courses is now - follow this coupon to access 75% Udacity Black Friday discount on all courses & enjoy top-quality learning for less!
Expiration date : 10/02/2023
3,176 People Used
Only 97 Left
Since there are multiple aspects that must be considered when evaluating CodeCademy VS Treehouse, this comparison will be focused on the most crucial aspects that will help you to decide. These factors include course quality and variety, certification options, usability, language support and pricing.
Let me explain each of them in order to make this even more clear.
Course Quality & Variety. Course quality is the most important aspect that you should consider when choosing an online learning platform at all times. After all, since you're paying for courses (in most cases), you want to get valuable, up-to-date information and learn from experts in their own field. Otherwise, it's not worth paying. Course variety is also something that matters. You should pay attention not only to the number of courses you get to choose from but also the variety of subjects. That's especially recommended if you want to enroll in different courses on the same learning platform.
Certification Options. If you're looking for online courses in order to land a better job offer, you'll need a certificate that would prove your knowledge. While the majority of top-rated MOOC providers offer certified courses, not many of them have accredited certifications. I'll explain the difference between the two further in this CodeCademy VS Treehouse comparison.
Usability. While previously discussed aspects are the most important ones, you shouldn't forget about the ease of use if you're planning to continue your learning process. A platform should be easy to navigate, every course should have a clear description, you should be able to track your progress, and so much more.
Multiple Language Support. You probably know that the majority of online courses that you find are in English. While some platforms decide that it's completely fine and do nothing about it, other MOOC providers put more effort into this and ensure that you get more language options to choose from. That being said, you can easily find online learning platforms that support multiple languages. In this comparison, we'll see if CodeCademy and Treehouse support more than one language.
Pricing. If you ever tried online courses before, you probably noticed that there are multiple pricing models. Some platforms allow single-course payments, whereas others offer only monthly and yearly subscriptions. Of course, there are cases when you can choose from both of these options. Further in this article, I'll explain which individuals should choose to pay for separate courses and which ones should find a subscription model much better.
Note. These are the aspects that the majority of students find the most crucial when picking an online learning platform. However, you might find that there are even more factors that could influence your decision.
Since this part of the CodeCademy VS Treehouse comparison is clear, let's move further and focus on both of the contenders.
CodeCademy VS Treehouse: The Comparison
To make things super clear, I will start this CodeCademy VS Treehouse comparison with course quality & variety, and finish it off with pricing. That being said, I will go through each of the aspects in the same order as introduced before.
Course Quality & Variety
It's obvious that when choosing online learning platforms you should first consider course variety and quality.
When it comes to course variety, many people understand it incorrectly. It refers not only to the number of courses you get to choose from but also a variety of subjects that are available. Some MOOC providers offer very specific courses, whereas others have courses on multiple subjects, whether it's IT or psychology.
Talking about course quality all the provided information should be valuable and up-to-date. What is more, courses should include high-quality videos.
Since this is CodeCademy VS Treehouse comparison, what about these online learning platforms?
CodeCademy offers courses that are focused on IT and programming. Students can choose to learn 14 different programming languages. This online learning platform offers students about 300 courses to choose from. However, since new courses are uploaded on a regular basis, the number is growing. While 300 courses may not sound like enough, since you get to choose from classes that are focused on programming and programming only, this is definitely more than enough.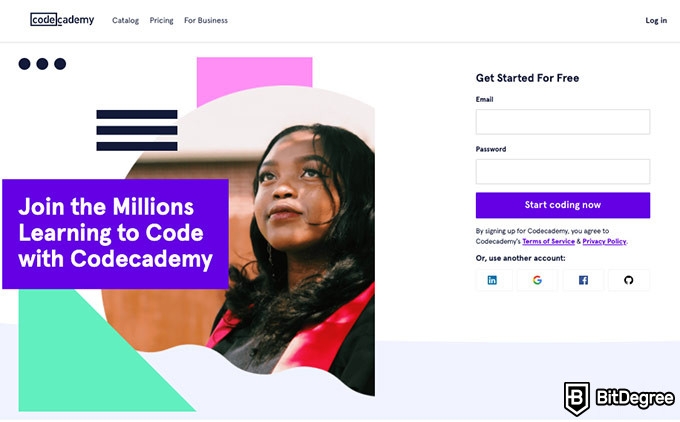 Treehouse is also quite similar. While it also focuses on programming languages, you'll also find some courses on business management. The number of courses you get to choose from is 1,000. It's more significant compared to CodeCademy.
Now, what about course quality?
CodeCademy is one of those learning platforms that aims to provide students with high-quality courses. The quality of the content is in line with what the company promises and it can be compared with other top-tier MOOC providers, especially considering the fact that CodeCademy offers very customer-friendly pricing (we'll talk about that at the end of this CodeCademy VS Treehouse comparison).
When it comes to Treehouse, though, some students claim that the content quality varies. Some of them are highly recommended, whereas others include low-quality videos and outdated content. So, it's a must to choose wisely. Of course, the number of positive reviews is higher than negative ones, so that's something to take into account.
Considering both course variety and quality, these online learning platforms are quite similar. However, due to the fact that CodeCademy offers higher-quality courses, I'd choose this platform.
Also, in case you want to check out CodeCademy alternatives, you should take a look at Coursera, edX and DataCamp. The latter option is recommended by thousands of programmers all over the world.
Certification Options
It doesn't matter what kind of courses you're looking for, whether it's programming, psychology or logic, certificates are something that you should take into consideration at all times.
The only group of people who may not need certificates is the ones who are studying just for the sake of self-improvement. However, if you want to get a promotion or land a better job offer, certificates of completion will help you to do that.
The only thing that's important to understand here is that not all certificates are the same. There are accredited and non-accredited ones. The latter option is better than nothing, however, it's much less valuable than accredited certificates. Accreditations are recognized among employers and can kick-start your career.
Since you came to this Team Treehouse VS CodeCademy comparison looking for answers, let me give you that.

Neither Treehouse nor CodeCademy provides you with accredited certificates. While that's a drawback, you get to choose from a huge number of certified courses that will teach you all the needed skills.
You're probably wondering what websites like CodeCademy as well as CodeCademy alternatives provide you with accredited certifications. If so, visit Coursera and edX. These platforms offer not only coding courses but also classes on multiple other subjects that you might find interesting.
Usability
While not all CodeCademy VS Treehouse comparisons choose usability as one of the playing factors, it's actually quite important. Since you'll be using a specific online learning platform for months and even years, you should be able to easily search for courses, find all the needed information and easily track your progress.
Both CodeCademy and Treehouse have quite clear websites, however, I found that CodeCademy is easier to use. When you visit CodeCademy's website, you can instantly register and start coding. What is more, at the top of the page, you'll find the courses' catalog and pricing. That said, all the needed information is presented in front of you.
I found Team Treehouse slightly more confusing as they provide so much information on their homepage. However, you can also find all the available courses and Bootcamp-style programs without much trouble.
That being said, when comparing CodeCademy VS Treehouse usability, both of them perform pretty well.
Multiple Language Support
While the majority of people speak English pretty well, there are millions of students who lack English proficiency in order to understand all the information included in a specific course. Multiple MOOC providers understand that this is a huge issue, and, therefore, provide multiple language support.
What should be understood, though, is that whether it's Treehouse, CodeCademy or other websites like CodeCademy, you won't be able to find translations to other languages. When talking about language support, the majority of providers are referring to subtitles, unless a course is very popular and there are multiple requests for translations.
When it comes to Team Treehouse VS CodeCademy, though, I have to disappoint you. These online learning platforms offer courses only in one language - English. That was something to be expected from providers that offer only IT and programming courses, however, I know that it can stop many individuals from learning.
Now, since this can be a significant problem for multiple individuals, you should be aware of websites like CodeCademy and CodeCademy alternatives. As mentioned previously, these MOOC providers include Coursera, edX and DataCamp. Each of them offers multiple language support.
Coursera and DataCamp support 10, whereas edX 5 languages. That being said, these are great alternatives for individuals who do not speak English that well.

Pros
Simplistic design (no unnecessary information)
High-quality courses (even the free ones)
Variety of features
Main Features
Nanodegree programs
Suitable for enterprises
Paid certificates of completion

Pros
Huge variety of courses
Easy to navigate
No technical issues
Main Features
Huge variety of courses
30-day refund policy
Free certificates of completion

Pros
Easy to use with a learn-by-doing approach
Offers quality content
Gamified in-browser coding experience
Main Features
Free certificates of completion
Focused on data science skills
Flexible learning timetable
Pricing
Finally, pricing. It's one of the aspects that might influence your final decision. While everyone knows that online courses tend to be less expensive than traditional learning institutions, you might be surprised to find out that there are some really expensive programs online that are not affordable to everyone.
What is more, you should be aware of the different pricing models. While some online learning platforms are subscription-based, others offer single-course payments. You might also find that some MOOC providers offer both of these options.
Now, even though it completely depends on your personal needs, subscriptions are recommended for people who manage to complete multiple courses in a month or simply prefer studying more than one subject at a time. Single-course payments are more recommended for people who prefer studying at a slower pace.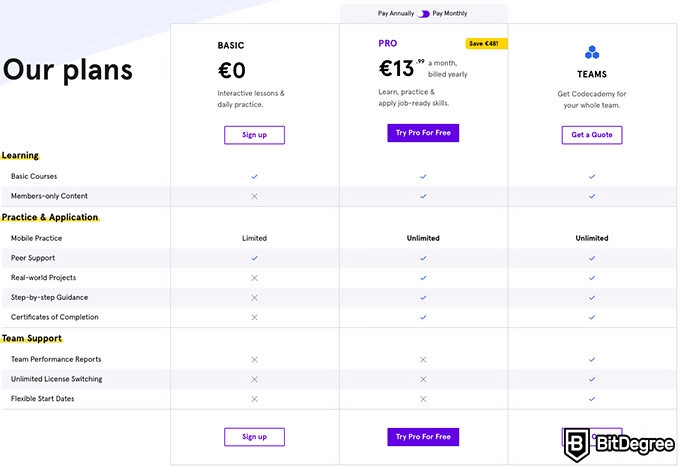 Both CodeCademy and Treehouse provide subscriptions. CodeCademy prices start from $19,99 per month, while Team Treehouse courses cost from $29,99 per month. What is more, you can try both of these platforms completely free for 7 days.
The prices are truly attractive, however, there's a chance to decrease them even more by choosing coupon codes that offer percentage-based discounts.
Conclusions
Therefore, if you didn't know which of the online learning platforms to choose, you have made up your mind after this CodeCademy VS Treehouse comparison.
While both of the platforms are truly popular, CodeCademy is recommended for people who want to learn multiple coding languages, while Treehouse is chosen by students who are interested in IT and programming courses. In general, both MOOC providers are quite similar, however, it's clear that CodeCademy is a better-rated platform.
Therefore, consider every aspect and make the right decision!
Leave your honest feedback
Leave your genuine opinion & help thousands of people to choose the best online learning platform. All feedback, either positive or negative, are accepted as long as they're honest. We do not publish biased feedback or spam. So if you want to share your experience, opinion or give advice - the scene is yours!